You may not be anywhere near Brazil in June this year, but you're never going to be too far away from football World Cup coverage on the TV. This year sees the 20th FIFA World Cup taking place in Brazil for the second time in the tournament's history. The last time Brazil hosted the competition was in 1950, so interest in the game was at a completely different level to what it's at today.
It's estimated that 715 million people watched the final match of the South African World Cup back in 2010, while 3.2 billion watched the tournament as a whole. This year, the final takes place on Sunday 13th July at the Maracana Stadium, the country's biggest football stadium in Brazil. If you've not got a bet on which nation you think will win, then check out the odds on betfair.com and see if you can spot any value.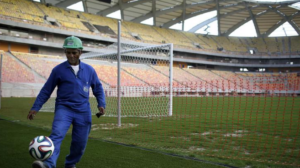 Brazil are the clear favourites for the competition, and perhaps rightly so. Not only is Brazil the most successful World Cup nation ever – having won the trophy five times, but being on home soil will also count for a lot, especially when the Brazilian nation is so passionate about its football team and the home crowd will certainly give their team a morale boost whenever it's needed.
Other teams marked as favourites on Betfair and other betting sites include neighbouring country Argentina, Germany and current World Cup holders Spain. None of these teams have particularly long odds attached to them, but Italy does, at around 25/1 at the time of writing. This seems a little anomalous considering the fact that the Italians have the second best World Cup record, having secured four victories. However, just because the football pundits don't see enough quality in the Italian squad this year, it may still be worth a bit of a punt.
Wherever you end up watching this year's World Cup, there's one thing for certain; this will be one of the most exciting World Cup tournaments ever. Enjoy it while it's here, as it's difficult to see the next two in Russia and Qatar having such a special atmosphere about them.