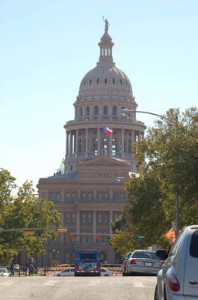 Despite it being the state capital, home to the University of Texas, and the self-proclaimed Live Music Capital of the World, I didn't think of Austin as a major travel destination when I first moved here from Houston. That's probably because I got here in 2003, before things felt like they were growing quite as intensely.
The city seems to have exploded in the past five years. When I started college here in 2003, Austin City Limits was a tiny music festival that just started the year before. Over the last few years, it has grown to be an international phenomenon with top acts and sells out in minutes.
Our skyline has also drastically changed; several years ago, a condo craze began. In what was once an area with only low business buildings, downtown is now full of towering swanky (and wildly expensive) condominium buildings, in addition to high-end shopping. The city has sprawled in all directions, and there are far more events than anyone can keep up with. I work downtown, and I more and more frequently see tourists snapping photos or taking hilarious Segway tours. Celebrity sightings are becoming more common. Heck, even Lady Gaga was spotted here today.
Austin is experiencing major growing pains, but it's also a vibrant, youthful, affordable, safe, and beautiful city that has so much to offer 20something travelers. Here's why you should visit here (along with three reasons why you may want to pass it up).
Why you should visit Austin
1. Music, music, music
We're home to the massive South by Southwest Music Festival and Austin City Limits Festival, both of which bring in A-list acts from across the world. We also have lots of smaller music events, like the Reggae Fest, Old Settler's Music Festival, and Fun Fun Fun Fest. Our downtown streets are jam-packed with music venues that have shows every night, from local bands to international hits, though there are other venues scattered throughout town. In the summer, there is a free music series called Blues on the Green.
Many restaurants feature live bands. There is never, ever a shortage of concerts here. You might leave with a new passion and find singing lessons online.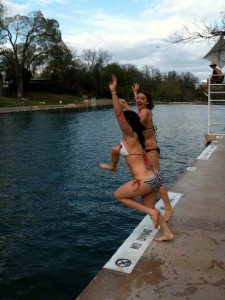 2. Outdoor activities galore
Austin is a very fit and active city. One of our gems is Barton Springs, a three-acre man-made pool filled with underground spring water (the picture of me and Hermione Way to the left doesn't do it justice). It contains lots of algae at the bottom, so it's slippery, but the water stays a refreshing 68 degrees year-round. Many Austinites spend their summers sunbathing on the grassy hills on either side of the springs and soaking in the chilly water. We have a beautiful area called the Greenbelt, which features hiking and biking trails and natural waterfalls. The city has many beautiful parks, including plentiful dog parks. There is a river that runs through the middle of town, which we call Lady Bird Lake (previously Town Lake). You can go kayaking, paddle boarding, or rowing on it. There is also a huge trail that winds around the lake, where you will see a constant stream of people running and walking their dogs. Lake Travis is a short drive out of the city, where you can boat, waterski, and participate in all kinds of other fun watersports.
3. Non-stop events
Austin loves events and festivals. The Zilker Kite Festival. The Hill Country Food & Wine Festival. Austin Film Festival. Eeyore's Birthday. Bat Fest. First Thursday. The list goes on, and on, and on. I won't go into the details here, but let's just say that there is usually at least one great festival, concert, or some type of event each weekend. Many of our big events shut down streets and have little if any parking, but that's just how things are now. If you want to see what's going on during a certain time period, check out Do512.com or Austin360.com.
4. Great shopping
While we certainly have any chain store you could ever dream of, Austin loves anything local. We have hundreds of independently-owned boutiques that carry unique inventory and have a personal feel. Austin also has plentiful vintage and thrift stores. Every weekend and the first Thursday of each month, white merchant tents line South Congress Avenue (a funky area full of food trucks and boutiques) and sell handmade jewelry, photography, soaps, art, leather goods, and all kinds of other goodies. I love shopping there and meeting the people who actually made the things I'm buying.
5. Delicious food
If you are a fan of barbecue or Mexican food, you will be in heaven. Austin has queso and tacos galore, and the city is speckled with mouthwatering barbecue and burger joints. Our food scene has really grown and we have many fantastic restaurants, so contact me if you need recommendations. Austin is also food truck-crazy, so you will find clusters of them all over town, especially downtown and on South Congress Avenue. We have trailers that sell cake balls, New Orleans po-boys, fried avocado in a cone, sushi, and tons more. We also have many restaurants that specialize in local and/or natural food.
6. Longhorn football
Enough said.
Why you shouldn't visit Austin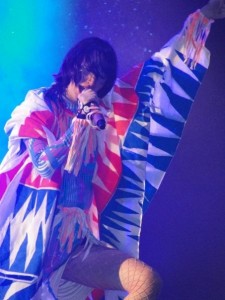 1. Public transportation sucks
The only real public transportation system we have is a bus system. It runs all over town, but I don't ride it because I don't like the unpredictability, and the bus stops downtown are where the riffraff congregate. We do have one light rail line, but it only goes from the very edge of downtown out to a suburb, so it's no help to visitors (or most residents). Our city is trying to get approval to build many more light rail lines all across the city, which would be a game-changer, but there's no telling if that will pass or how long it will take. There are taxis available, though you won't be able to hail one unless you're near a hotel downtown. Call ahead. Or just rent a car. Which leads me to my second point…
2. Traffic is getting horrendous
Each year, thousands upon thousands of people move to Austin. And everybody drives. And the roads are built for the town that existed decades ago–not the bustling city of close to 1 million people. I've heard from many people that every time there was an initiative to expand roads, the locals always shut it down because they wanted to keep the town small. People moved here anyway, and now we have some of the worst traffic in the country. Festivals like Austin City Limits and South by Southwest make it exponentially worse. So if you come to visit, be sure to bring some patience.
3. It's ungodly hot in the summer
Our winters actually get quite chilly, with temperatures hovering around the 40s, and our spring and fall are usually mild and beautiful. But our summers are seriously enough to make people move away. It's shocking if the weather gets below 90 degrees at any point in the day, and it's not abnormal to go weeks with highs 100 degrees or above. It usually stays hot until somewhere in October. You start sweating the moment you get out the door. If you come from a cooler climate, you might melt; plan a trip for the spring or fall instead.
Have you ever been to Austin? Do you plan to visit?