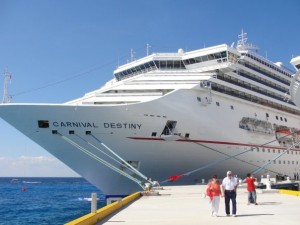 I just returned from a four-night Caribbean cruise on the Carnival Destiny. I was attending a social media conference on a cruise.  I found that I am not a big fan of Carnival, but I did learn a lot and have a great time with the other attendees. There was lots of free time, and we even stopped in Cozumel and had a fun beach party.
I was able to go because the cruise price was so affordable. With the travel industry suffering, many cruise lines are offering incredibly low fares. I've seen fares as low as $228 (pre-tax) per person for a five-night Caribbean cruise. Some of us looking for an inexpensive way to vacation are attracted to these low prices, but it is important to realize that these numbers can be deceiving.
Some cruise lines lure you in with low prices, but many travelers don't realize they will likely spend a lot more once they get on the boat – sometimes more than they spent on the initial ticket. Like hotels, prices on cruise boats are inflated. Most cruise lines issue passengers a plastic card, so when you make a purchase, you simply hand over your card and sign a receipt. There is no exchange of cash or easy way to check your balance, making it incredibly easy to forget about how much you are spending until your bill arrives on the last day.
Here are the extras on my boat that were not included in the initial price of my cruise:
1)    Alcoholic beverages and sodas. Food is unlimited, but on many boats, sodas and alcohol cost extra. Some high-end cruises do not charge for these, as the front-end prices are much higher. I ordered a soda the first day and it was over $2 with tax. Carnival offers a soda card, which permits unlimited soft drinks for $4 a day for kids and $6 a day for adults.  If you plan to drink more than three a day, it's a wise investment, though horrible for your health! Specialty cocktails and frozen alcoholic drinks ranged from $7-$12.
2)    Internet access. Getting online is sometimes as high as 75 cents to $1 a minute. Many ships now offer WiFi; all of Carnival's ships have it, and it was very convenient to be able to get online on my own laptop in my room rather than in their Internet cafe (they also have laptops you can rent). However, the connection was very slow and I spent a large amount of time just waiting for pages to load. On Carnival, you can pay 75 cents a minute as you go or save money purchasing a package; for example, one hour of Internet was $27. One way to avoid this high fee is to is to use Internet cafes at port cities, though you may enjoy being unplugged.
3)    Spa services. Getting a massage or pedicure is a lovely way to unwind on at-sea days, but prices are heavily inflated. Don't be surprised if it costs $170 for a 50-minute massage.
4)    Professional photos. Staff photographers take your photos all over the ship, including at embarkation and at a formal dinner. The photos are displayed on board, but if you want to take the images home, you must purchase them.
5)    Gambling in the casino. Poker, slots, and blackjack suck in countless cruisers hoping to get lucky.
6)    Playing BINGO. Yes, you can win $750, but you have to pay $10 for a card!
7)    Shore excursions. At many ports, you can get off the boat and explore yourself; there are often taxis waiting or other easy transportation methods. But if you want to swim with dolphins, zip line through rain forests, go on walking tours, take boat rides, and other adventures, it costs a pretty penny. You can sign up with score excursions through the cruise line before or during the cruise, but you can save money by signing up for tours and adventures outside of the cruise line.
8)    Some fitness classes. On my boat, the abs class was free, but yoga and Pilates cost $12 per class.
Other paid activities on the Carnival Destiny included spray-on tattoos (popular with the kids), shopping in the on-board duty free shop, laundry services, and an art auction. Additionally, many cruises automatically bill you for tips for staff; on my boat, you were billed $10 a day for tips (for the room stewards, wait staff, etc.).
Cruises are a blast, but don't think you're going to pay a low price to get on board and be done spending money. If you want to drink alcohol, get online, and enjoy adventures at the port cities, prepare to shell out more cash.