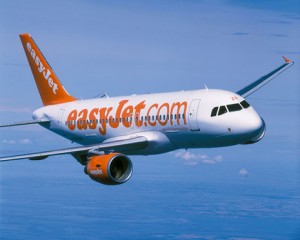 Every traveler loves the prospect of cheap airfare, but when you fly with a budget airline, you have to make some compromises. Last year, I flew easyJet from London to Istanbul. While it was a perfectly fine experience, it was a little different from flying on a traditional airline.
The British budget airline has some incredible prices, so if you're strapped for cash while flying in and around Europe and have minimal luggage, it's a great option. But if you plan to fly on easyJet, here are a few things you should know:
1. Seats aren't reserved.
Travelers (such as me) who love to pick out their seat online when they book will be disappointed. Seating isn't assigned; it's first-come, first-served. Once the gate has been announced, high-tail it there to get in line. When booking online, you do have the option to purchase Speedy Boarding, which puts you ahead of the regular travelers. It costs £20.50 per person round-trip, so it's not really worth it unless you can't live without an aisle or window seat.
2. Zero free food or drinks.
While even many of the nicer airlines are scaling back on their free food offerings, all foods and drinks on easyJet cost money. They accept payments in British pounds, so it ends up costing more for Americans. Buy your snacks at the airport before you board!
3. No flights to Heathrow.
Heathrow Airport is London's largest and busiest airport. easyJet only flies in and out of Gatwick (the second largest), and two smaller airports called Luton and Stansted. This is a pickle if you are transferring to a flight at Heathrow. This happened to me. I was flying in and out of London via Heathrow. Before I went back to the States, I did a detour to Istanbul for three nights. Ideally, I would have flown back to Heathrow from Istanbul and then caught my flight to the US from the same airport on the same day, but the Istanbul easyJet flight was via Gatwick. The two airports are in different directions–Heathrow is 15 miles west of the city, while Gatwick is 28 miles south. I couldn't find flights on the same day that would give me enough time to travel between the two airports, so I had to do it on separate days. I flew back in from Istanbul to Gatwick, made it over to the Heathrow area, and just stayed the night in a hotel right next to the Heathrow Airport so I could wake up and fly home that morning. I thought it would be better than paying to stay in Central London when I had to wake up early anyway. Such a pain!
4. Very small luggage limit.
With most American airlines, you can bring a whole suitcase on-board with you. You can also bring a purse or tote bag, or laptop bag–usually it just has to fit under your seat. But on easyJet, you only get one carry-on item, and it has to be no more than 56 x 45 x 25cm (that's roughly 22 x 18 x 10 inches). According to easyJet, that's usually the size of a laptop bag, briefcase, or handbag. If you show up with a larger bag, you will either be denied boarding (hopefully they won't actually be that extreme) or have to pay £30 per bag per flight. Any additional carry-on costs £30.00 a piece. Yikes! That means you will have to check luggage, which is far from free. You only get one bag, and it must be under 20 kg, which is 44 pounds. If you want to bring something larger, you'll have to pay a large fee. If you indicate that you will be checking a bag while booking online, you can secure it for £18. If you wait until you get to the airport, you'll pay double that to get it on the flight.
If you're on a tight budget with very little luggage, easyJet may be your perfect option. Just know these downfalls before you book! Have you ever flown easyJet? What was your experience?