The new website Gap Daemon wanted to publish my story about volunteering in Mexico. I wrote a long piece, but they needed something very concise. They published a short version of my story here, but please read on for the full version.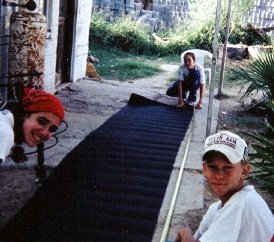 My religious life has always been confusing. My father is Jewish and my mother's family is Christian (and she's Buddhist). I was raised Jewish, but I wasn't very interested in any religion.
When I was 13, two of my friends spent a week on an annual mission trip with their church, which was also the church my mom's family attended. They built houses in a Mexican border town and encouraged me to go with them the next summer. I reminded them I was Jewish, but they said it didn't matter. They were there to help people–not to spread religion. It was more of a volunteer trip than a mission trip. I was skeptical, but a year, later I signed up.
After kissing our parents goodbye, we loaded up several 14-passenger vans and caravanned from Houston down south to the Valley. We stayed in a lodge in McAllen, Texas, near the border, with rooms full of bunk beds reminiscent of summer camp cabins.
I will never forget the first day we rolled across the border into the dusty roads of the town of Rio Bravo. Seeing poverty on the news cannot be equated with observing it in person. We pulled up to our work site and stepped out in awe, holding buckets full of hammers and paintbrushes.
Small, curious children ran around in tattered, dusty clothes and bare feet. A repulsive stench came from a clogged toilet in an outhouse without a door. Odor emanated from coops packed with squawking chickens covered in filth, fighting for breathing room. I saw a family in a shack cooking peppers on a metal slab that appeared to have once been a part of a roof. Marijuana smoke wafted through the air, and a woman told us it was coming from a crack house next door.
Our mission was to build one-room houses for impoverished families without adequate shelter. We split up into multiple groups called family groups, each building a house for a different family in need. My family group had about eight kids my age, an older teenager who was a church intern, and a few adult leaders and builders. My group was assigned to build a house for an elderly woman who had taken in many local orphans, but had no real home to give to them.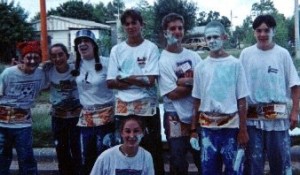 The woman's gaggle of children was large enough that my group teamed up with another to build two houses next to each other (we didn't have the resources to build one large house). With the help of our adult leaders, we constructed a foundation, built walls, built a roof, attached shingles, and painted everything. I never quite mastered the art of hammering a nail in straight, but the conversations we had while working together were so deep. We also managed to have tons of fun and cover each other in paint, as you can tell from our group photo to the right.
After a long day in the scalding Mexican sun, we would return to the lodge and worship and relax until the night's end. I could relate to some of it, but in other ways, I was so out of place. We had devotional Christian workbooks we had to write in every morning and evening, and each night there was a lecture about a Christian topic and songs about Jesus being our savior. We had a small prayer meeting each night with our family group to give each other support. While everyone knew I wasn't like them, they were all very understanding and loving, and didn't try to feed anything down my throat. One night, I sang the girls in my lodge a beautiful Hebrew prayer, and to my surprise, they all loved it.
Fortunately, the positive lessons often extended past Christianity and into humanity and compassion. Spending 24/7 with our family group made us incredibly close in a very short time, and many of those were lasting friendships for me. One of our activities was hanging a tie-dyed sock with each person's name on it on a clothing line. Throughout the week, people would leave you warm fuzzies and positive thoughts about you. At the end of the week, you got to read them. They were so wonderful, they made me cry. We all saw the best in each other that week (except the one kid who bought tequila on a shopping day in Mexico and got sent home early, but that's another story).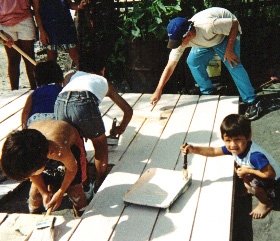 I found that the simplest things brought the local children incredible happiness, like when we played soccer with them in the street as they came home from school and painted the nails of shy little girls. I remember a pair of twin boys who lived near our work site; we found out that they only had one pair of shoes between the two of them. Children were required to wear shoes at school, so each day the twin boys took turns attending. One day one of the girls on our trip brought a pair of old sneakers to the work site and gave them to the boys. Their joy was indescribable —that one pair of shoes will allow them both to have a real chance at a future. It was life-changing.
I learned lessons from that trip that I couldn't have received any other way. My parents taught me to always be grateful and appreciative, and I certainly was, but I had a privileged upbringing. This trip gave me a major dose of reality at a young age. When we finished building the house, the old woman we built the house for told us that while she was so thankful we had given her proper shelter, the only things she really needed to be happy were God and her family. I never realized how unimportant material goods could be. They were absolutely meaningless to this sweet old lady and her large, loving family.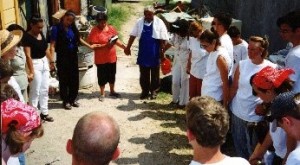 That week impacted my life severely. A day after returning home, my little sister in elementary school yelled at my mom for buying her the wrong color toothbrush. I began crying, and my family looked at me like I was a lunatic. Through tears, I asked my sister how she could possibly get upset over that when there were so many people who didn't even have the luxury of owning a toothbrush. I didn't remain quite that sensitive forever, but that sentiment of thankfulness never left me.
I went on the next year's mission trip, and it was every bit as powerful. We were told we would visit the families from the year before, so I came equipped with a garbage bag full of old clothes and stuffed animals. We pulled up to the house we built the summer before. I went up to the small, wrinkled woman with the clan of no-longer-orphaned children and handed her my bag of used goods. She pulled me into her arms and kissed my cheek, and I could tell she remembered me. I barely understand what she said to me, but it made no difference. Her tears and smiles didn't need translation. Seeing how they turned that stark house into their loving home was priceless.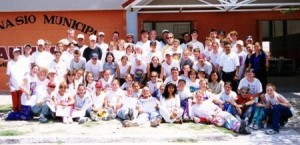 Even though those trips were in middle school and I am now 25, those memories have never left me. They are a constant reminder of how fortunate I am, and I so often think back to those trips to put my problems in perspective. I also met wonderful, amazing, compassionate people on both trips (including a few boys who temporarily stole my heart), all of whom left me with an infinite amount of fond memories.
I don't believe that Jesus Christ is my savior, but I do believe that he taught love. And on those mission trips, I felt and gave more love more than any other two weeks in my life.