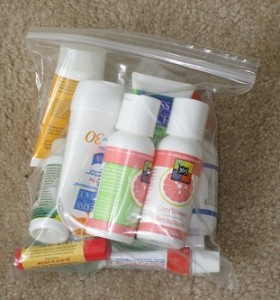 Some travelers have always preferred flying with carry-on bags only, but now that the airlines are instituting checked luggage fees across the board, even more travelers are packing light and using carry-on luggage. This means lots of travel size toiletries.
While using carry-ons has plenty of benefits—lighter bag, no fees, no lost bags, no waiting for the luggage carousel—it comes with packing challenges. Post-9/11, The Transportation Security Administration has stringent rules–one being that you cannot bring any liquid over three ounces, and they all must fit in one quart-sized bag.  Some hotels provide travel toiletries, but you never know what you're going to get.
Besides the fact that I go through shampoo very quickly, one of my main frustrations with this is the lack of ideal travel size toiletries. Drug stores usually just have the basics, like Pert Plus shampoo/conditioner combo and Listerine. I often can't find hair styling products or conditioners I like, among other things. I end up settling for crappy brands I don't normally like using and going without items I do want.
So, you can imagine my excitement when my friend Beth showed me the website 3floz.com. This website specializes in TSA carry-on compliant products — everything they offer is a travel size toiletry of 3 fluid ounces.
Beyond the basic shampoo and toothpaste, they have toner, deodorant (a plus for someone like me who has sensitive skin and must use special kinds), sunscreen, shaving cream, facial masks, body wash, hair styling products, hand lotion, eye cream, and anything else you can imagine.  The site doesn't sell typical drugstore brands, either; they sell only more upscale brands, such as Yes to Carrots, Jack Black, Phyto, and Avalon Organics.
While you can order items individually, one big perk is that they offer pre-assembled kits. Some are kits by brand; for example, a kit with only Philip B products. You can also select by kit type, such as hair, body, shave, face, or get to know the brand. If you want to try items from multiple brands but still like the idea of a kit, the website has put together several variety kits you can choose from with products from several different brands.
I am going to New York City in June for TBEX, and you bet I'm ordering some of my travel size toiletries from this site!
Would you ever use a website like 3floz.com?
Photo by javajoba