The Freycinet Peninsula is a stunning area in the east coast of Tasmania; it just provides pure natural beauty with the area being surrounded by pinkish mountains, rain forests and white sand beaches. When all you want to do is unwind and have a few days away from work — this is one of the places you can visit with your family and friend. It can also be that place when you can have some of those adventurous activities you haven't tried  before. Do check out the best overlooking lodges you can get within the area before your trip.
Within the Freycinet National Park are the equally beautiful Coles Bay and the Wineglass Bay where you can do a number of water activities.
Kayaking
In Coles Bay, you can experience a 3-hour kayak experience on its clear waters. You can easily rent from the operators near the bay, and depending on your experience and strength in kayaking you can paddle alone or, opt to go along with a guide. Paddling along this area can be tough though due to the water currents. Moving along this coastline, and if you are lucky enough, you can even have a chance to see wildlife like dolphins, penguins and eagles.
Snorkeling & Scuba Diving
Honeymoon Bay and Sleepy Bay are just two of the ideal spots for snorkeling and scuba diving in the area. Its clear waters and the marine wildlife — including colorful reefs — makes snorkeling and diving here more interesting.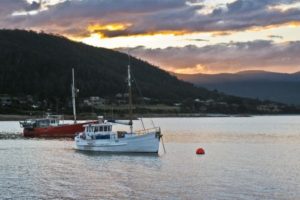 Boat Cruising
The Wineglass Bay is the most iconic spot in the Freycinet National Park, and possibly in the entire Tasmania. And cruising in this area means having 4 hours of breathtaking view around its coastline.
Truly, this is one of the places in Australia that makes tourists much more closer to nature. Apart from these activities, there are much more activities to discover that I could not all put into one article. Visitors can even enjoy, hiking, rock climbing, or even just a pure walking trip while admiring its panoramic view. Check out the