One by-product of the convenience and luxury of the package holiday is that some holidaymakers tend to pile on the pounds after enjoying a week or two of gluttony in the summer.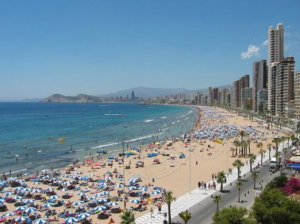 This is hardly surprising given the quality of the food most hotels put on these days, particularly when travelling with a decent operator like Co-op Travel. For those who want to enjoy their food without turning a bit porky, however, a Spanish hotel is pioneering a new, health-conscious concept.
The Hotel Poseidon in Benidorm has become the first hotel on the Spanish mainland to label its food with information, including the number of calories a typical serving will contain. This is a whole new approach to hotel buffets, but it could just work.
After all, although most of us will be well aware that a third spoon of Thousand Island dressing is not in their RDA, knowing just how much blubber it contains might make them think just a little longer before delivering the satisfying plate-dollop.
This is far from a bit of fun though. With obesity levels rising all across Europe, it is important that we all watch the bottom line, or help that bottom line be reduced in any case.
Each data sheet provided alongside the dishes contains nutritional information. This includes the number of calories and details about the fat content, but it also explains the ingredients used, which is essential for those on a restricted diet.
Receiving the full backing of the Spanish Department for Health, the regional minister for health in Benidorm, Manuel Llombart, said at the initiative's May launch:
"[It is important that customers have] the proper nutrition information so they can consume foods in the right proportion and ensure that their meal is as healthy as possible."
This style of food labelling and nutritional information is still a relatively new concept to us Brits, and not all of us have taken to it yet. Nevertheless, with another 160 plus Benidorm hotels likely to join the initiative too, it will certainly help people make more informed decisions as they get used to the idea.
The only concern (if that's the right word) for the traveling waist-watcher is that the food still tastes amazing, which naturally will not help combat the inch pinch. Perhaps those looking to enjoy food to its fullest while in Benidorm should think about eating from somebody else's plate, which doesn't count of course.