I'm an enormous fan of volunteering abroad, especially when you're young. I've written about my volunteer trips in Mexico when I was in middle school and how life-changing it was for me. When Students Offering Support reached out to me to see if I wanted to learn more about their organization, I said yes, and I also wanted to do a Q&A with them so that others can learn about the awesome work they're doing and possibly get involved.
Lindsay Seegmiller, Director of International Outreach, answered some questions for me via email about SOS.
Maiden Voyage: What is Students Offering Support? What is its mission?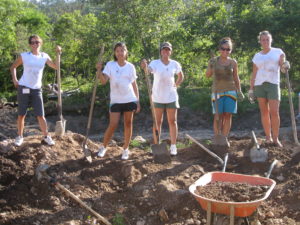 Lindsay Seegmiller: Students Offering Support is a student-led charitable association that supports and develops university and college SOS chapters to "raise marks, raise money, and raise roofs." What are chapters? Chapters are volunteer-led student clubs across Canada and the US who work together to raise marks (grades) by holding exam-prep group review sessions. By asking for a $20 donation to attend a session, SOS raises money to ultimately raise roofs for children in Latin America, helping them acquire access to a quality education. SOS's development work is focused on providing sustainable educational support in rural communities across Latin America in collaboration between local NGO's and our partnering communities.
Students Offering Support and the Exam-AID initiative were founded by Greg Overholt while he was an undergraduate student at Wilfrid Laurier University in 2004.  Since then, SOS has tutored over 25,000 different students and raised over $800,000 for more than 50 sustainable development projects in countries such as Nicaragua, Belize, Guatemala, Honduras, Peru, Costa Rica, and El Salvador – BUILT by 500+ student volunteers on two week outreach trips in the summer months each year. (See Our History for more information.)
MV: Who can participate?

LS: SOS has a variety of opportunities for anyone who is interested in helping the cause. For university or college students, you could apply to start SOS at your school or inquire about upcoming openings if your school has an SOS chapter!
Students (and recent graduates) looking for international volunteer opportunities can also apply to volunteer on any of our two-week summer Outreach trips (more information here or e-mail outreach@studentsofferingsupport.ca to apply). Recent graduates can volunteer at head office in a variety of areas such as Graphic Design, PR, Video Production, Marketing and Business Development.
MV: So non-college students can get involved?
LS: Absolutely!  If interested in getting involved internationally, we run a variety of trips during the year that cater to different demographics. In the past, this has included open trips for youth/young professionals (ages 20 – 30), a 'life-long learners' trip (ages 30+) and corporate trips.
MV: How often does the organization do trips?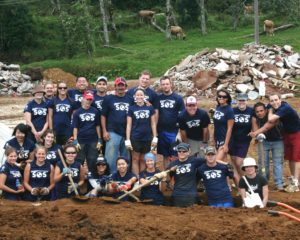 LS: SOS runs trips three times per year: in February over Reading week, in May and August. In each of those periods, we will have between five and 15 trips going to various communities throughout Central and South America for two weeks.
MV: How does the organization decide where to go and what types of projects to do?
LS: SOS supports projects that target the accessibility, quality and relevancy of education in rural communities in Central and South America. Each year, we open up a call for applications where local organizations throughout the region apply for partnering with SOS. These partners are representatives of the communities they serve. Prior to submitting a proposal, they work through a participatory process to ensure the community defines the proposed project. It is of utmost importance that any project we fund comes organically from the community, and that our organization plays a supportive role to them.
MV: These trips of course benefit the Latin American communities, but do the volunteers also come away with benefits from it?
LS: Absolutely. Interestingly enough, volunteers frequently come home surprised that they felt like they got more out of the experience than they were able to contribute. Through feedback, we've found that these experiences help shape volunteers into more informed, rounded and grounded global citizens.
Testimonials from the volunteers themselves are likely the best description of what they gain:
"Some people say they had a life-changing experience; for me it was more of a molding experience, in a scene that it shaped my life in a better way, and put it on the right path"
-Alex Tsimbal, Nicaragua 2010
"Before coming on this trip I had the expectation to change and become a better person; what I didn't realize until the end of the trip was that I had started that change process the second I signed up. From the socials, to preparing for the trip to actually living, breathing and sleeping in Namaldi, I had started to step outside my comfort zone and think more of people with more needs than myself. The locals taught me that having less is exponential more with regards to happiness. primly believe that every person who has the opportunity to participate in an SOS trip, should jump on it the second they can. This was an eye opening experience for me and something I will cherish for the life time."
-Christine Heath, Costa Rica 2010

MV: What is the travel experience like for the volunteers?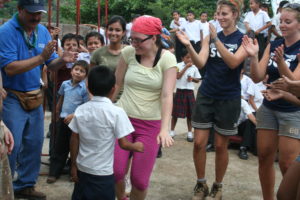 LS: A typical trip is two weeks in length, and focuses on promoting the most community integration as possible. What this means is that we keep the trips low-key, low-cost and in line with community standards. Groups camp together in a community structure, where they set up sleeping mats and sleeping bags for their beds. Meals are made by a team of women in the community, who share their local specialties with the group (while ensuring adequate nutrition). Some of the favorite meals are things like gallo pinto, tamales, empanadas and home-made tortillas!
During the day, volunteers wake early with the community to have breakfast and begin the build. The morning and early afternoon is spent building alongside the community, breaking for snacks, water and meals, and building some more. In the mid-afternoon, the construction normally wraps up and the volunteers take part in various community activities (swapping English lessons for Spanish lessons, hikes to the river, soccer tournaments etc.). In the evenings, the volunteer groups either spend more time with the community, or with just their group. Often the evenings are a good time to reflect on the day, discuss thoughts that arise and get to know the group.
Thanks Lindsay! Readers, have you ever volunteered abroad?