Hawaii is known for the sparkling blue waters that wash over its beaches, but it's also a place to explore another kind of flow: volcanic lava. "Volcano tourism" is huge in Hawaii — its five main islands were all formed by volcanic eruptions, and it is home to one of the world's most active volcano, Kilauea. The thought of visiting an erupting volcano might give some people pause, but over two and a half million tourists safely explore this natural wonder every year. And Kilauea isn't the only active volcano on the Big Island: There are also nearby Mauna Loa, the world's biggest volcano, and Loihi, which is located underwater.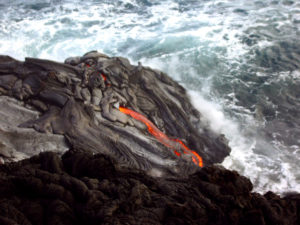 The best place to explore Hawaiian volcanoes has got to be Hawaii Volcanoes National Park. The park gives visitors an introduction to Hawaiian culture — volcanoes were hugely important to ancient Hawaiians, and sites of prehistoric are scattered across the park — but it's also a dream destination for adventurers and nature lovers. The park features a range of diverse ecosystems and animal and plant species that can be found nowhere else on Earth. Better yet, there are ways to explore the volcanoes no matter how much — or how little — time you have: The 11-mile Crater Rim Drive around the summit of Kilauea makes it possible to pass through a volcanic crater, desert, and lush rainforest in just an hour or two.
If you're able to, however, your best bet is to stay for at least a whole day — better yet, stay for a night to camp or take a backcountry hike through the volcanic landscape. If you're not keen on pitching your own tent, Hawaii Volcano House, situated in a eucalyptus grove in Namakanipaio, one of the park's two main campgrounds, offers comfy cabins where up to four guests can stay the night. Imagine roasting marshmallows over a fire under a vibrant Hawaiian sunset — and waking up to hike volcanic summits in the morning!
The best times to go? It's hard to say, given that weather in the park is unpredictable, but it tends to be less rainy during July through November. If you can only come for half a day or less, shoot to arrive in the late afternoon so you can hike without the sun blazing overhead and can, if you're lucky, catch the glow of molten lava at the end of Chain of Craters Road at twilight.