I love Los Angeles, California; the sunny and breezy weather, unbeatable shopping, beautiful beaches, palm tree-lined streets, and endless entertainment. Who wouldn't want to go there this summer? Downtown L.A. hotels can be pricey to visit, but I just learned about two summer deals that make it much more affordable. I feel it's important to mention that I'm not being paid to write about these—I just think they're worth sharing (especially the first, which is a type of deal I'd never heard of).
1.  The Wilshire Grand Hotel is offering a special called 'Beat the Heat,' in which the price you pay for your room is whatever the high temperature is the day of the stay (in Fahrenheit for downtown, determined by AccuWeather.com). According to a press release, "The average high temperatures for Downtown L.A. is between 82 and 86 degrees, but savvy travelers can expect some great bargains during June gloom." You're not out of luck if there's a major heat stroke; the rate is capped at $99 plus tax should temperatures hit the 100s. How cool is that? The special gives you a Superior room, 20% off all meals in any of the hotel's five restaurants and lounges, discount coupons for nearby museums and sightseeing tours, and an optional upgrade to a Junior Suite for just $20.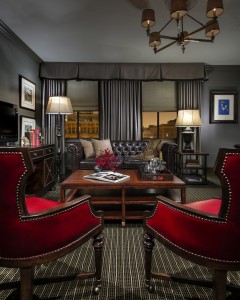 The press release notes that some restrictions apply for certain dates based on availability and occupancy, so call to book this special at (888) 773-2888 and use the rate code HEAT, or book online here.
2.  Another downtown L.A. hotel special taking place this summer isn't exactly cheap, but it will save money and calories for those who would rather stay in shape than gain weight on vacation. It's a package at the Los Angeles Athletic Club called 'Fitness for Two' for $189 plus tax. It includes a Deluxe Room at the Los Angeles Athletic Club for two, a 60-minute personal training session for two, a group fitness class, complimentary breakfast for two, and a free healthy snack. Free overnight parking is included.
To make a reservations, call (213) 625-2211 and give them the rate code SFIT.
Last time I went to L.A., we stayed at The Georgian, a very cool Art Deco, beach-front hotel in Santa Monica. Where do you think you will stay when you next go to L.A.?