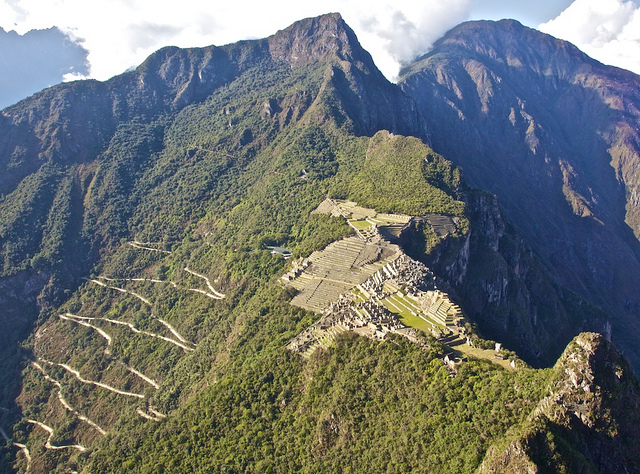 There's a reason why people wait a lifetime to get their chance to visit the Inca Trail. It's considered to be a must-do activity, a sacred experience, a place that truly changes the way you look at life. Hiking the Inca Trail is certainly tiring, but it's also mesmerizing, beautiful beyond imagination. Its ancient walkways take you all the way to the top introducing you to stunning ruins as you keep gaining elevation.
You feel tired, your feet whimper with pain, your aching limbs screaming in disgust, but your adrenaline keeps you going, for you know what's in store for you at the top, and you simply cannot wait to become one of the few lucky souls to step foot into Machu Picchu, an ancient city, a place that still hosts countless mysteries and untold wonders.
What Makes the Inca Trail So Popular?
There's a reason why people brave that ordeal. Sure, Machu Picchu is reason enough, but there are other routes to the top as well. What makes this particular trail so unique is that it is one of the oldest and most beautiful hikes on the planet. It presents a four-day trek from the Sacred Valley into the mountains, through dense jungles and cloud forests. It stretches just 26 miles, but it manages to combine the best of subtropical jungles, lush greenery, mountain scenery, Inca ruins and ancient tunnels all culminating into one of the grandest experiences on the planet – laying eyes onto the Lost City of the Incas.
The 4-Day Inca Trail to Machu Picchu  
Considered to be the Classic Inca Trail, this expedition starts at Km82 (yes that's the name, no kidding). It takes four days to cover this trek and you also need to be moderately fit. It's challenging and demanding, but it's also ancient and immensely beautiful. Acclimatization is essential, so we recommend spending at least 2 days in Cusco, exploring the city, discovering the ruins of Sacsayhuaman and Tambomachay, and falling in love with traditional market towns and ancient fortresses. The trail itself is open round the year (except the month of February when it closes for maintenance), but the best time to visit is between the months of April to October.
The 2-Day Inca Trail
You don't need to wait for four long days to lay your eyes on that ancient city. You can do it in a single day as well. But where's the fun in that! If you're like us, you'd rather have something in between, something that doesn't torment your legs for four long days, but also introduces you to the stunning history and natural beauty of the area. And that's where the 2-day Inca Trail comes into the picture!! This is comparatively easier and it starts closer to Machu Picchu at Km104 (who came up with these names, seriously!) You need permits for this trek, so remember to book at least 4 months in advance.
If you're looking for either a 2 day tour or 4 day tour to the Inca Trail, we recommend to check out Bookmundi, as they have a good selection of tours in Peru.  
Things to Remember
The best time to visit the Inca Trail and the city of Machu Picchu is between the months of May to September.

Make your reservations at least four months in advance.

Layer your clothing and don't forget to carry a warm sleeping bag. It tends to get cold at night.

Always wear sturdy shoes, and carry basic first aid, water purification tablets and a flashlight.

Altitude sickness is a serious concern. Never expect to hike the day after you arrive in Cusco. Make sure you spend at least 2 days here before beginning your trek.