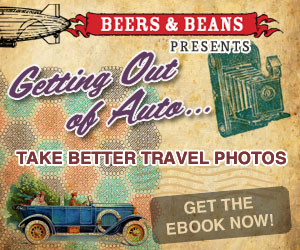 One of the many joys of traveling is taking photographs of the things you see, the people you encounter, and the food you eat. Travel photography captures once-in-a-lifetime moments, allowing you to treasure them forever.
The problem is that many of us only feel comfortable shooting in automatic mode. It's a one-size-fits-all setting that has the ability to produce great photos, but prevents you from making custom tweaks that create stellar photos. It's such a bummer to come home from an amazing trip with mediocre photos.
My blogger friend Bethany Salvon runs the travel blog Beer and Beans, and she is also a talented professional photographer. She just released a wonderful ebook called "Getting Out of Auto" to help you learn how to take advantage of all of the powerful settings available on your camera. It's only $9.99–a seriously great deal considering how much expert information is jam-packed into it.
Learning manual photography on a 35mm camera in high school was tricky for me, because when experimenting with shutter speed and aperture, I couldn't see the results instantly. I had to wait until the prints came back or I developed them in the darkroom. If I took notes about which settings I used, I could compare the settings once I had the prints, but that delay was frustrating. Digital cameras allow you to experiment with your settings and see the results right away, making it easier to learn what works and what doesn't. It has made photography more accessible, though learning the basics can still be deceivingly tricky, and just because you bought a nice camera doesn't automatically mean you will know how to take great pictures.
Enter "Getting Out of Auto"
Bethany's ebook is geared toward the average person who wants to learn how to take better photos and learn how to use more advanced settings, whether it's with a cheap point-and-shoot or a sophisticated DSLR. Some photography books can be so convoluted and make the average person feel stupid. Instead, she offers easy-to-understand explanations along with photos and diagrams to help you understand each concept. The tone of writing is friendly, clear, and informative. It has a fun design and it's very well-organized.
I recently said something about aperture and the rule of thirds to someone, and they had no idea what I was talking about. I really realized how few people knew the basic elements of photography. So I was thrilled to see that Bethany breaks down every major concept of photography, helping newbies learn the difference between shutter speed, ISO, and aperture, in addition to providing advanced tips and tricks for more experienced photographers.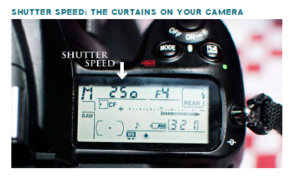 Helpful Diagrams and Images
I have found over time that many photography books and guides online show tons of images, but only of actual photos. They show photos overexposed and underexposed. Photos with a high shutter speed and a low shutter speed. Using the rule of thirds and not. That's fantastic, and Beth's ebook does all of that. But she goes above and beyond and has images of where you can find the settings on your actual camera in the first place. Modern SLRs are extremely complicated machines, and if you're new to them, all of the buttons, dials, and displays are overwhelming. To the right is an example from her ebook that shows what I mean.

There are also many great cheat-sheets and cut-outs that can really help. Here is one chart she made that I think is very helpful for people trying to get the hang of aperture:
Loaded With Great Expert Tips
Besides covering photography basics, Bethany throws in tons of great tips, shortcuts, and ways to remember things. She also tells you when there is photography slang for something, so that if you hear someone say, "I'm stopping down," you'll know they mean they're going to a larger f/stop number. Knowing the lingo can be important, so I loved that she fills readers in on the industry jargon in an educational way. She fills the ebook with fantastic tips that the average person wouldn't intuitively know. Here's just one of many examples: "Using a Point & Shoot that won't let you choose your shutter speed? Look for the Sports mode – it will automatically try to increase your shutter speed to eliminate blur."
Beyond the Basics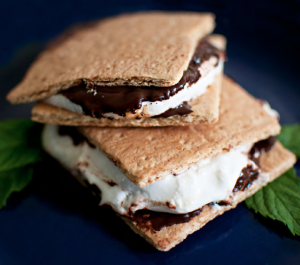 Rather than just telling you the effects of different settings, such as high shutter speed and low shutter speed, Bethany answers the question of why you should experiment with them. She shows images of what each extreme looks like. When discussing ISO, she lists specific travel situations in which raising ISO could help you, including taking discreet street photos, taking pictures of food, or taking pictures in a museum.
She then launches into a very detailed section on composition and then on light, with dozens of her own photos to beautifully illustrate her points and tie it all together. She talks about what changes you need to make when you're shooting on a foggy and cloudy day or when you're shooting into direct sunlight. She offers advice on depth of field, tips of shooting portraits, and white balance. These are all important things to know if you want to take pictures on your trips, and she provides tips that are very applicable.
Best of all, there is an entire chapter devoted to tips and tricks. She spends an entire three pages to how to take amazing food photography, which I seriously wish I read before my recent trip to Seattle and Vancouver. One of her photos from that chapter is the image to the left. I took some great food shots on my trip, but there were several times where I couldn't for the life of me get a good food photo in certain settings. I love how thorough she gets. She also has a section on how to shoot HDR photography, which makes this elusive strategy much simpler. There is also a very detailed section on how to take photos that require stillness without a tripod.
The Verdict
Whether you are an avid photographer who wants to take your skills to the next level or if you're a total newbie who doesn't understand many of the settings on your new camera, this massively thorough ebook will help you master the basics in addition to acquire many more advanced skills. If you are interested in photography at all, I truly encourage you to buy it now. I'm not just saying kind things about this because I know Bethany and have seen her amazing photography; I think this truly a fantastic ebook that has the ability to help anyone, from beginner to intermediate to advanced. It is full of countless valuable tips, tricks, and advice from a professional. I learned tons of pointers from it myself, and it helped me brush up on some concepts I hadn't used in a while. And the fact that all of the photo examples in the ebook are images she took herself is a testament to her know-how and skill. I hope you buy her book and find it as helpful as I did!
Disclaimer: I received a complimentary copy of the ebook for review purposes, but as always, these opinions are my own.
Message from our partners: If you're going to Australia, there are plenty of great Perth hotels and Cairns hotels to choose from!