Planning to turn your holiday into an adrenaline-filled adventure? Are you one of those people who isn't happy unless you're active and sweaty at least once per day? While most people might consider a holiday to be a time to relax and sit by the beach, you need activity to make your holiday worthwhile. You might be planning to go cycling, rock climbing, whitewater rafting or even bungee jumping. All over the world, there are extraordinary places to try these different sports along with many more. But before you go, make sure you check this list of equipment you'll need to make the most of the adventure!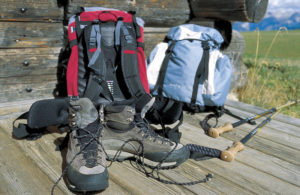 Footwear
The type of footwear you'll need will depend on the type of sport or adventure activity that you want to do. But the main thing to remember is that quality pays off when it comes to footwear. If you go for something super cheap, be prepared for it to fall apart at the least convenient time. Investing in a solid, high-quality pair of hiking boots from The Epicentre will really pay off in both comfort and safety.
Water bottles
If you plan to be active and adventurous, you're also going to need to be well-hydrated! Even if you're not traveling somewhere with hot weather, you'll need to be drinking much more water than normal on an adventure holiday. There are so many options available out there, from lightweight plastic to eco-friendly aluminum bottles.
Camping gear
Making camping a part of your holiday can add a ton of adventure and great memories to your experience. How better to really soak in nature than by sleeping outdoors and waking up to the sunrise outside your tent. You'll want to bring along some lightweight, high-quality sleeping bags to get the best rest possible. Depending where you camp, they might provide tents and other gear for you. A solid set of cookwear can really improve your camping experience as well.
Travel insurance
No, it's not as exciting of a purchase as these others but it's equally necessary, if not more so! When you want to go on an adventurous holiday, you're increasing your chance of amazing experiences, but also increasing the risk of some injury occurring. Cover yourself with insurance that will provide compensation in case you're hurt while you're traveling. You can get great insurance coverage for a minimal investment per month.