Europe really does have it all when it comes to outdoor activities, there are destinations for every season. Whether you prefer hiking in the summer or skiing in the winter there is something here for everyone. You can head to the alps or to a coastal town for some great summer activities. The thing that I really love about outdoor activities in Europe is that they are so well catered for, you can explore during the day knowing that you'll be back in a great town or resort to rest your tired legs in the evening.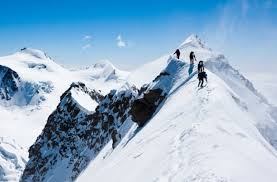 Remember that even though you are going on holiday you need to be prepared for your trip. You have to pack the right clothing, get the correct insurance and make sure that you are physically fit enough to take part in all the activities. If you're looking for the best range of clothing out there then head to www.targetdry.com, it's where I was able to pick up all my gear the last time I headed to the alps.
With so many magical places to choose from  thought it was best to let you know the top 3 places that I have visited so far. Let me know if you agree with my list or would add another destination, all you have to do is enter your recommendations in the comment box below.
Iceland
Iceland may be a small country but what it lakes in size it certainly makes up for with  it's natural sites. It is possibly one of the most jaw dropping places in the world when it comes to natural spectacles. Here you will find, lush green valleys, beautiful hot springs, sparkling white glaciers, lava fields and much much mores.
The Alps (eastern part)
If you're looking for some of the world's best winter outdoor activities coupled with outstanding scenery then this is certainly the place for you . The eastern part of the alps is one of the most beautiful places I have been fortunate enough to visit. This is the place to go if you want to put on your skis and feel free whilst traversing down one of the many majestic peaks. At the bottom of the mountains you will be able to see the beautiful alpine meadows.
The Lake District
If you're based in the UK then you don't even need to cross borders to enjoy mother nature at her finest. I love the lake district and was often taken here as a kid by my parents. I will always remember the mountains, valleys, waterfalls and random stone villages you stumble across when out trekking. It also has some of the best hotels that I have ever stayed in! I can't wait to go back!