All-inclusive resorts and strict itineraries aren't to everyone's taste. Many tourists like their holidays to be an open book of adventure, and they much prefer seeking out off the beaten path wonders than booking into a cushy hotel. Whether it's for one week or half a year, a backpacking holiday can be a truly life-changing experience. Equipped with a rucksack full of essentials, must-have backpacker insurance and maybe a friend or two in tow, these destinations are the perfect spots for travellers seeking adventure and excitement.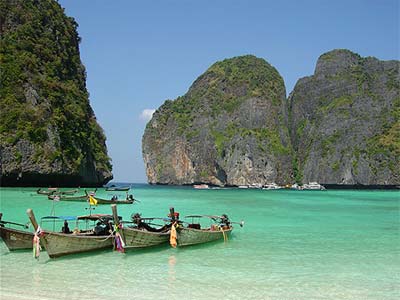 Thailand
Thailand is one of the most popular backpacker destinations in Asia. Each year, thousands of travellers visit the country's capital city of Bangkok. Completely unique and bustling with activity, Bangkok is a diverse city rich in culture and always very accommodating to backpackers. The rest of the country is full of must-visit sights and wonders with beautiful beaches and shores, inexpensive cuisine and hospitable bars and hostels.
Chile
Chile is a backpackers dream. The South American destination has some of the most diverse landscapes and sights in the world, and it is relatively cheap to sample everything the country's rich culture has to offer. The more adventurous traveller might be tempted to climb the Volcano Villaricca in Pucón. At a height of 2,847 metres, it's not for the faint of heart. However, inexperienced climbers and hikers can comfortably brave the challenge and be rewarded by an awe-inspiring view at the summit. Even better, the nearby hot springs at Los Pozones are a perfect opportunity to soothe aching muscles.
India
From the hectic metropolitan life of Delhi to the remote and picturesque views of the Andaman Islands, India has it all. Backpackers really will witness all walks of life from small rural communities to bustling bazaars, and India has plenty of natural beauty to experience. A few of the many sights on offer include Goa's historic temples, Tamil Nadu's beautiful national parks and the Nicobar Island's crystal clear waters and beautiful camping shores. There are hundreds of different ways to explore India's landscapes and experience its vibrant culture.
The Netherlands
Western travellers who don't want to suffer from too much culture shock will feel right at home backpacking across the Netherlands. Although most tourists don't care to venture far from the city of Amsterdam, the small European country has plenty more to offer for those willing to explore. The Netherlands is renowned for its rich architecture, historic sites, rolling landscapes and, of course, canals and fjords. Rotterdam, the Frisian Islands and Groningen are just some of the many different places to visit that showcase the diversity and beauty of the wonderful country.