When looking into which luxury safari camp or lodge you want to stay at you will see the word 'view' mentioned many times. Most lodges and camps have been built with an elevated position overlooking the bush and its inhabitants below. There are certain places which offer such breathtaking views that you have to sit down when you arrive, simply to look. Here are our top five luxury safari properties with a wonderful view:
1            Sasakwa, Serengeti, Tanzania

Sasakwa has views of the vast plains below and is built high up on a cliff. This means that telescopes are needed to view what's below, but these are very high powered and an enjoyable afternoon can be spent watching wildlife through these, or lounging in the infinity pool overlooking this magical expanse.
2            Saruni Samburu, Samburu, Kenya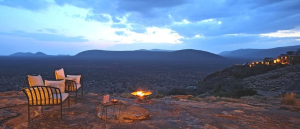 The lodge is built high up on a flat rock which is held in great esteem spiritually by the local Samburu. As you arrive you are lead through a pretty archway and suddenly the view of Samburu's Kalama Conservancy unfolds beneath you. There is a water hole just below camp which is often frequented by elephant and other animals. Guests often have to sit down and take a minute to take it all in here – all the rooms at Saruni Samburu have fantastic views, with two news rooms now facing the sunrise.
3            Ngorongoro Crater Lodge, Tanzania
I think most people at some point will have seen these iconic pictures of the Crater, as taken from the Crater Lodge. This ultra luxurious lodge sits perched on the Crater rim and the dramatic view is stunning. This large Crater is beautiful in its make up.
4            Olarro, Masai Mara, Kenya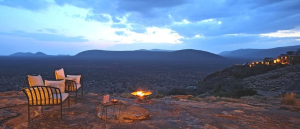 Olarro Lodge is situated in the North of the Mara between Nairobi and the Mara itself. It is luxurious and modern and has the most magical views of rolling hills, plains and rivers. Making the most of this the lodge has built a look out tower which is perfect for dinners under the stars.
5            Ulusaba Cliff Lodge, South Africa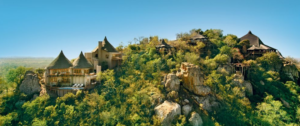 As the name suggests Richard Bransons Ulusaba Cliff Lodge has the most magical views stretching before it – the landscape here is thick bush and rocky outcrops which makes for fantastic and interesting game viewing from the lodge.