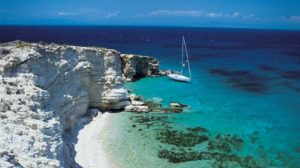 Few holiday destinations offer as much variety and sublime relaxation as the Greek Islands. Delicious Mediterranean food, friendly people, rich historical and cultural sites, and some of the clearest water in the world await travelers. Finding the best deals on accommodation can be tough though, so here are some recommendations for islands you might be considering visiting. These are ten of the best:
Cyprotel Kefalonia Garden Village
On a steep hillside above the Agios Ioannis beach on Kefalonia, this property offers great views and stylish rooms. Popular with active families and couples, it has a high emphasis on fun and engaging leisure activities and games. Of course, relaxation is still the key, and its extensive spa and three pools are sure to please. Kefalonia received a big boost in tourism due to the book and film Captain Corelli's Mandolin, which takes place and was shot there.
SENTIDO Port Royal
Rhodes is one of the most popular islands to visit, and with good reason. For couples staying there and wishing to enjoy romance and avoid other peoples' children, the Port Royal is an excellent choice—stylish, modern, and luxurious. There are dance classes, unlimited alcoholic drinks for at least 12 hours a day, and it's directly on Blue Flag beach. Not a bad way to relax!
Annabelle Beach Resort
Located on a sloping hillside that leads down to one of Crete's best beaches, this elegant resort offers bungalow-style lodgings in an extensive garden and a full range of activities that run from scuba diving trips to canoe rentals to waterskiing. The pools are attractive and peaceful, including a swim-up bar. There is also regular entertainment in the evenings.
Princess Andriana Resort & Spa
Just across the road from Kiotari Beach, one of Rhodes' most famous, the Princess Andriana is one of the newest hotels on the island and highest ranked as far as customer satisfaction. Just walking into the lobby is something of a jaw-dropping experience. On the subject of open jaws, the resort's dining options are spectacular and varied.
San Lorenzo Village
The popular San Lorenzo Village got refurbished just last year, so its rooms are some of the freshest on Kefalonia. Located on a hill above the sandy and decadent Makris Yialos Beach, it offers great views in a family-friendly setting. The hotel is known for its welcoming staff and friendly atmosphere, making it a perennial favorite. Kefalonia is the largest of the Ionnian islands, and is a popular destination for Italians due to its proximity.
The Kresten Royal Villas & Spa
Another new option that makes Rhodes even more attractive than ever, the Kresten has a decadent setting outside of the lovely town of Kalithea. The seafront restaurant serves excellent food, especially (as one would expect) seafood. Rooms (and swimming pools) are spacious, and the spa is divine. This is a great base for exploring some of the rich history that Rhoades has to offer.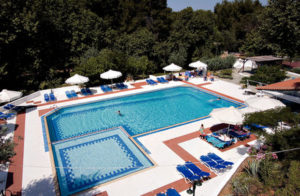 Myrtia Summer Village
It's hard to believe that the Myrtia is only 600 m from the beach, given its peaceful surroundings in an attractive pine forest. Popular with families and couples, it gets great reviews and has the usual outstanding amenities. Also notable are the occasional "Greek nights" that occur during summer, which are sure to be exciting and entertaining.
Mareblue Beach Resort
With great facilities already and more planned for 2013, Myrtia is another excellent choice. Located between two bays and near a nature reserve on Corfu, it is a perfect retreat from stress and other tourists. It is a popular family option, made more so because of its fun activities and opportunities for exploring nature. The views are fantastic as well.
MITSIS Norida Beach
With a strong focus on welcoming families on holiday, this popular Kos resort offers swimming pools with waterslides, frequent discos, and a snack bar right on the beach. It's further away from central resort nightlife, but has its own amphitheater with nightly entertainment during the summer months. Kos' central town is relaxed and more authentic than many, with beautiful Greek Orthodox churches to explore and fun day markets to hang out in.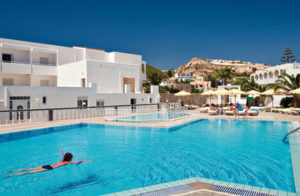 Kamari Bay Hotel
The Kamari Bay is a simpler Kos option that is more popular with couples and small groups. It is clean and spacious, but not as sprawling as many other resorts. This leads to a friendlier atmosphere and more interaction with new friends enjoying their holidays. A solid choice. While in Kos, ask around about visiting the hot spring that spills out of the rocks on a beach, where hot freshwater and cold saltwater mingle and local families gather to watch the stars while soaking in a natural pool.
Whichever island you wind up on, any trip to Greece is sure to be spectacular. Every aspect of the islands conspires to make a trip there fun and exciting, full of cultural experiences and beautiful beach time. Picking a great hotel is the first step to making your vacation relaxing and as memorable as possible.