If you have dreams to travel-long term, you can absolutely make this a reality. Plenty of people have made traveling their lifestyle, living wherever they want in the world and making money as they go. The key to this is that you need to find a job or jobs to support you along the way. Sometimes you can work for several months saving up money, and then use that money to travel for a few months. There are lots of ways to strategize your work and income so that you can travel freely as your lifestyle. It's a freedom that many people in the 9-5 cubicle grind crave and dream of, so you can make this a reality.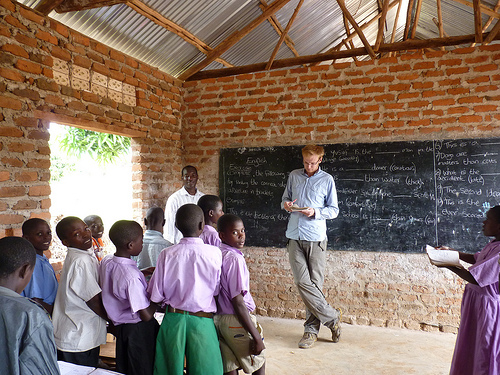 Teach English
It just takes a month of training and a moderate investment in a training program to become certified to teach English. And once you're certified, you have the opportunity to teach abroad virtually anywhere in the world, from Brazil to Japan, teaching your native tongue to the locals. Whether you prefer to work with children, teens or adults, you can find opportunities in local schools, private international schools or language schools. Teaching English is a wonderful way to interact with the local culture and really get a great immersive experience in the country. Salaries will differ based on your location; for example, teaching in Japan or South Korea can earn you a great salary, while in Southeast Asia your quality of life might be better but you'll earn far less. Decide what you want and just go for it!
Work seasonally
If you enjoy jobs which require physical labor, you can find some great opportunities doing seasonal work in many countries. Many travelers choose to find jobs picking fruit in Australia during the picking season, and they can bank thousands of dollars to use for their future travels. Often you can even score some accommodation doing this kind of work as well. Learn about the farming and growing seasons in the countries you want to visit, and you'll figure out how you might be able to contribute your skills for income. You can compare the earnings in different cities around the world to see how much people make in places like London, Sydney and New York. This could help you decide where you want to travel if you intend to work there.
Start your own online business
Many people these days are becoming digital nomads, running and managing their own business from the comfort of their laptop. They can live anywhere in the world, making the beach their office as they work remotely. It doesn't take a ton of work or know-how to start your own business. If you are web-savvy, you can create your own website rather quickly. Make sure that you are specific with the niche and purpose of your business so you can reach your target audience. You can make money selling a product or services or even by monetizing your blog if it becomes very popular. Click here to find out more about starting a travel blog.
If you are looking for a great travel blog, then check out uncoveringthegoodlife.com, it's a new blog written by an English blogger who has been living and working abroad for 10 years now.