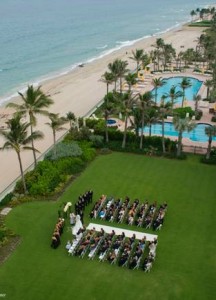 This was the first of a three-part series on destination weddings. As a travel lover who is getting married in four months, I thought it was appropriate! Be sure to read the other posts to learn about the pros and cons of destination weddings and great locations for destination weddings.

There's no rule that you have to have a traditional wedding at your local church or temple. If you love to travel and want your wedding to be especially unique, why not have a destination wedding?
Destination weddings don't have to be a world away. Sandra Aaron, destination wedding planner for Mindless Sophistication Events in Canada, says, "According to the Wedding Planners Institute of Canada, a destination wedding is considered any wedding that takes place an hour and a half away from home."
Wedding photographer Molly Ann of Luminaire Images says destination weddings have become more popular than ever, partly for the desire for a very personal experience. Additionally, "the recent economic recession has also led many couples to consider intimate weddings in exotic destinations instead of hosting large expensive affairs in their hometown," she says. Plus, she adds, a scenic locale makes very memorable wedding photos.
Unfortunately, destination weddings can be hugely challenging to plan, especially if you get married in a foreign country where you don't speak the local language. Here is some advice from experts on how to have a smooth experience.
Deciding the Location
When deciding to have a destination wedding, you must take your guests into account if it's important to you that a decent amount of people attend. "The more remote and off-the-map, the more difficult it is for guests," says Brettan Bablove, editorial director of WS Publishing, a company that sells many wedding planning books. "For instance, getting married in a small village in Hawaii may mean guests have limited choices for accommodations and will have to pay for a rental car. Or, getting married at an expensive all-inclusive resort means that guest won't have a choice but to shell out the big bucks since all-inclusives charge a pricey per-day fee for people not staying at the hotel, making finding another hotel futile. Consider a more traditional destination wedding spot, such as Cabo San Lucas or Maui, which offers a variety of accommodation and transportation options," she says.
It's also wise to think about where most of your guests will be coming from when choosing a spot to tie the knot. "Great destination wedding choices are any location that is easily accessible by plane from the part of the country the majority of your guests are coming from, such as Mexico and Hawaii from the West Coast, and Jamaica and the Bahamas from the East Coast," Bablove says. "The best locations are also those with several hotel options for guests, so they can choose the accommodations that best fit their budget."
Time of Year
Christine Paul, owner and Principal Planner of Christine Paul Events in New York City, says it's important to research the high and low season for areas you are interested in. "Every destination has its own specific high season and low season.  High season is expensive, low season is less expensive," Paul says. "There are unique places like Aruba that have gorgeous weather all year round.  However, in Aruba, winter is their high season and summer is low season so prices will reflect accordingly. This is important information to find out to avoid paying too much and also to make sure you are destined for great weather." Paul adds that even in very sunny destinations, if you're having an outdoor wedding, you will need a plan B in case rain arrives. Ask the venue what they do (if anything) in the chance of rain.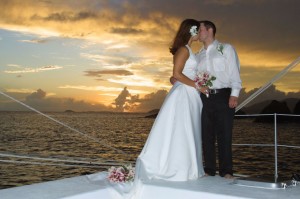 Who to Invite
One big question mark is how many people will actually be able to attend. Bablove says there are some rules of thumb: "For a local wedding, you can expect 80 to 85 percent to RSVP yes," she says. "For a destination wedding, you can expect 70 percent for wedding where most guests are from out of town, and that drops to about 50 percent for an international destination wedding." Because of this, she says,  you have to decide if your priority is to have everyone you love in attendance, or to have a small, intimate wedding in an exotic location. According to the ladies of JOWY Productions, a full-service event and wedding planning and production company, this could be a blessing; they say that destination weddings can be a great excuse to have an intimate wedding and keep your guest list small. Alternatively, if you feel the need to invite everyone, at least you know that the attendance count will be lower than at a local wedding.
Flowers
If you get married at a resort with a wedding planner, they will know which vendors to work with. If you don't have any recommendations to go on, online florists can come in handy. For example, the online florist 48LongStems has a "wedding in a box" option that comes with six bouquets, six boutonnieres, four corsages, and a box of rose petals. You can't customize it, but it comes with standard white roses that can match any color scheme. Michael Geiger of 48LongStems says this won't work for international weddings due to customs regulations, but they are great for weddings in the U.S. You just put them in water when they arrive and use them the following day.
Makeup and Styling
Lisa Deane is a stylist with Urban Darling and works frequently with brides and grooms. She says hair and makeup is always an issue in destination weddings, especially with the potential language barriers. To help, she suggests that brides to bring along props of the look they wants to create. Deane says, "This is especially helpful for up-dos and could be as simple as a magazine cut out, but most often, I'll go with the bride to a hairstylist and make-up artist locally; we'll create the look, take pictures from all different angles and then the bride will take this with her to the destination stylists."
If you go that route, Deane recommends you buy your makeup in your home country so the makeup artist at your destination location can easily recreate the look. Stylists such as Lisa can also make arrangements for the bride in her wedding destination if there is extra room in the budget.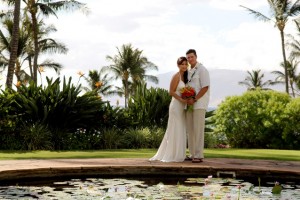 Good Communication
Carol Cain, founder and publisher of The Adventures of a NYCity Mama, got married in the Dominican Republic seven years ago. One issue she encountered was communicating with the hotel wedding planner and connecting with her via phone or email. Cain says, "Not that this was difficult to do per se, but when doing any business in another country, it is important to familiarize yourself with the cultural customs and work schedules. For example, is the siesta, which essentially shuts down most business practices for two hours in the middle of each week day, something the country does? What holidays are upcoming that would also shut down businesses? What are standard hours of business? Are their any restrictions and/or difficulties to deliver specialty items from home to the destination for decorations?"
Transporting Your Dress
Your wedding dress is one of the most critical pieces of your wedding ceremony, and it would be a disaster to arrive at your destination only to find out that your dress was lost or ruined on the way there.
Linda Guaida runs Forever in Love, a beach wedding planning company in South Florida. Guaida says 90% of her clients are out-of-towners who are having a destination wedding. She offers the following advice on how brides can wisely travel with their precious gown:
1.  Do not check it in.  It can get lost like any other piece of luggage.
2.  Have the bride carry it with them and ask the flight attendants to hang it for her during the flight.  Check with the airline first on their policy for transporting wedding gowns on the flight.  Some may want you to put it in a carry-on.  If so, check the size limit of the carry-on; you may be able to put the dress in a garment bag, fold it, and put it in a hard carry-on luggage.
3.  It is a big hassle to carry this dress through the airport(s), screening, taxis, etc. With this in mind, get a dress that will be both comfortable to wear and carry.  If the destination wedding is in a tropical climate, then lighter fabric and more flowing dresses are appropriate and a lot lighter than a big puffy dress.
4.  If it does arrive wrinkled, it can be pressed by the hotel (check ahead of time for this service) or just hung in the bathroom with the hot steam shower trick.
Don't Take it Personally
Andrea Spirov is the writer and editor behind InspiringTravellers.com, and she and her husband had a destination wedding in Australia's Hamilton Island. "Adopt a thick skin when it comes to the people you are inviting," Spirov advises. "Some people are bound to have an opinion about your 'making them travel and spend money.' These opinions may or may not get back to you and may or may not be packaged very nicely when they come your way." Nearly everyone at her wedding handled it well and thanked them for giving them an excuse to have a holiday/vacation. "But I remember being really hurt by and angry at some of our friends and family members who told us they were coming and then backed out–especially when I had to be the one to chase them for RSVPs past the due date," Spirov recounts.  "You just can't take it personally and have to understand that just because this is your dream holiday, it may not be theirs. And it doesn't mean that they don't care about you; everyone just has their own busy lives."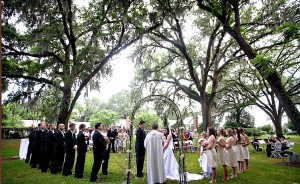 Consider Using a Planner
Guaida says that using a destination wedding planner can save you tons of time and stress. Brides and grooms don't know the area, vendors, hotels, etc., and she says planners such as herself can give them guidance and peace of mind. Guaida says wedding planners can actually save the couple money. "If they try to book everything on their own, they will probably end up spending a lot more," she says. "We offer all-inclusive packages that will help keep costs down. Everything will be taken care of for them, so all they have to do is show up!"
Spirov says if you do hire a planner, you may want to hire an individual planner without tons of clients rather than someone who works at your resort or hotel. "Don't assume that the 'wedding coordinator' the resort or hotel appoints for you is going to be like the one on television who is worrying about every detail of your wedding only," she says. Spirov found that some are better than others, but that many in-house coordinators manage several hundred clients a year. Speaking from personal experience, she says, "In a very popular place, these people are hard-working, stressed, and often overworked. You will have to do a lot of the work yourself."
Taking Care of Your Guests
Your guests are flying in from all over the world for your wedding, so it's important to do what you can to help them. Cheryl Cox, a wedding consultant and wedding show producer, says it's courteous to send guests a save-the-date card six to eight months in advance so they can make the travel arrangements and request time off from work. It's also nice if you can let them know what the weather will be like and a list of transportation options, like ferries, trains, or recommended flights.
JOWY Productions says it's very helpful for you to negotiate good rates for your guests for hotel accommodations and airfare, if possible. You can set up a room block at hotels. Cox suggests giving a selection of several price points (usually three).
"Invite your guests to a rehearsal dinner and brunch," JOWY Productions says. "It does not have to be anything fancy, but you must host guests who travel to share your special day with you." They add that it's polite to let your guests know that no presents are necessary, as your guests are traveling to celebrate with you.
Bablove adds, "Your out-of-town guests will want to be entertained, or at least given an itinerary, while they are on vacation at your destination wedding. Destination wedding couples typically plan activities for their wedding party and guests, such as a boat ride, wine tasting, tour of the area, spa treatments, and more." She also notes that these costs can add up quickly, so give them a variety. "Plan a few sample itineraries for your guests, including landmarks, museums, tours and festivals, and plan something meaningful for just the wedding party, such as a day of golf or boat trip," she says.
"We put on a dinner and a post-wedding brunch in addition to our wedding reception," Spirov says. "People are traveling a long way to be there for you and spending a lot of money. Don't serve them the cheapest food and alcohol and refuse to plan any activities or help them out with their travel plans (within reason) should they ask you."
Cox also thinks it's a great idea to have goody bags waiting for guests in their hotel rooms as a welcome gift. "Tuck inside the wedding weekend itinerary, some snacks, bottled water, wine, area map, lists of restaurants and sight seeing activities," she recommends. "Sunscreen and flip-flops are great for beach weddings! I've even made directories of where the guests were staying so the guests could contact each other."
A message from our partners: Find great rates on Melbourne hotels on HotelClub.com!