If you're looking for a beach vacation that is unlike any other, then Thailand is the place to be. The beauty of the beaches in this Southeast Asian county is simply unmatched that is why it is flocked by tourists from all over the world. Because of this attribute, flights to Thailand have become some of most lucrative and easiest to get.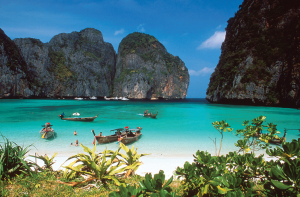 Thailand beaches are simply magical with tall palm trees, alluring coral gardens, vibrant night life, and so much more. If you're not convinced, then you should visit this one of a kind beach attraction and find out yourself what the hype is all about. Some of the most exceptional ones are situated in Phuket, Khao Lak, and Phi Phi Don.
Phuket
Phuket is Thailand's most famous beach destination which means it can be a bit crowded, especially during peak seasons. A wide array of services are offered in its beaches and the long list includes hair braiding, henna tattooing, and so much more!
You'll love this place if you're a fan of water sports because there are a myriad of service providers in the area that offer snorkelling, banana boating, parasailing, speed boating, etc.
Khao Lak
Khao Lak is perfect if you're looking for a less-crowded beach where you can soak at the sun and simply let the waves hit you. In addition to its crystal clear waters, there is an adorable rain forest nearby that is rich in flora and fauna. Putting these factors into consideration, it can be said that it's perfect if you're a nature lover who has a knack for the outdoors.
Phi Phi Don
Once unknown to many, Phi Phi Don was launched to the spotlight when it became the setting for The Beach, a that starred Leonardo DiCaprio. Nowadays, it is considered as one most frequented beaches in the country; as such, it should be included in your itinerary. Furthermore, its waters are inviting and its views are breathtaking.
Summing up
All in all, Thailand is the place to be if you want a beach vacation that is unlike any other. Bear in mind that the beauty as well as the excitement of this Southeast Asian country lives in its pristine beaches and they are the primary reasons why it is on top of the charts when it comes to tourism.
If you still think that its coastlines are overrated, then you should visit this country one of these days and find out yourself why its amazingly clear waters, silvery sands, and magnificent sunsets are sought by tourists from all over the world.