Owning a private island is a luxury that very few can afford. But some of the super-rich have managed to buy beautiful islands of their own, and turn them into escapades where they can enjoy the exclusivity. In the following article we look into a few private islands that are worth a dekko…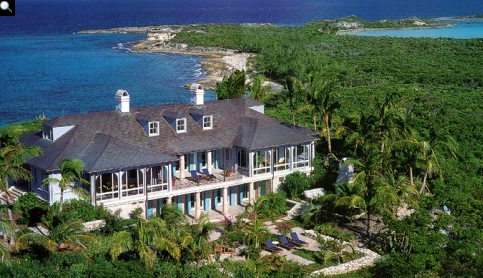 New Holland Island
Bought by Russian billionaire Roman Abramovich for $400 million, New Holland Island is a collapsing "ex-military" base that's situated in a St. Petersburg canal. The wealthy owner of the island is planning to transform the 18 acre island into a thriving cultural center, which would take close to 6 years to complete. This island, which gets it name from its resemblance to Amsterdam, was created in the late 18th century when two canals were constructed.
Skorpios Island
The Skorpios is a beautiful fantasy island located in the Ionian Sea, which is off the western coast of Greece. The island is owned by top fashion designer Giorgio Armani, which was bought by him for a whopping price of $190 million and is also the site where shipping magnate Aristotle Onassis tied the knot. The island which boasts of a lavish property called the 'Pink House', containing scenic gardens and tennis courts, was sold by Athina Onassis Roussel to Armani a few years ago.
Musha Cay Island
Musha Cay is known to be one of the finest and the most exclusive/luxurious private retreats around the world. An aerial view of the island reveals it's magnificent beauty. Surrounded by beautiful turquoise water and with acres and acres of white, eye-catching sandy beaches, the island offers its visitors one of the purest and the most magical experiences out there. The unspoiled environment only acts as the icing on the cake. So who owns this enchanting island? None other than the famous magician/illusionist, David Copperfield.
James Island
This island, which is owned by wireless pioneer Craig Mccaw, was bought for a staggering $19 million in the year 1994. Spread over 340 hectares, James Island is where Craig has planned a real estate development project, which includes 80 houses, over 5,000 square feet of retail along with commercial space of 35,000 square feet. The owner however has stated time and again that the urbanization of the island will not be done at the expense of its natural value/beauty. He has made sure that the first priority is given to organic farming on the island, before anything else. Besides that, every power line on the island is underground and electric cars are used for commuting.
There's no doubt about the fact that having a privately owned island can be a magical experience in its own. But even if you don't own a private island, you can still visit many of the public islands out there by either sea or air. What's more, if you've got a pilot's license, you can prepare yourself by getting the necessary pilot accessories and fly down to one of these public islands on your own! This way, you'll not only enjoy the destination, but also the journey.