Ibiza is one of those islands that most travellers will have heard of because of its reputation as a party island. Of course, this is very true, especially since the 1990s, when tourists first came in their thousands to go clubbing in San Antonio.
The club scene is one that still attracts many young tourists and if you want to spend a week or two partying all night and recovering on a beautiful beach by day, you should definitely head to one of the resort hotels in or near San Antonio.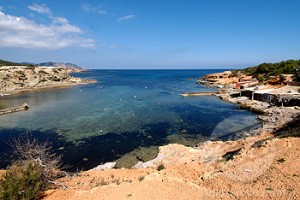 However, this is by no means all that Ibiza has to offer. For those looking for a bit of relaxation and quiet tranquil beauty, then Ibiza can offer all of that as well. There are so many different beaches to visit here, and not all of them are there to cater to the partygoers. Some are very low key and have little or no development behind them, so attract a totally different kind of visitor.
Some of the quietest spots in Ibiza are among the most beautiful, where all you can hear is the gentle lapping of the waves and the birds overhead. It's worth seeking out some of these beautiful beaches in Ibiza. Examples include Es Xarcu, situated on the eastern side of the island, where you can spend the day in peace by a beautiful cove. A little way from San Carlos you'll find Pou des Lleo, a narrow cove which has fishermen's huts along the side.
The inland of Ibiza is also worth exploring. If you're staying on the coast, it's an idea to hire a car or jeep for a couple of days so you get to look around the island at your leisure.
If you're a keen snorkeller or scuba diver, one of the best places to stay is the resort of Cala Portinatx on the north of the island, which has three beautiful beaches within easy walking distance. The sea is exceptionally good for snorkelling and diving around here. A popular place to stay in Portinatx is Presidente Hotel Ibiza, where the accommodation is all inclusive meaning that you know how much your stay is going to cost before you go. Portinatx has its own lively nightlife but it's not quite so 'in your face' as at some of the other resorts on Ibiza – you get the best of both worlds!