Australia is a massive country, with nearly 36,000 km of coastline to explore on its mainland alone. One of the best ways to explore the diversity and stunning scenery of Australia's coastline is by taking a cruise down its seaside motorways. Armed with a map, a picnic, and the right rental car you can easily while away an afternoon or a whole week on your journey. For some areas, you'll need a sporty SUV to navigate the rugged terrain. However, something economical and sporty like Alfa Romeo Giulietta offers up on Carsales can fit the bill for a more relaxed drive. The following are five of the top ocean drives to choose from.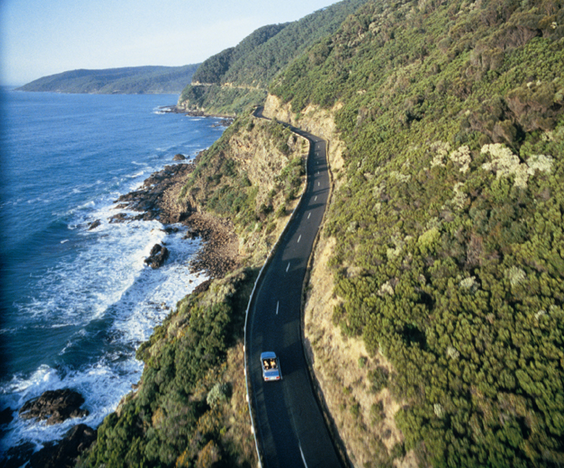 1. Great Ocean Road
Considered to be one of the most scenic drives in the world, the Great Ocean Road spans 1000 km from Melbourne to Warrnambool, passing famous sights including the Blowholes, 12 Apostles, and the Grotto. Limestone arches and cliffs form a spectacular backdrop, and multiple wineries provide plenty of distraction along the way. There are numerous panoramic viewpoints, beauty spots, and hiking trails along the route so it's best to give yourself plenty of time to enjoy the journey.
2. Great Tropical Drive
Australia shows off its tropical side in the stretch of motorway spanning from Cairns to Townsville. Many travellers head straight for the famous Great Barrier Reef, but it's the hidden coves and inlets that make this drive so special. If you're lucky, you'll find your own private spot of tropical paradise as you drive through lush rainforest and beaches studded with swaying palm trees. Port Douglas is an ideal stopping point, with its local cafes serving up the best local seafood.
3. Glasshouse Mountains Road
Australia is a land of extraordinary diversity, and this is made abundantly clear when driving along the Sunshine Coast. Take the Glasshouse Mountains Road to enjoy drugstore views of both mountains and coastline, as you pass through quaint historic towns along the way.
4. Mornington Peninsula
If you're staying in Melbourne and looking for a scenic day trip, you'll want to look no further than the sandstone cliffs of the Mornington Peninsula. This drive takes you through the heart of Australia's wine country, so you may want to put the driving in a companion's hands to enjoy the myriad tasting opportunities along the way. Lush vineyards and scented olive groves make you feel as if you're in the Mediterranean, while you'll find no shortage of picturesque picnic spots to stop and enjoy the panoramic ocean views.
5. Fraser Island
Located in Queensland, this unforgettable track takes you around the world's largest sand island. For exploring the rugged and wild terrain of Fraser Island, you won't want to find Alfa Romeo Giulietta at Carsales as mentioned above, but will probably need a 4WD SUV instead. An AWD vehicle is needed to plough through the sand and dunes of these beach tracks, whether you're headed off to an idyllic resort or plan on sleeping under the stars. Keep your eyes peeled and you'll see everything from shipwrecks to wild dingoes on your travels around this unique ecosystem.