Thailand, the land of smiles, it's the jewel in the crown of South East Asia. This popular tourist destination has something for everyone. This cultured and historic destination has long been the favourite of the traditional back packer, but Thailand has so much more to offer than full moon parties on one if it's many exotic islands. With its glittering temples and pagoda's and its vibrant beaches and cities, Thailand has fast become a popular destination for young adventurous families, romantic couples and luxury holiday goers.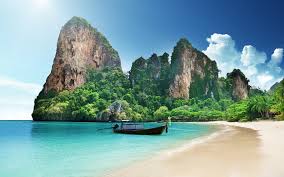 With so much diversity on offer, from the culturally rich and traditional north to the crazy and energetic city of Bangkok, down to the secluded beaches and islands in the south, choosing your holiday can be somewhat of a challenge. It would take you months to fully explore this mythical country, but time is a luxury many people don't have with their busy schedules back at home. However, Thailand can be done in the relatively short time of only 2 weeks, taking in most of what this beautiful country has to offer.
So if you want to cram as much as you can in your 2-week holiday it's easy to do! This is possible due to the very cheap internal airfares opening up the country for so much more sightseeing. With most international flights landing in the bustling high-rise city of Bangkok this is an obvious place to start your epic adventure. After a couple of days exploring this colourful city and enjoying a few beers on Khao San road you could take the very comfortable and affordable train journey up north, enjoying the scenic 12 hour journey to Chang Mai.
After a few days exploring all the elaborate temples, a quick flight back to Bangkok to transfer down south to the seaside resort of Phuket where you can lounge around for a few days on the golden beaches or maybe take in a traditional Thai boxing match at the local boxing arena. A quick flight (or a longer boat trip) can take you east over to the beautiful island of Ko Samui where you can sample some of the finest diving in the world, or just soak up the rays whilst enjoying a cocktail swinging on a hammock in this idyllic island setting. Ko Samui has its own airport, so after relaxing for a couple of days it's time to fly back to Bangkok and jump on to your return flight home. So there you have it a 2 week action packed holiday in the glorious Thailand.
There are so many options, eShores has a few multi centre holiday ideas which are worth checking out – should give you some inspiration of the kind of itineraries that are possible. Also Lonely Planet  has the full lowdown on all the places you can visit and explore. Wherever you go though, one thing is for sure, you'll have an amazing holiday – so get thinking and let us know what itineraries you come up with!