One of the interesting activities Hong Kong is know for is shopping, to be more specific night shopping at night markets. We always travel to find new experiences and even more new stuff to remind us that we've been to such a wonderful place.
Especially for women travellers, any new shopping experience is a paradise. But compared to your typical organized shopping at a mall, Hong Kong does not mean shopping for posh high-class branded stuff; it means immersing yourself in the streets, and possibly bump with the crowd.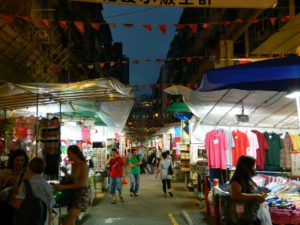 Here in these markets you can find tons of items, from personal stuff like belts, vests, shirts, accessories, and the long list goes on. And since these are not actually branded, you can get it  at a very fair price. You can even haggle.
It is important though to make sure that what you are buying has no defects. Check these very well, especially if you are buying electronics like chargers, make sure you have it tested.
Temple Streets is one of the biggest night market they say. It covers areas like Jordan and Nathan Streets, and you can get off in varying MTR stations. Reasons why, even if you're a tourist, you would not get lost as long as you know your ride home from an MTR. Or, there's always a cab ready to bring you to your hotel.
What's good about this night market is you'll find almost everything you need. In my case, one night of shopping wasn't enough that I had to go back for another night.
But if you're looking for other commodities there are other markets specified for your needs. There are even bird, fish and flower markets.
What other unique shopping experiences have you gone into?