A visit to the UK is undeniably exciting. But while it's easy to admire the country from afar through books, films and music; actually living there requires a little prior consideration. The better prepared the visitor, the less culture shock they'll experience and the quicker they can settle down to the business of enjoying their stay.
http://www.flickr.com/photos/slumadridcampus/5736108871/
Getting to grips with the language
Language students new to the country should expect British people to talk a lot faster than they're used to. Learning how to ask people to speak slowly is always a useful English phrase. Also be aware that the UK has widely differing regional dialects.
Choosing food
British food is more than fish and chips, and roast beef. Nevertheless, before leaving for the UK, pack some dried or preserved foods from home. This will help make the process of adapting to UK food easier.
Language students inevitably stay in cities, where the choice of food on offer is almost limitless. British people like eating out – expect to find Indian, Chinese, French, Moroccan and Thai restaurants, as well as fast-food outlets serving American-style meals.
For those that want to cook for themselves, the largest choice of foodstuffs will be available from supermarkets. To get a real taste of local food, however, seek out local markets and smaller, independent shops.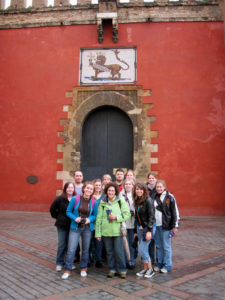 http://www.flickr.com/photos/76708317@N02/6966619336/
Adapting to the weather
Britain is famed for its unsettled weather, so pack for all conditions. In a single day there can be quite marked temperature changes so it's best to go for a layering approach with clothing. It's a good idea to carry a portable umbrella and invest in some shoes that don't leak.
As a rough guide, Wales, Northern Ireland and western parts of England and Scotland are the mildest, wettest and windiest regions of the UK. Eastern areas are cooler, drier and less windy, and also experience the greatest daily and seasonal temperature variations.
Northern areas are generally wetter, cooler, and have a slightly greater temperature range than southern areas. The south and south-east of England generally have the warmest summer temperatures.
Dealing with homesickness
The main thing to realise about homesickness is that it's perfectly fine to yearn for the place you've left – especially in the early days. Worrying about feeling homesick will only exacerbate the problem. Instead, take positive steps throughout the stay to keep in touch with friends and family at home.
Institutions such as ESL Language Studies Abroad have computers that students can use to Skype or email people for free. Though it has fallen out of fashion, letter writing is a good way to alleviate homesickness – especially if the writers include small items from their respective countries. Also make sure to pack plenty of photos of loved ones.
A good attitude helps no end when adapting to a new country. Always be open to offers to do new things and meet new people. Even if you don't feel particularly sociable, going out can often provide an effective antidote to homesickness.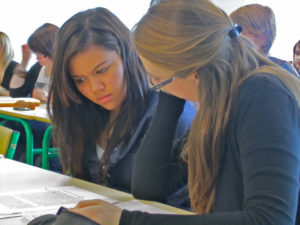 http://www.flickr.com/photos/76708317@N02/6966621754
Meeting locals
The UK's inclement climate means that people often arrange to meet indoors – especially in the evenings. This, more often than not, involves the pub. Pubs can be a great place to meet new people and friends of friends. While it's ok to start conversations with others in your group, it's usually best not to initiate conversations with strangers.
If a local starts a conversation with you, remember that British people are quite precious about their personal space, so don't stand too near them. Also avoid discussing personal matters too quickly. Pubs are traditionally places to unwind, so keep the conversation light.