Ultramodern architecture, so-chic shopping districts and an impeccable air of luxury: No place dazzles the senses quite like Dubai. This UAE city-state is known for treating travellers to an array of unique experiences, and its restaurant scene is one of the best places to start. Need a few recommendations? Allow us to introduce our favourites.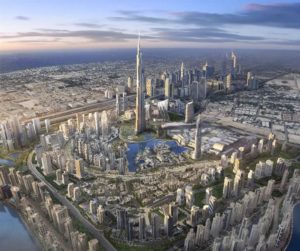 Reflets par Pierre Gagnaire
Time Out Dubai recently awarded this eatery the prestigious title of Dubai's Best, and its unique take on French cuisine absolutely deserves the honour. From rich Parisian dishes to a velvet-adorned setting, the offerings at this luxurious spot turn dining into an otherworldly experience. Try anything with the Bordelaise sauce; it's a little taste of heaven.
101 Dining Lounge & Bar
For a more relaxed version of European fare, head to this waterfront treasure. You have to hop aboard a boat to get there, but the food and drinks are worth it; Mediterranean salads are the things to eat here, and you'll find an exciting tapas menu. Plus, the glistening marina backdrop is the epitome of romantic.
Asado
Prefer something with a little more spice? Locals swear by the Argentine dishes at Asado. Overlooking the Burj Khalifa, this upscale restaurant does a fantastic ceviche, and its steak is supernaturally delicious. Make your reservations early enough, and you might just score an outdoor table by the waterfront.
Jones the Grocer
Another Time Out Dubai favourite, this energetic cafe is the perfect place for family lunches. Equal parts grocery store, bakery and full-fledged restaurant, this eclectic eatery offers gourmet comfort food like fish and chips, savory baguettes and homestyle pastas. What's more, kids will have a blast peeking in at the chefs working in the open kitchen. After you've booked your flight and purchased your American Express travel insurance, putting this spot on the itinerary is your next order of business.
Salamar

Dubai's thriving dining scene isn't purely about restaurants, however. Bars and lounges are making waves in the city centre, and places like Salamar seem to be leading the charge. This Cuba-influenced hot spot comes complete with a palm-fringed terrace, chilled-out soundtrack and impressive menu of mixed drinks. Start the evening with a mint-infused cocktail; you'll thank us later.
La Terrasse
Like Salamar, La Terrasse is a jewel in Dubai's burgeoning bar scene, but its atmosphere is completely different. Situated in the downtown area's Business Bay, this sleek and chic lounge offers unassuming drink specials and some of most satisfying tandoor-based snacks you'll find. Come at sunset for the incredible views, but stay past dark for the effervescent vibe.
Bubbalicious
If you swear that brunch is the most important meal of the day, make a beeline for Bubbalicious. Located in the Westin Dubai Mina Seyahi Resort, this restaurant is actually a combination of three places: Blue Orange, Spice Island and Hunters. At mid-morning, each offers a dizzying array of dishes, and you'll do well to spend a little time sampling as many as you can. Yorkshire pudding is a hit at Hunters, Asian specialties rule Spice Island, and Blue Orange frequently offers a kid-friendly chocolate fountain. Grab a seat in the gardens for a scenic treat.