The New South Wales summer sun has set on another edition of the Tamworth Country Music Festival, one of Oz's premiere events for country music. As the dust settles, there's time to reflect on this year's event and what makes the fans–and the musicians–flock to this venerable venue year after year.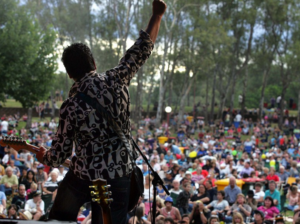 The key to any festival is getting names that will draw fans. If the artists don't create excitement about the event, ticket sales will suffer. Popular acts who return year after year will help draw fans while simultaneously building the success of the performer.
One of the artists working her way up the ladder at Tamworth has been Bec Hance, who has built an ever-larger audience due in large part to her several years on assorted stages at Tamworth. What an artist like her gains from Tamworth is hard to quantify, in many ways, but there are concrete results Bec has found from her multiple visits.
Learning The Business
Moving from household parties to small pubs and into larger venues requires an evolution in performance style. Artists like Bec have to learn how to work ever larger crowds in order to keep from looking out of place on stage. Down time spent jamming with other musicians helps artists incorporate new influences into their work, especially with the broad base of country sub-genres found at Tamworth. Every influence from Urban to Strait can be cited by performers on the grounds, and that mash-up of inspirations drives great creativity and unique sounds.
For a songwriter like Bec, networking with other artists can boost her writing credits as well. Not only can she find new collaborators for writing, she can also learn about new earning opportunities like TuneCore sync licensing, which helps songwriters get commercial royalties for their music. And self-managed acts in particular can learn more ins and outs of soliciting gigs and booking events.
In-Festival Competitions
Part of what has pushed Bec's success has been her multiple wins and high finishes at Tamworth's featured contests. These talent shows create opportunities for new faces to jump to the forefront of the crowd's attention, and the buzz created in that endeavor travels to all corners of Australia like little musical missionaries out to convert everyone into Bec Hance fans. With their relaxed entry system, anybody who can cut the mustard can take the stage and reap the spoils of victory. There are divisions for youth, bands, and bluegrass, all yielding buckets of free publicity for the winners.
Using Fan Interaction
Venues hosting Elvis Presley shows famously held crowds in seating areas until The King had departed, at which time an announcer would report, "Ladies and gentlemen, Elvis has left the building." The purpose was to keep the crowd from stampeding out to attempt o see Elvis up close.
Scratch that philosophy from Tamworth. Rising artists can while away their idle hours chatting with fans, taking photos, and signing autographs. If Bec wants to pull out her guitar and strum a few with a small group around a picnic table, she can do so. That personal interaction drives fan base growth and builds an artist's future.
Riding Coattails
Imagine a fan going to see their favorite band in concert, preceded by two or three days of opening acts. If the opening act is you, you've hit the jackpot. Getting onto the Tamworth program with the bigger names they host is a great opportunity to get a built-in audience that's attending for one performer but is still hoping and expecting to find something new to download. And if you're that artist, those downloads help you climb your way up the billing list just the way Bec has done.
Instant Fan Base Construction
Speaking of downloading, technology has accelerated your shooting star as an artist performing at Tamworth. Get your Twitter, Facebook, and other social media identities out there as you perform, and you'll see the likes, followers, and hashtags pile up as you play. And in a festival setting, fans typically spend lots of time talking with other fans about who just blew their minds. Bec can do a set, step off for a bottle of water, and then watch sales of her new single take off as enthused fans buy her music before they even leave the festival. To get sales that way in 1985, you would have had to install a dozen storefronts peddling your LP's. Nowadays, as long as there's available data on the networks, the song is on the move. Just like Bec Hance.