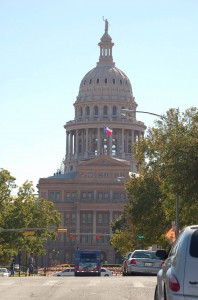 I've lived in Austin, the capital of Texas,  since 2003.  Every year, the annual South by Southwest conference that is hosted here seems to grow larger and get more press. The massive conference has three semi-overlapping segments: interactive, film, and music. This year's conference runs from today, March 11, to March 20.
The film and music parts of the festival feature endless screenings and concerts, many of which are free events and attended by locals. But the interactive part is exploding along with social media, and it attracts thousands of techies from all over the world. At SXSW, major technology announcements are made (last year I saw Twitter CEO Evan Williams announce a huge new feature), trends are observed (and sometimes created), and insane amounts of networking is done. This is in addition to the many informative sessions and panels, an enormous trades show, and amazing parties.
Last year, I went to the interactive segment, and while there, I met Darren Rowse of Problogger, passed by Guy Kawasaki in a hallway, went to a party for Gary Vee, and got a hug from my buddy Chris Brogan. Not to name-drop (and maybe I'm just a nerd), but it was so cool to be around these Internet big shots. There was just excitement in the air that whole week.
My wedding is March 26, so while I'll be in town for SXSW, I'm sadly mostly sitting it out this year. Badges are very expensive, and it's pretty exhausting and crowded. I need to decompress that week. But if you are coming to South by Southwest this year, here are some of my tips for surviving in the city of weird:
Getting around
Don't worry about the light rail. There is only one route, and it only goes out to the suburbs. I know it looks sexy, but it won't help you.
Take advantage of the bus system. Because it's downtown, you will see some nutty people riding it, but it's cheap and there are routes all over downtown (and the rest of town). Biking is also a good option.
Bring some cash along for pedicabs. They're fabulous back-up transportation, and it's a fun way to get some fresh air.
Don't even think about trying to drive around downtown unless you absolutely have to. And if you have a great spot, for  God's sake, don't leave it if you don't have to–it will be gone when you return.
Pace yourself
SXSW is full of panels, trade shows, book signings, happy hours, concerts, shopping events, Q&A sessions, mixers, and all-out bashes. It's exhausting to spend all day, every day (and night) at the conference, so don't try to do everything. If you're staying downtown, I highly encourage an afternoon power nap so that you can go out and enjoy the parties at night. I speak from experience; last year I spent all morning and afternoon in SXSW interactive sessions and the trade show, then went to happy hours/dinner—by that time, I was way too tired to party.
Take advantage of the free stuff
While many events do require you to hold a pricey badge, there are endless free parties and gatherings that you can enjoy, too. Do512.com is an amazing resource for this type of thing. Additionally, companies are giving things away left and right. For example, last year Sobe set up a mini-bar across from the Convention Center, where they were giving away free drinks, and Luna bars were being handed out left and right. If you're short on T-shirts, just go to the trade show (though you do need a badge).
Eating
The Convention Center serves some food, but it's nothing to write home about. If you want to grab a bite to eat in the area, here are a few of my suggestions:
Annie's Cafe: classic café fare; sandwiches, soups, salads, with delicious specials such as pot roast.
Kenichi: delicious sushi if you don't mind spending a few bucks.
Chinatown: I love their dumplings! They also have karaoke some evenings.
Bakerman's Bakery: Only open until 3 pm, but has delicious homemade cookies, breakfast pastries, salads, and paninis.
Taverna: Delicious risotto!
Max's Wine Dive: Southern home cooking with a twist, and tons of wine.
Networking
South by is solid gold for networking in the tech world. Bring a fat stack of business cards everywhere you go, and have your 30-second elevator pitch ready–even if you're only a blogger.
Enjoy!