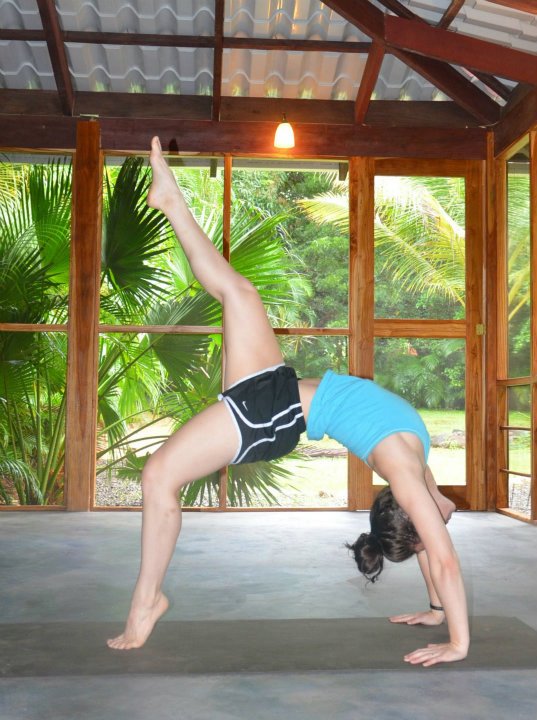 I'm a fitness junkie. I can tell you from personal experience that if you drop your workout routine for too long, you backtrack. I was recently thumbing through a book (can't remember which) that said after two weeks of no exercise, you start to lose your fitness level and your stamina declines. If you take a long trip and don't exercise, you'll start to get out of shape, and it will be harder to get back on board.
While travel can involve a lot of walking, it's also common to take long rides on buses and trains, indulge in food and alcohol, and lounge around–a recipe for weight gain and loss of stamina.
But it's completely doable to squeeze in a quick workout in the mornings to counteract that. Even Jillian Michaels swears that all you need each day is 20 minutes of high-intensity exercise. Plus, it gives you a powerful energy boost that's way better than a cup of coffee! All you have to do is consider it a priority.
Here are five methods I use and that you can too to stay in shape while traveling:
1. Book accommodations with fitness rooms or free fitness passes
When it's possible, I book a hotel that has a fitness room or complimentary passes to a nearby gym. If there are two hotels in my budget, in the same area, and with similar reviews, I will take the place with the gym. Some boutique hotels that don't have gyms will offer free passes to nearby health clubs. I've also read about some hotels that don't have either of those options, but have fitness equipment that guests can borrow and use in their rooms. If you can't find a place that offers either, you can also go take a local fitness class–many studios (especially yoga) have drop-in rates.
2. Bring workout videos
If you travel with your laptop, bring a workout DVD. Set your laptop on a counter and get your butt moving! Some hotels also have DVD players. Alternatively, burn the workouts onto your computer in advance. You can also find videos on YouTube and Netflix streaming. You'll want to use something that doesn't require weights and props, or can easily be modified and still give you a good workout. I love Billy Blanks' Tae-Bo DVDs–they are crazy hard and major calorie burners. Jackie Warner (my fitness guru) also has great DVDs. Her Xtreme Timesaver Training DVD is only 30 minutes, and while one girl in the routine has weights, the other doesn't, so you can follow her. It's still a killer workout without them.
3. Travel to pedestrian-friendly cities
If you travel to somewhere very walkable like New York City, you may even be able to go without an official workout. Whenever I'm there, I do so much walking that my legs are very sore at the end of each day. This summer when we visited Seattle and Vancouver, we chose to explore the core parts of the city by foot rather than taking buses. It's ideal to still get in some cardio since walking doesn't raise your heart rate very much, but hours of walking every day (especially brisk) is a great way to get exercise.
4. Learn exercises you can do with your body weight
There are endless ways to exercise without equipment, so you ultimately can't use excuses of there being no gym. When I was in Tamarindo, Costa Rica recently, I thought my hotel had a fitness room, but it didn't. I turned on the TV to keep me entertained and did some circuits of jumping jacks, squat jumps, planks, push-ups, lunges, high knees, wall sits, skaters, etc. Working with just your body weight can be surprisingly hard! If you need ideas, sites like Health.com and Shape.com have hundreds of workout routines and moves without equipment.
5. Bring your own snacks
I always bring some healthy granola bars with me when I travel, because you never know when you'll be stuck somewhere without access to healthy food. Perhaps you're staying at a hotel without a nearby place to get snacks, or you get stuck at a bus station that only has a vending machine with junk food. Pack some low-sugar granola bars, rice cakes, nuts, or something like that so you always have healthy things to munch on. Then you can spend more calories enjoying your meals.
Your body is your temple, so make it a priority to take care of it when you're traveling, especially if you know you'll go a little wild eating local food. What do you do to stay fit when you travel?