Until around fifty years ago, the miniscule island of St Barthemely, or St. Barts, as it is more commonly known as, was a humdrum and pitiably-resourced place whose only export was salt; pretty much as unglamorous as it gets. With the advent of tourism, however, the island can now be counted among the top clutch of richest per capita islands in the Caribbean. The average cost of a four-bedroom Sibarth villa p/w in peak season is $12,000. There are, of course, less costly villas in St. Barts that still maintain the same chic and ritzy vibe of any other, but the cost of staying on the island is undeniably excessive.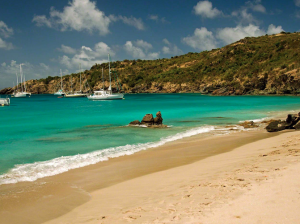 It's a good job then, that there exists a smattering of free or far more affordable options for any budget-weary visitors. Here are five of them:
One: Hike to Colombier Beach
This picturesque bay is considered by many locals as the most beautiful and coveted of St. Barts, due its secluded location which can only be reached by foot (or boat). The downward hike takes about 20 minutes and is exigent for even the most sure-footed of walkers. Take a picnic and some snorkel gear and you're golden. Just like the wispy sand running between your toes.
Two: Fishing
Sail out to sea and partake in some deep-sea angling at a reasonable rate or simply fashion a rod out a stick castaway-style and dangle it off the end of the dock. Either way, fishing, despite its relatively dull exterior, can make for some excellent entertainment in St. Barts – especially considering you can actually see beneath the surface of the water here. Take a few suds and a good ration of sunblock and voilà, afternoon sorted.
Three: Munch on a cheeseburger at JoJo Burger, Lorient
This is just about as close to McDonalds as it gets on St. Barts. Not that you'd be craving a maccies, but island fodder, as one might expect, doesn't come cheaply as a rule. The quality is A-grade and comes with at a cost of about $8 (chickenfeed on St. Barts). Lorient is also a delightful part of the island for exploring. The local cemetery could quite possibly be the most colourful ever assembled.
Four: Let it all hang out at Saline Beach
If the though of going au natural gives you the willies then perhaps you'd rather stick to the slightly more clothed beaches elsewhere on the island. Here at Saline, however, de-robing is de rigeur, and just about everyone gets in on the act. And it's probably worth pointing out that the common habitué tends to be younger and a great deal more agreeable as opposed to older, fatter and a great deal more weather-beaten.
Five: Roam the Capital
During both day and night, Gustavia, the island's capital, is abuzz. By day, a stroll along the busy market streets will leave you dumbfounded as you stare open-mouthed at nonsensical price-tags in shop windows. There's no Topman or H&M to be found here, rather Gucchi, Louis Vuitton, Cartier and other top-end brands. Don't worry though – fridge magnets are under a fiver.
When night falls, St. Barts transforms into a party haven. Millionaires and celebrity-types are abundant on the island at any given time of year and prices of drinks generally reflect this. Bars and clubs are predictably swanky in their design and are unsurprisingly expensive to enter. However, there are numerous bars catering for us peasants, so you need not worry.
The trick to doing St Barts on a budget is to come during off-season when the celebs have vamoosed and the islanders have taken over. April to December is officially low season, but don't come in September or October as this is when the resort is prone to hurricanes. The other secret is to find self-catering accommodation and make the most of local supermarkets and services, along with lower-priced eateries. If you're coming to somewhere like St. Barts though, then you might want to push the billion-dollar boat out a smidge more than usual…