If you've been dreaming of going skiing this winter but don't want to spend a fortune, Breckenridge is one of your best bets. According to Ryan Whaley, Communications Coordinator for Breckenridge Ski Resort, it is the most 20s-friendly ski resort in Colorado and can be very affordable if you know where to go.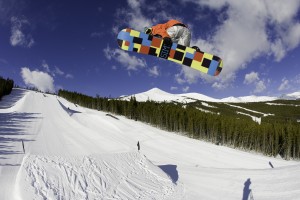 "Breckenridge is great for young people – it's a bit of a cheeseburger and beer town, but we have a nicer scene if you want that, as well," Whaley says. "We have more than 60 bars and restaurants, a big park and pipe scene, huge events like the Dew Tour, and a popular night scene." Other nearby ski resorts are lively during the day, but because they are smaller and geared toward an older demographic, they get quiet at night. Breckenridge is a true town, so there is always something to do, even in the wee hours of the morning.
How to enjoy Breck without breaking the bank
Some think that visiting a Colorado ski resort is a very pricey vacation, but it doesn't have to be. Below are several tips from Whaley on how to save money while enjoying Breckenridge:
If you can be flexible with your dates, you are more likely to find a good deal
Consider staying on a Sunday night or mid-week for better rates
Go to Breckenridge during off-peak season rather than in the middle of peak season, when rates are highest (peak season includes Christmas, spring break, and Martin Luther King, Jr.

weekend)

If the regular accommodations at the Breckenridge Resort are too expensive, stay at the Breckenridge Mountain Lodge, which is more affordable (you can book here: www.breckenridge.com)
You can find great last-minute deals on GoBreck.com; it is run by the Chamber of Commerce and they post deals for rooms around town that are not booked for upcoming dates
If you plan to do a lot of skiing, you can buy the Epic Season Pass. Ski lift tickets are normally around $85 day. The pass is $599; while that may sound pricey at first, it allows unlimited skiing the entire season (basically a full year) and is also good at Vail, Keystone, Beaver Creek, and Heavenly ski resorts. If you ski more than seven days that year, you're saving money.

Breckenridge's charming Main Street
Best 20something hangouts
Some nearby ski resorts, such as Beaver Creek and Vail, are popular but cater to the more affluent, older crowd. Breckenridge is a haven for younger people; according to Whaley, "Breckenridge has a great night scene that goes until 3 a.m." Here are some of the places he says are very popular with the 20something crowd:
Stop by the Crepe Stand, which is a popular after-drinking stop; it's open until around 4 a.m. and serves delicious crepes
The biggest and most popular bar is 320 South, which has great live music, mostly rock
Cecilia's is also a popular bar; it is more of an underground club, and it's popular with the pro skiers and snowboarders
The Dredge is where all the local 20somethings hang out, and they have $1 Miller High Life every day; it is a floating bar on a river
Breckenridge hosts the Dew Tour, which is the biggest event in the area after the X Games. If you love extreme winter sports, you will enjoy watching these.
I went to Breckenridge twice when I was younger, and the skiing was fantastic; I just wish I had been old enough to participate in the nightlife! After learning all of this from Whaley, I have a feeling I'll be going back soon.