So, you want to visit vibrant, cosmopolitan Miami, but you don't want to break the bank? You're in luck, because many of the things that make this city special don't have to cost a lot.
1. Eat Cheap and Enjoy It
It's no surprise that a city of such contrasts and ethnic diversity would have interesting cuisine. But it might be surprising how little it can cost to eat well.
Enjoy a Cuban-style burger for $3.50 at El Mago De Las Fritas in West Miami or a $5.00 fried fish sandwich made from fresh snapper at La Camaronera Fish Market in Little Havana. Pay $15 or less to split a pie of inspired toppings with a companion at Harry's Pizzeria in the Design District. Or go fancier when you share a $9 Strawberry Fields sushi roll at I Love Sushi in South Beach.
2. Take in the Architecture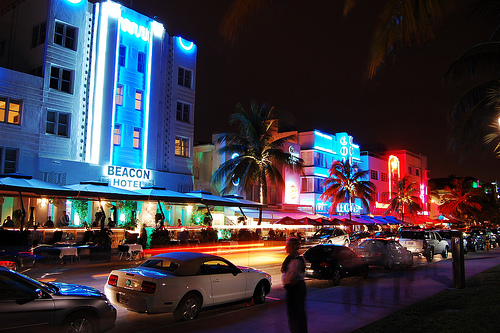 Image via Flickr by Wyn Van Devanter
The Art Deco District in the South Beach area is home to the highest concentration of buildings in this beautiful style of architecture left standing anywhere on earth. You may take a guided tour of the area for $25 per person or you can just wander around and discover it yourself for free. You may often encounter an art festival here by day or plenty of music joints and interesting characters by night.
3. Make the Most of Your Hotel
You can get an extra dose of Miami simply by staying at the right hotel. However, finding an inexpensive stay isn't always easy. Details like an outdoor pool or a view of the city or the water can become part of your travel experience, but the amenities can add to the cost. Use a travel planning site that will help you book a great hotel at an affordable price.
4. Visit a Museum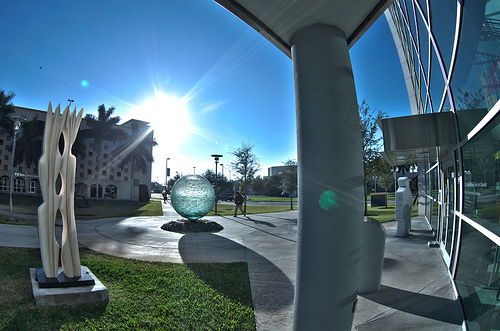 image via Flickr by Eduardo Merille
A city's museums can give you a sense of its cultural side, usually for a nominal admission price. Many of Miami's museums have a particular day when they're free.
The Patricia and Phillip Frost Art Museum is free every day. Associated with Florida International University and affiliated with the Smithsonian Institution, the museum includes six exhibit galleries and three galleries rotating selections from its permanent collection, which ranges from pre-Columbian objects to contemporary works by the university's graduates. There is also a lecture hall and an outdoor sculpture collection, as well as the Kenan-Flagler Family Gallery, where patrons can interact with electronic displays.
5. Have an Everglades Safari
From this well-established attraction in far western Miami, take off for the natural world. The main tour package is an airboat ride into Everglades National Park, an alligator show, and hiking the Jungle Trail. This will set you back $23 for adults, but only $12 for kids, with children under five welcomed free.
6. Hit the Beach
Of course, the mandatory low-cost activity for all Miami visitors is to simply visit the beautiful beaches. There are many stretches of beach that offer all sorts of environments, from the cafe-lined boardwalk of Central Miami Beach to areas with sports equipment rentals or kid-friendly water parks. Research to find the best beaches that feature picnic areas, showers, or lifeguards on duty.
From the cultural to the natural, there are many options for economical things to experience in Miami. Don't let your small vacation budget keep you away.