In short, it's because it's the most beautiful place I've ever been. I used to say that about the Colorado Rockies, but when I went to Greece several years ago, I was enthralled by Santorini. Simply being there felt surreal, like I was really just in a daydream or an IMAX theater.
When I went to Greece, I took a cruise that gave me a sampling of several Greek Islands. I had originally planned to just spend several nights in Mykonos and Santorini, but the Greek ferry system was baffling, and taking the cruise made the logistics far easier. As I expected, Mykonos and Santroni were my favorites. While I was happy to see more of Greece than planned, and even some of Turkey, I fell in love with Santorini the moment it was in sight and was heartbroken to leave after only half a day.
The craggy cliffs of Santorini are too dangerous for cruise ships to get close (major shipwrecks have happened there), so we docked off-shore and took dinghies over. The white buildings sprinkled atop the cliffs were hard to see from where we anchored down. I couldn't wait to get closer.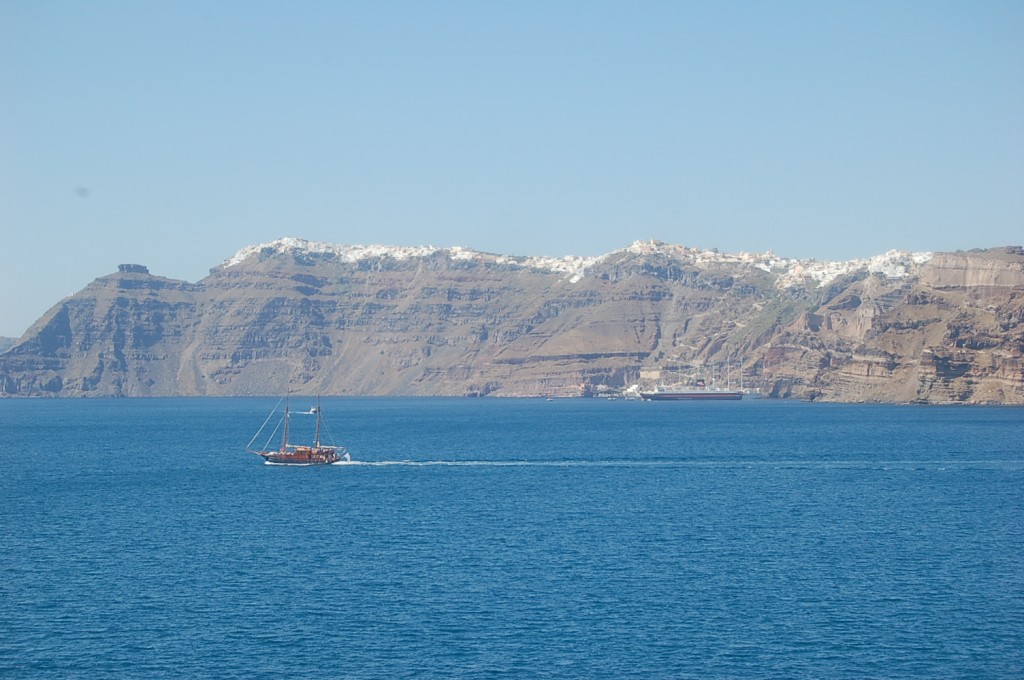 When we arrived on the ground in Fira, Santorini's main town, the cliffs were so steep that you could barely see the buildings up top. To get up there, you either ride a cable car (you can see a cluster of them near the top left corner), ride donkeys, or hike the switchbacks.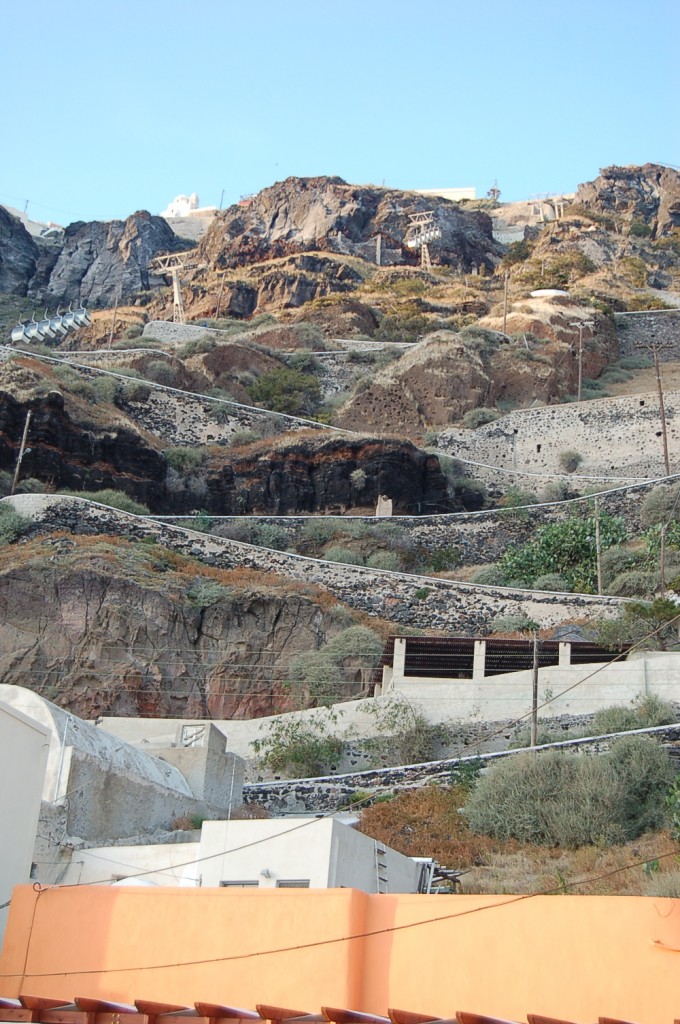 Yep, we chose the cable cars.
The height is intimidating, but the views are worth the stomach-flipping. And you're in an enclosed car, so there's no risk of you or your belongings falling out.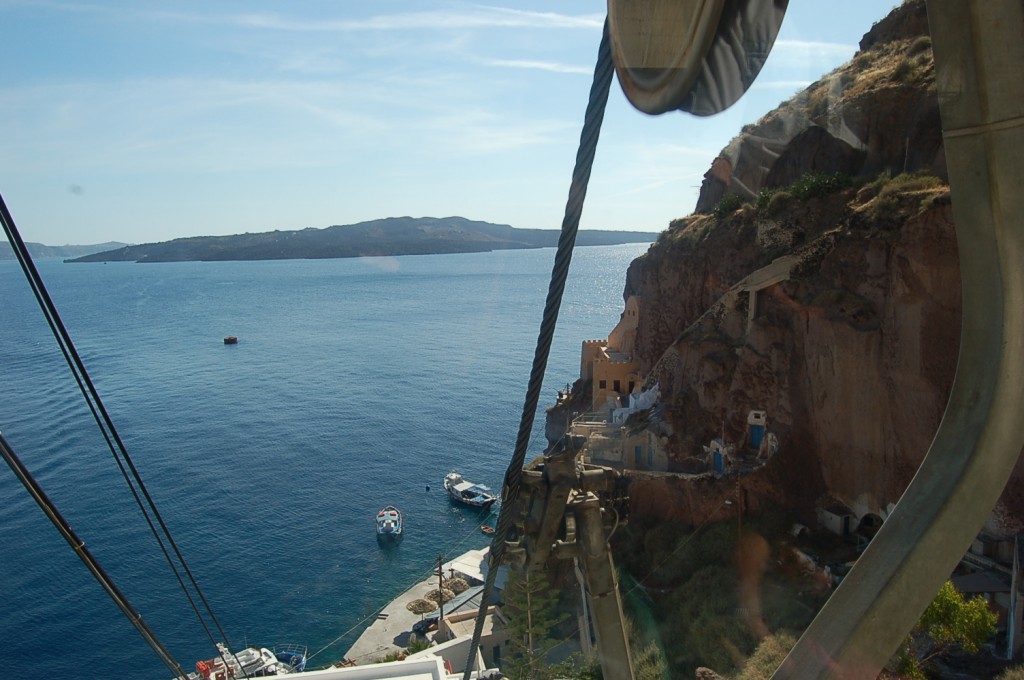 If you look closely in the bottom right corner, you can see some of the folks ascending on the donkeys.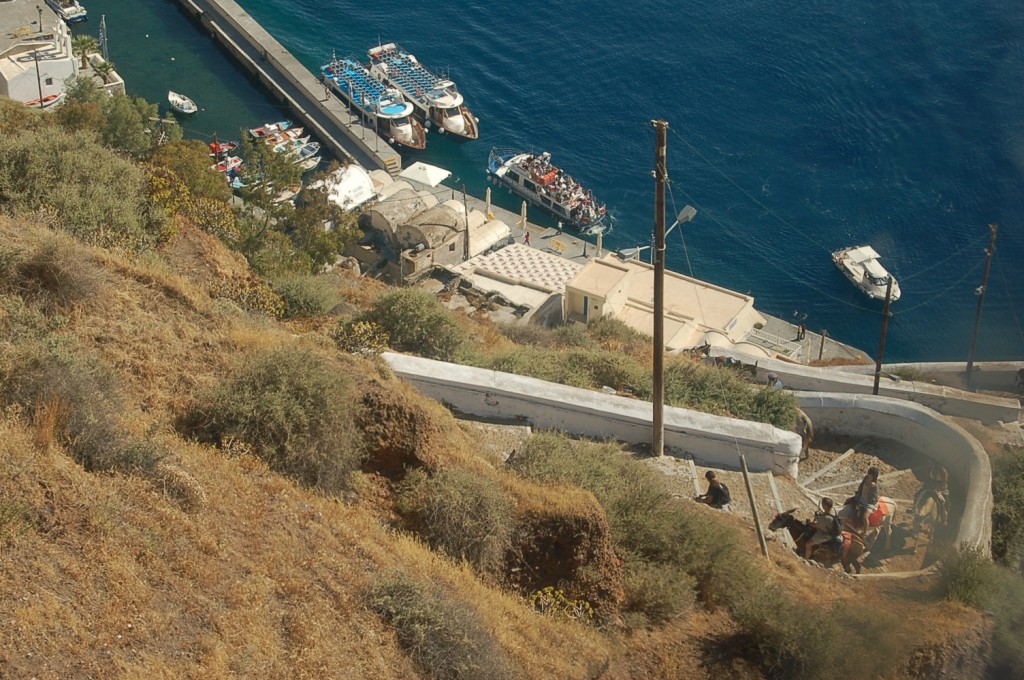 Almost there!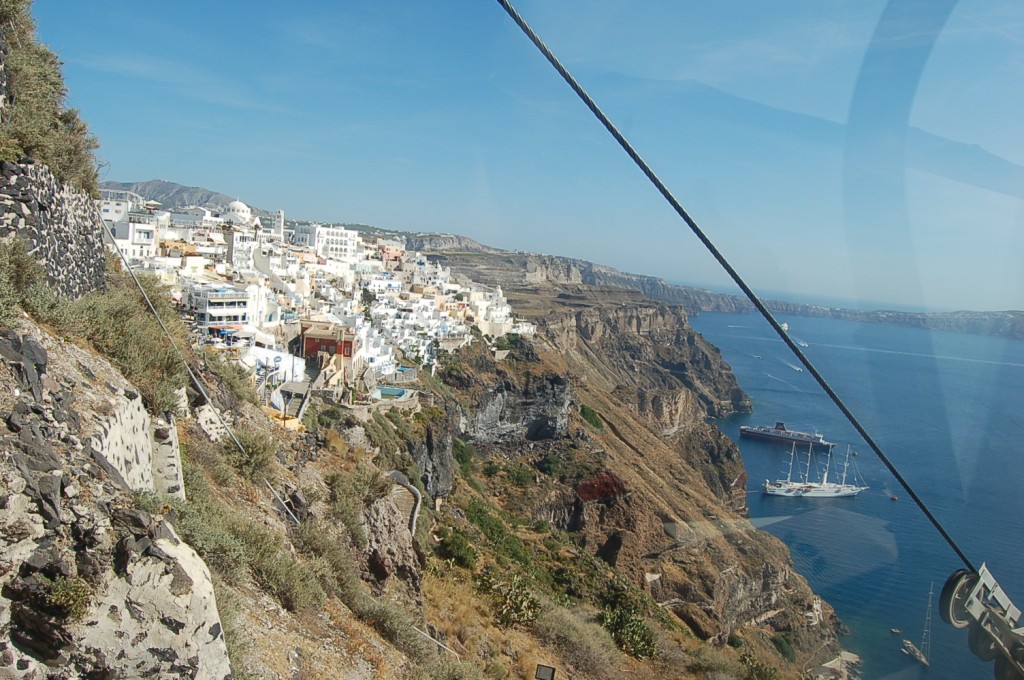 From the cable car, you could perfectly see the island's caldera, which was formed by volcanic explosions thousands upon thousands of years ago (you may recognize this as my Twitter background!).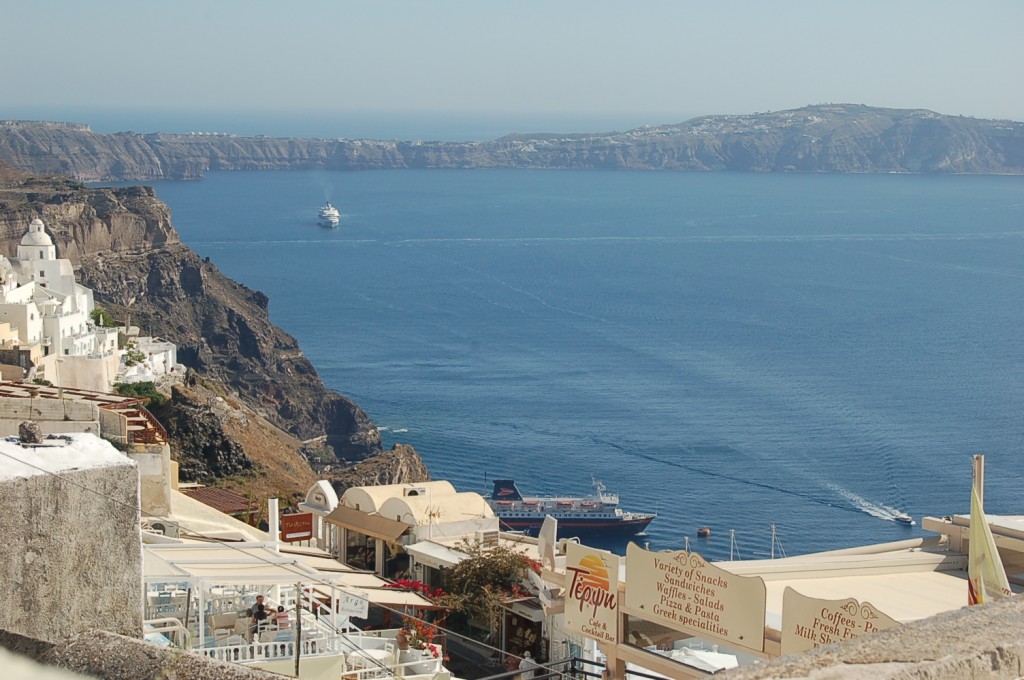 Finally on the ground! My sister (to the right) and I instantly loved this charming little place. It had a similar feel to Mykonos, but a completely different landscape and more colorful buildings. We later learned that Oia, a smaller town in Santorini, has the white-washed, blue-capped buildings that Mykonos has. Sadly, we didn't have time to make it over there.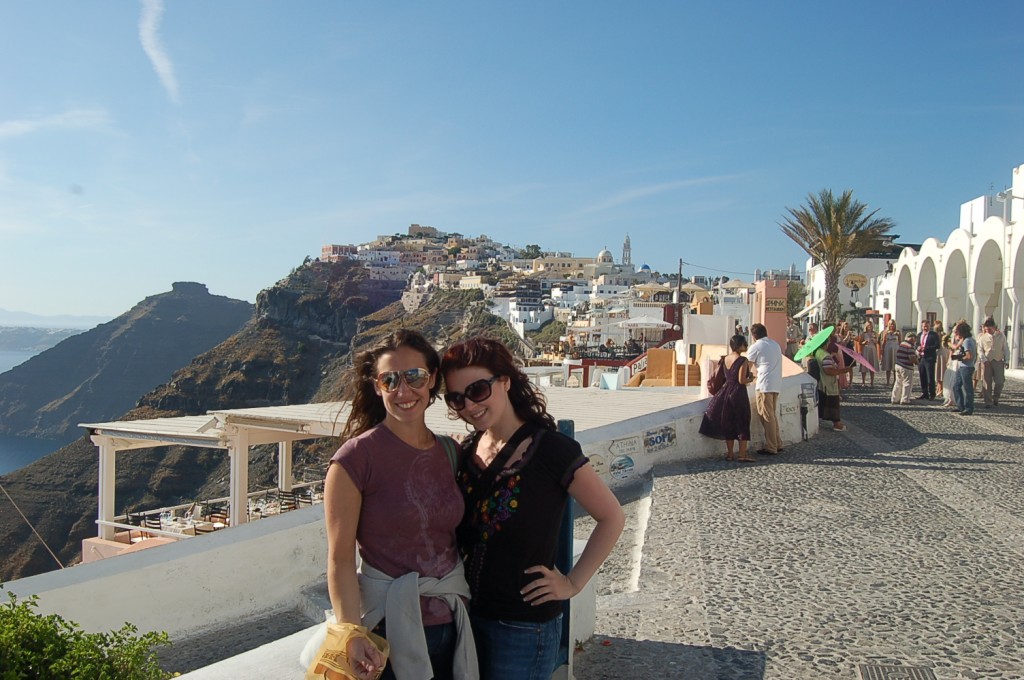 Due to the jagged shape of the land, buildings are stacked in all kinds of levels with no seeming rhyme or reason.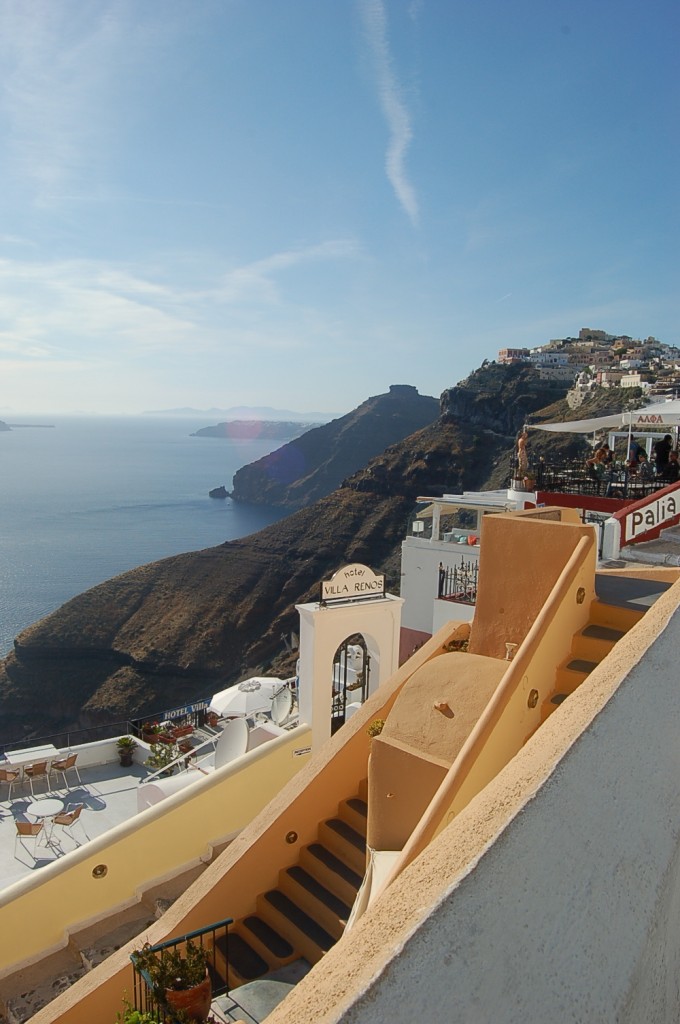 We stumbled upon a Greek Orthodox church and decided to go inside and check it out.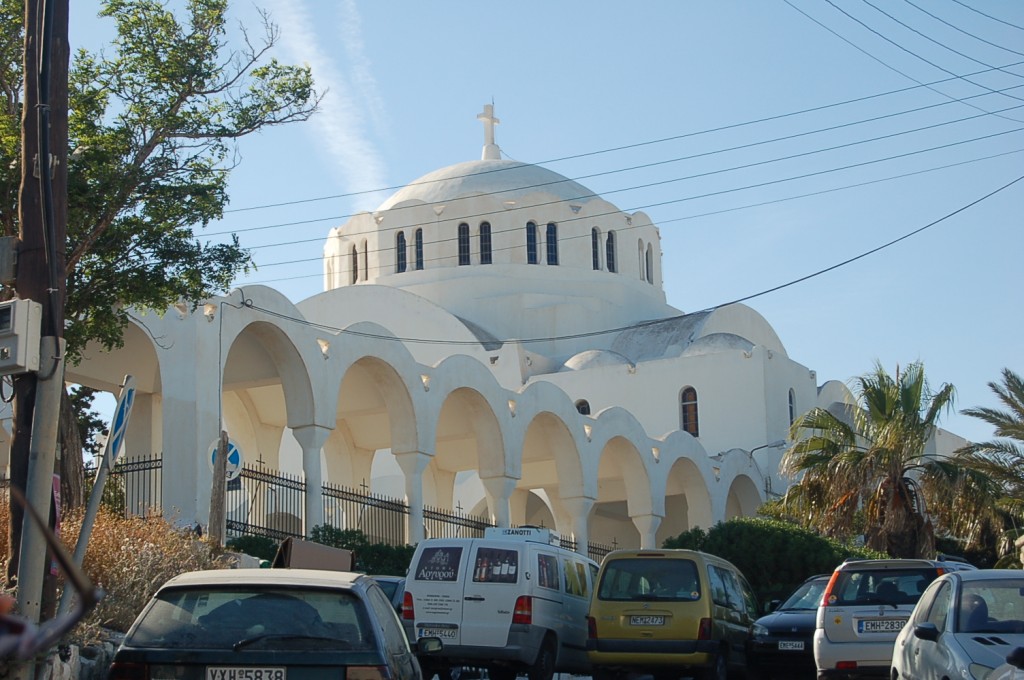 The inside was ornate and colorful, with the walls completely covered in murals.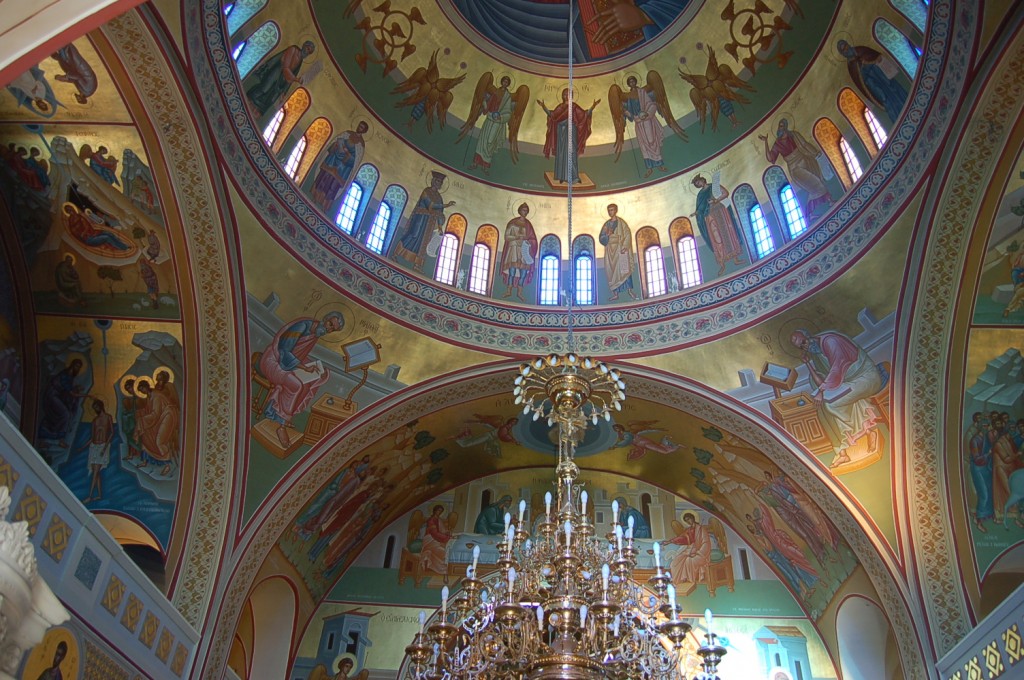 There was also a massive chandelier so pretty that even a priest stopped to admire it.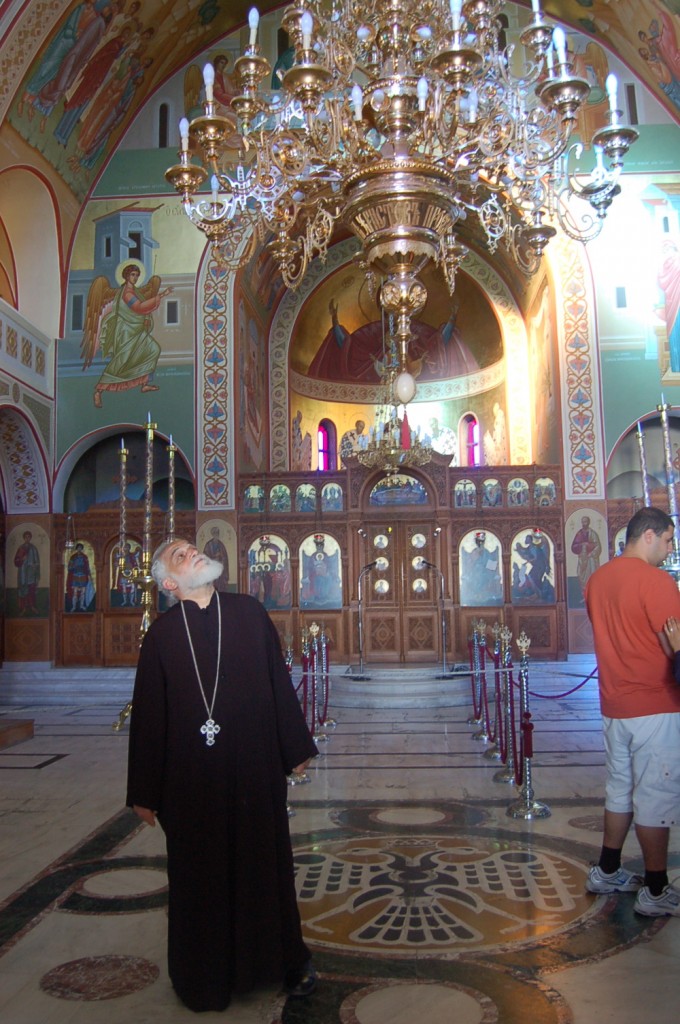 We walked through the narrow maze of streets to explore shops. We got lost a few times, and street names were hard to understand, but I was told that's the norm. I came home with a classic white Grecian dress.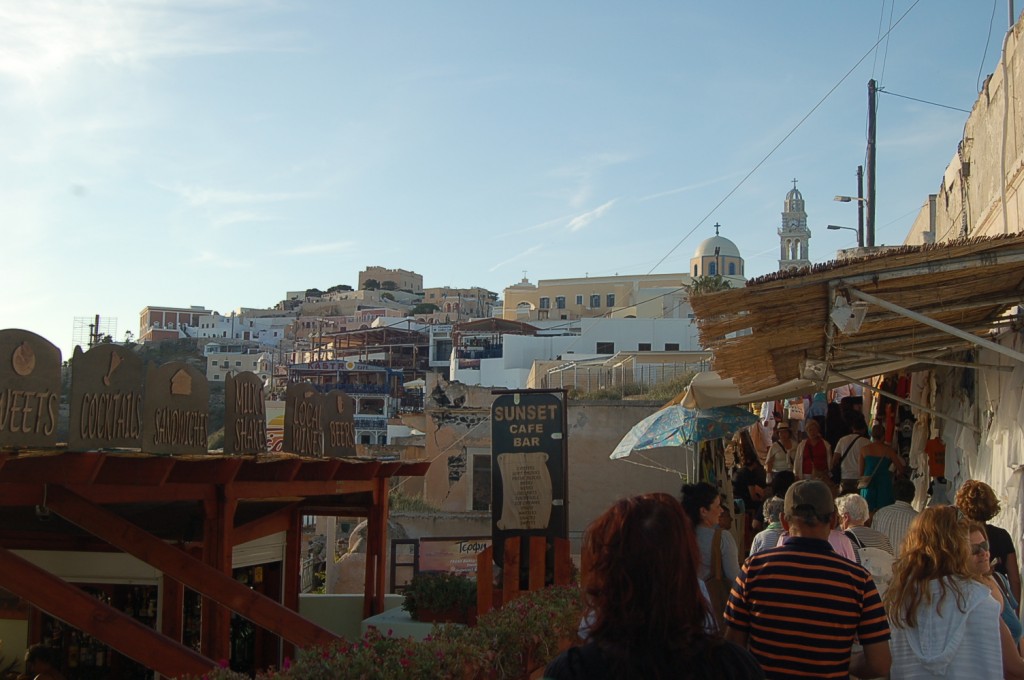 From Fira, you can see two uninhabited islands made of black lava (Nea Kameni and Palea Kameni). You can actually go visit those islands by boat and bathe in the hot springs at Nea Kameni.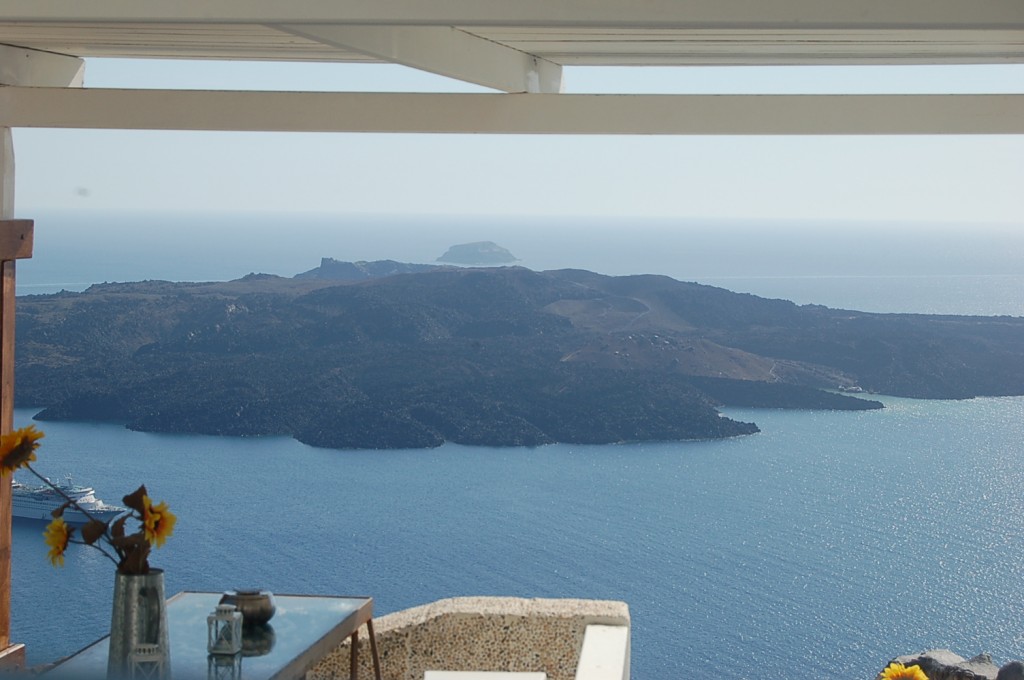 As soon as we saw the view from this cafe, we stopped in for a drink. I don't think there is another cafe in the world with such a stunning view. That's our cruise ship in the background.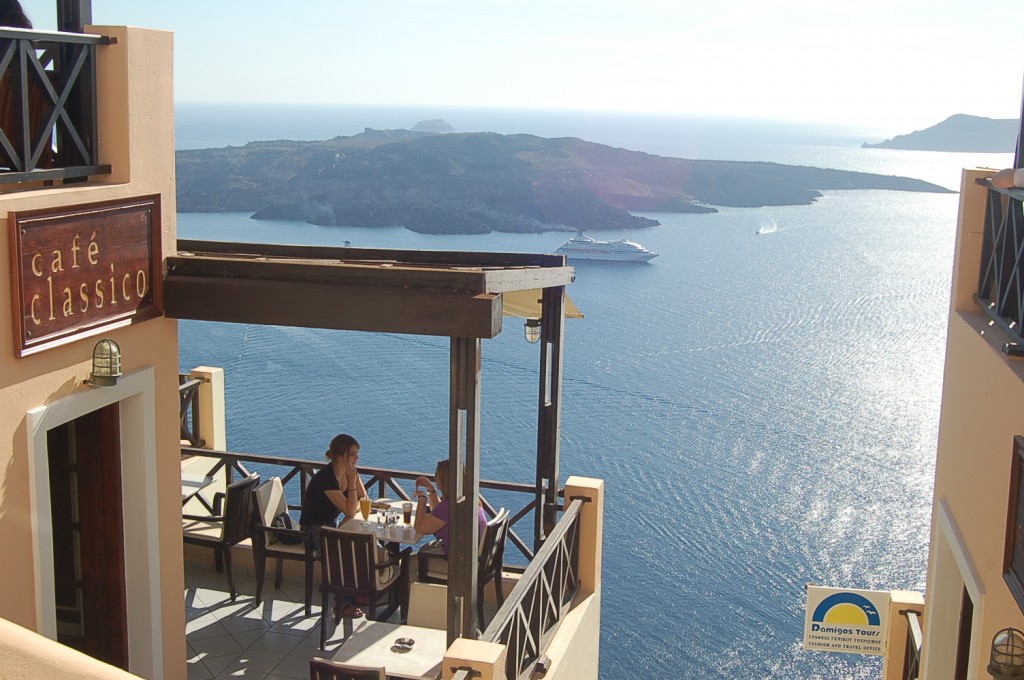 While walking around, we came upon several "doors to nowhere," which were a bit haunting when you looked through and realized they went straight out into the ocean. Merchants seem to like putting these at the steps that lead down to their businesses.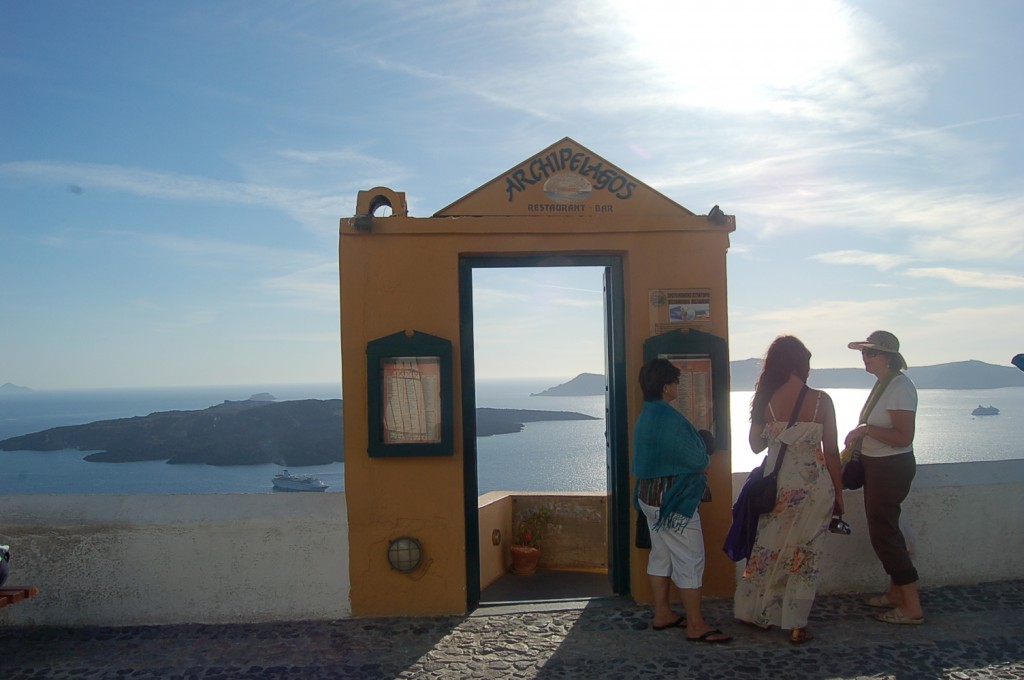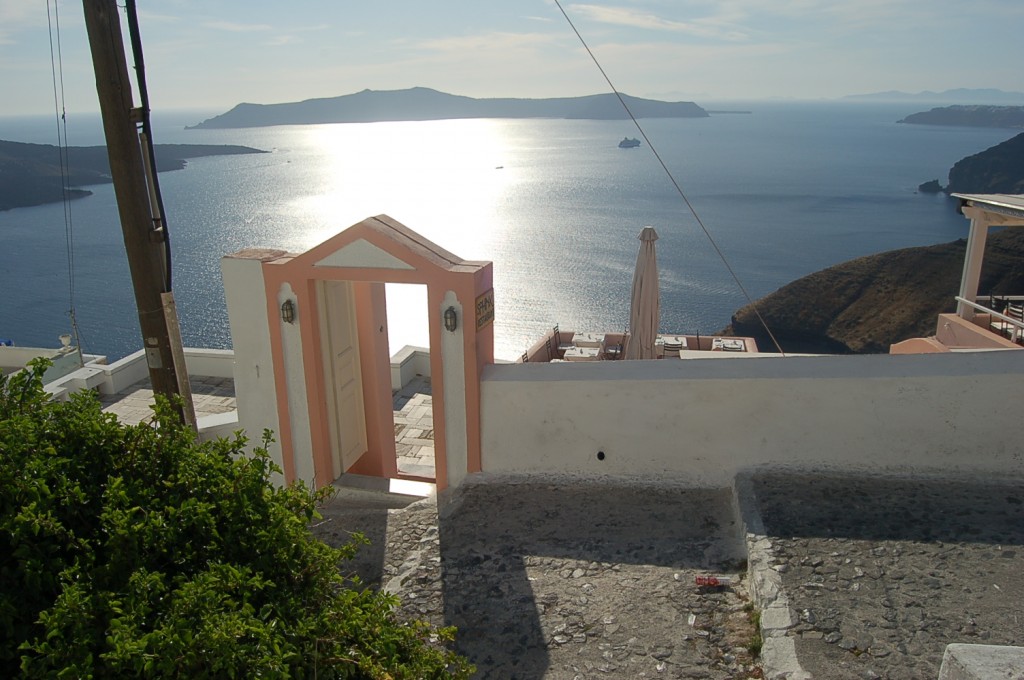 My sister took this picture of me with the reflection of the ocean in the background before we had to leave.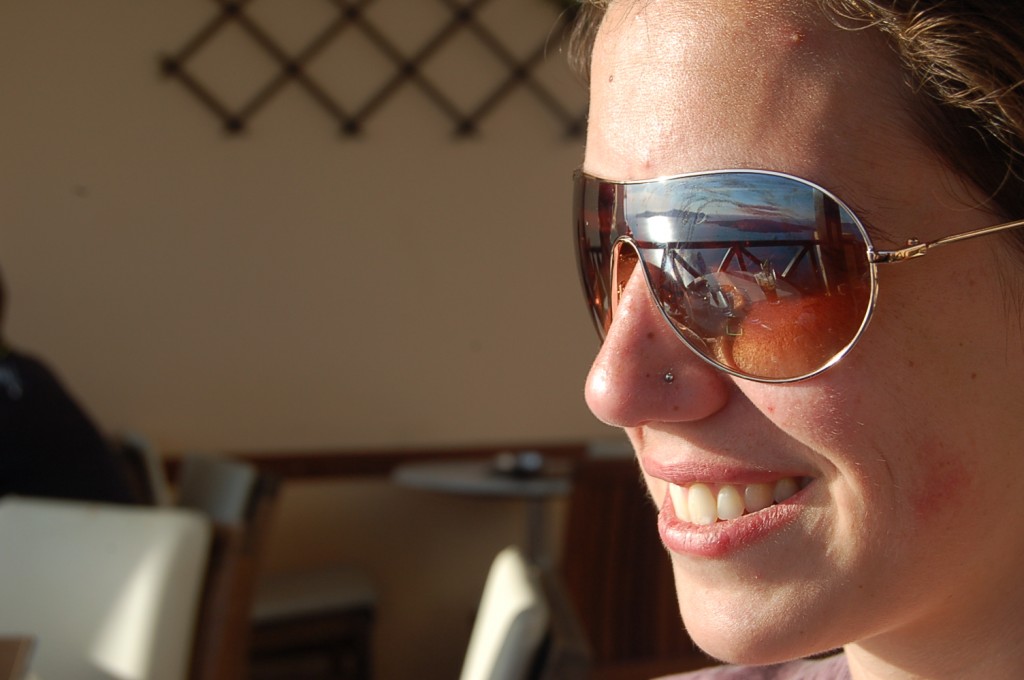 The view going down was just as beautiful as the view going up, but it looked very different bathed in the setting sun's golden hues.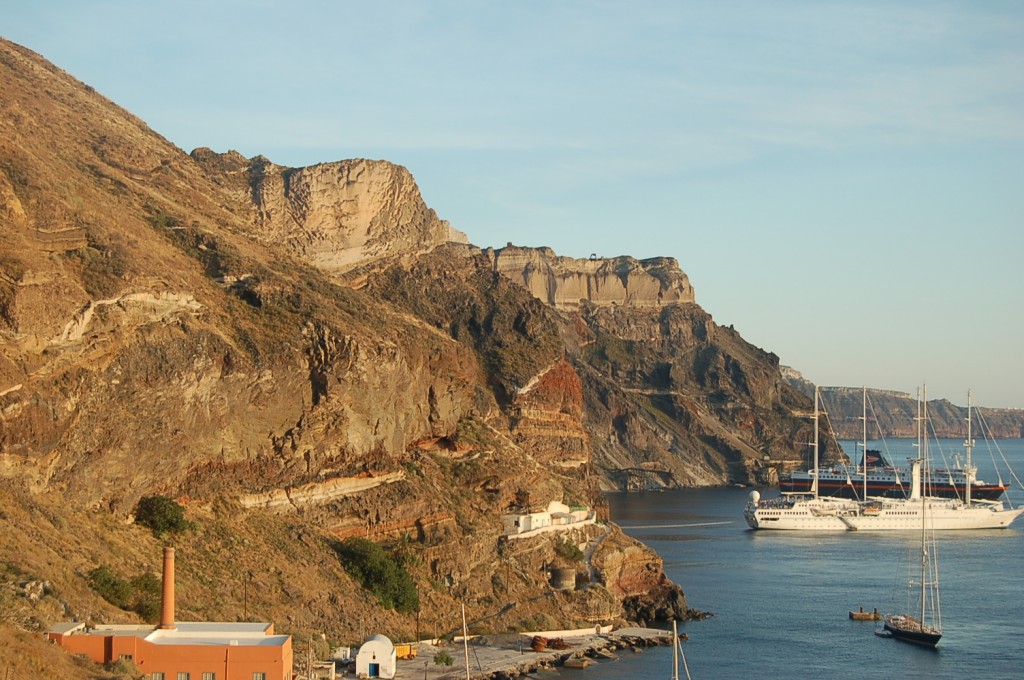 On the way down, I saw these bizarre doors that went straight into rock. I was dying to know where they went. I might have to go back and see…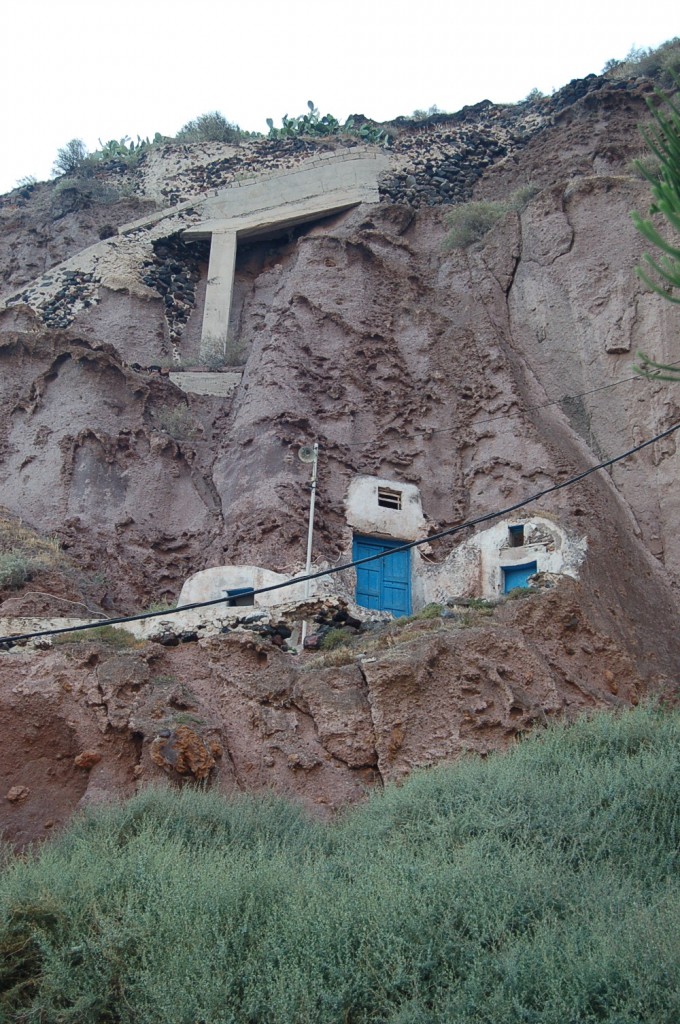 Before I knew it, we were back on the dingy and saying goodbye to Santorini.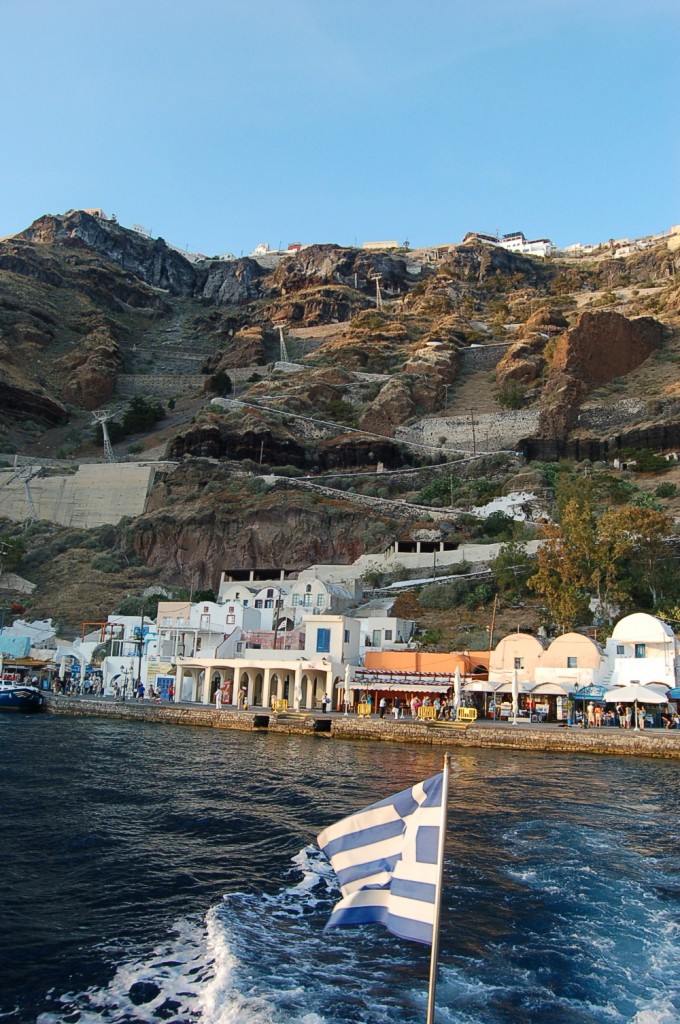 When we got back to our cruise ship, we still had some time to enjoy the view before we took off. It was that perfect time of day when the sun starts to set but is still shining. I was a happy girl.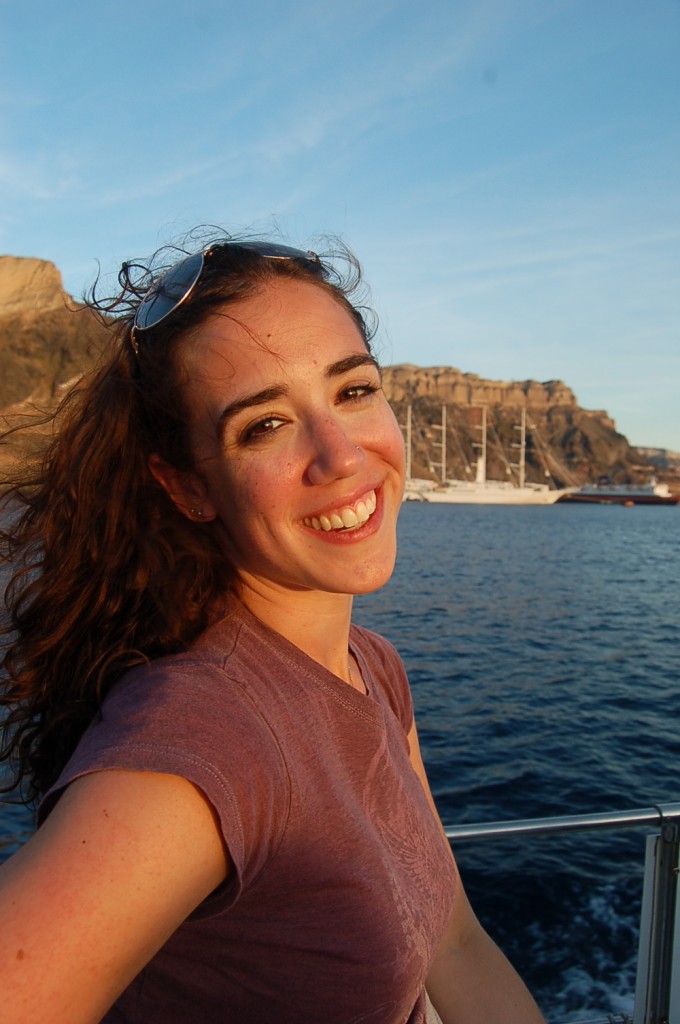 Then it was time to set sail in the Aegean Sea. But don't worry. I'll be back.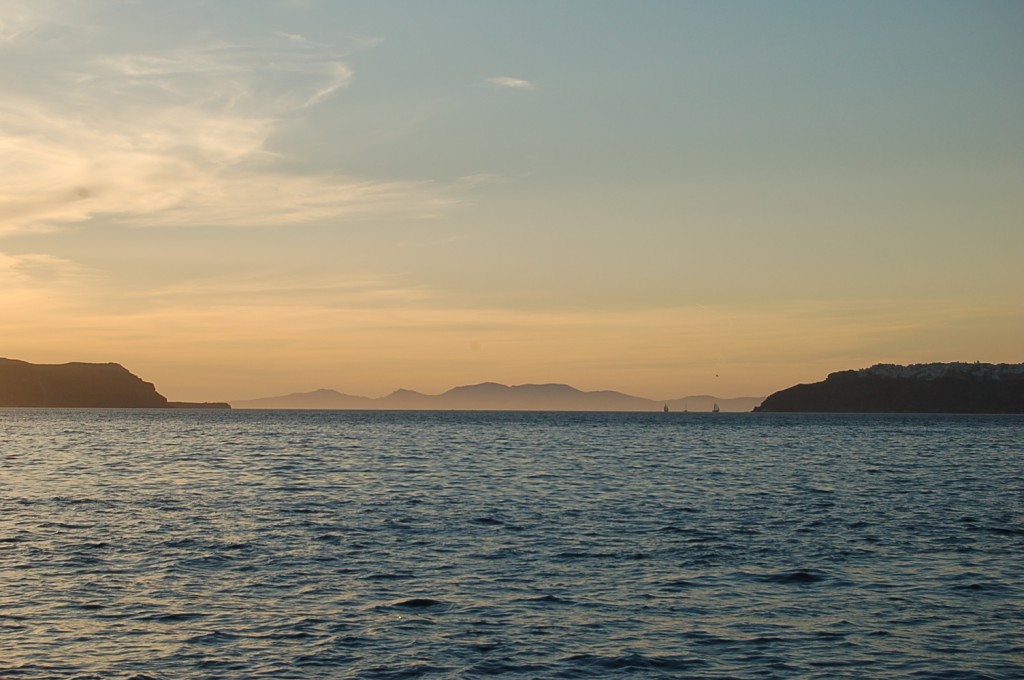 Have you ever been to this magical place?
A message from our partners: If you're looking for great offers on hotels in Greece, check out Hotels4U.com. From budget self accommodating apartments to luxury hotels, you'll be able to find the perfect place to stay on your Greek holiday.