As the weather gets brisker and the days shorter, date ideas may seem like they freeze up. Don't let a little weather keep you locked inside! Bundle up, grab your significant other, and take advantage of what the season has to offer. Heat things up during the cold with these romantic winter activities.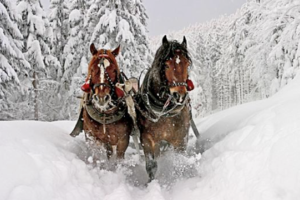 Enjoy a Winter Sleigh Ride
Horse drawn sleigh rides have been in romantic movies for decades. Bundle up in blankets and enjoy an enchanting trek through the sparkling snow. As the driver expertly navigates the horses, wrap your hands around a mug of hot cocoa and admire the wintery landscape. For a twist, enjoy a reindeer sleigh ride instead, Santa style.
Ice skate on a Frozen Pond
Skating in a rink doesn't compare to skating outdoors, breathing in the fresh crisp air. Finding a secluded frozen pond involves some exploration, adding more to the adventure. After checking that the pond is safe for skating, glide around hand-in-hand with your partner. If a natural ice skating area is unavailable, go to a public outdoor rink.
Photograph the Northern Lights
The aurora borealis, or the northern lights, is a true celestial disco. The atmospheric phenomenon casts mesmerizing, colorful bands of light through the sky. For those visiting or lucky enough to live in the far northern regions in the world, seeing the northern lights is a magical experience. Drive to a secluded area away from light pollution and enjoy the show. For those outside of the "Aurora Zone," check news forecasts for any signs of meteor showers.
Sleep in an Igloo
For a romantic getaway, live out your childhood fantasy of staying in an igloo. Kakslauttanen Hotel & Igloo Village in Northern Finland has thermal glass igloos that allow you to see the snow-covered evergreens and twinkling stars above while keeping warm. For those willing to brave the cold, there are traditional igloos available. The temperature in the snow igloos stays around the -3°C and -6°C range—a perfect opportunity to cuddle up! Kakslauttanen is one of the best venues for winter weddings and has a unique ice chapel for those wanting to tie the knot.