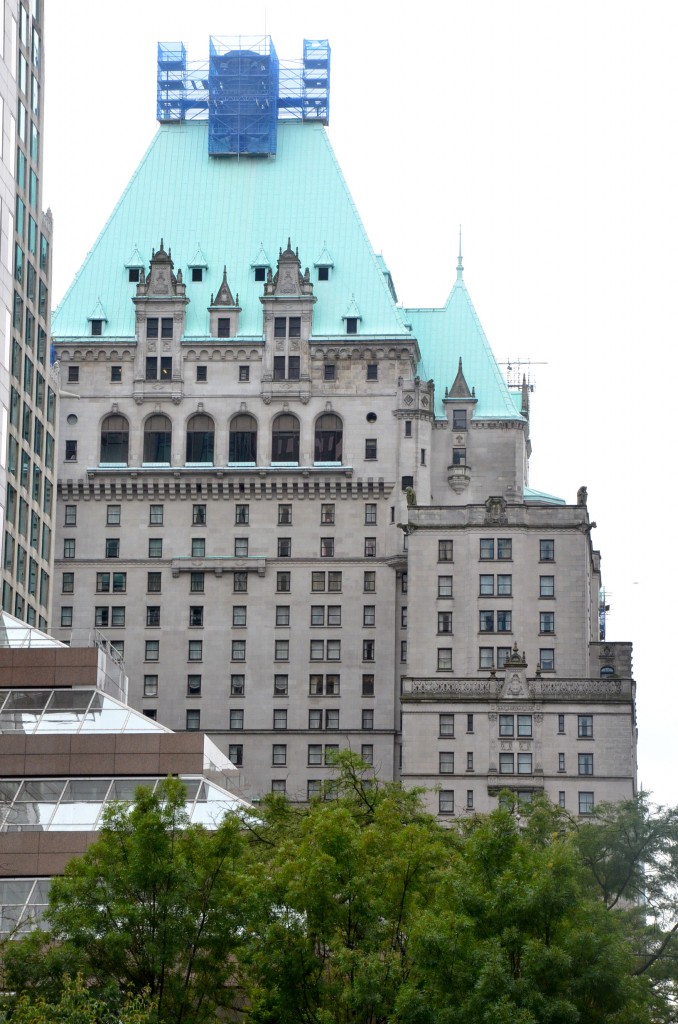 The Fairmont Hotel Vancouver, located in heart of downtown Vancouver, British Columbia, is also known as "the castle in the city." The towering building with stunning French chateau-style architecture can be seen from all over downtown, and it looks more like a palace than a hotel.
After hearing wonderful things about it from fellow travel bloggers, I choose to stay there for my three nights in the city.
The hotel is actually the third incarnation of the Hotel Vancouver. The very first opened in 1888. The current one opened in May of 1939, just in time for a visit from Great Britain's King George VI and Queen Elizabeth. Once you enter the lobby, you can tell why it's fit for a king; there are high ceilings, marble floors, massive chandeliers, regal carpet, and decorative crown molding. It also has several in-house retailers, including Gucci and the city's flagship Louis Vuitton store. I did some great window shopping!
Canine Ambassadors
The first thing I noticed upon entering the hotel was the classic and elegant style. The second was the two adorable dogs hanging out next to the concierge desk. I quickly learned that these sweet labs were Mavis and Beau, the Fairmont's Canine Ambassadors (see my pics of them below). I was happy to learn that several other Fairmonts have dogs as well. They each have a bed on either side of the concierge desk, but they liked to wander and sometimes sleep on the floor. One time I saw a little kid playing with one of them, and the dog was so sweet and patient.
These pups made this luxurious hotel seem more like home. When I travel, I miss my dog terribly. It gave me comfort to be able to pet these dogs. One thing I love is that you are allowed to take them on walks! They can only be walked a few times a day, but this is a very good thing—it would be terrible if they were forced to go on 15 walks a day! They occasionally took a little stroll through the lobby, but they were extremely well-behaved and friendly. Each one lives with a member of hotel staff, so they go home every evening and come back in the mornings.
Interestingly, Mavis and Beau have both been trained as seeing eye dogs. Another fun fact is that Mavis is the half-sister of one of the Canine Ambassador dogs at the Fairmont Waterfront location.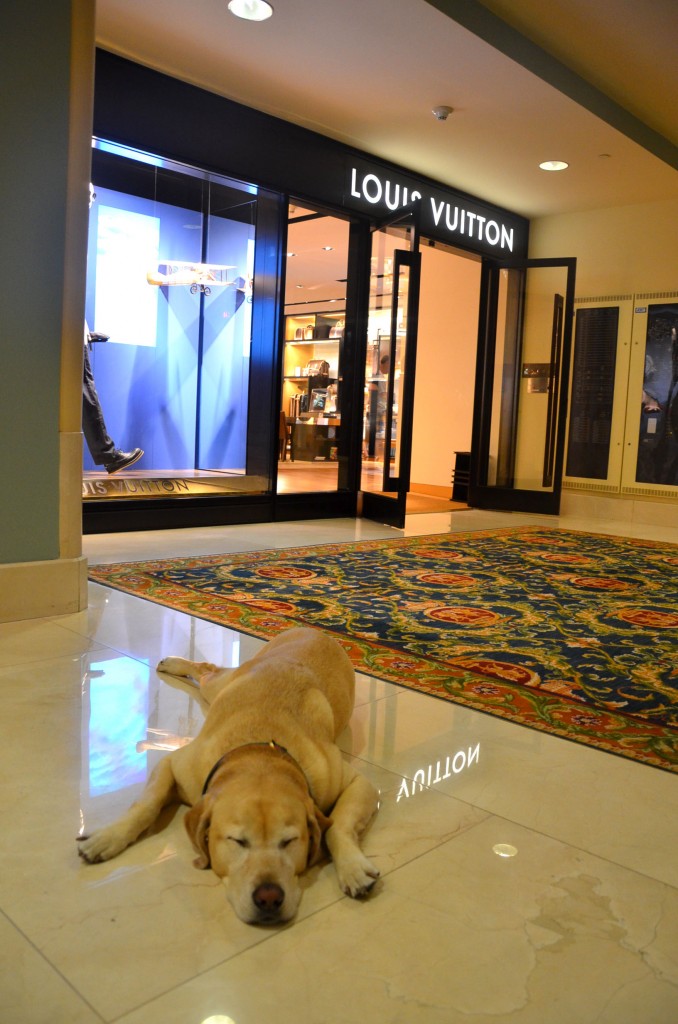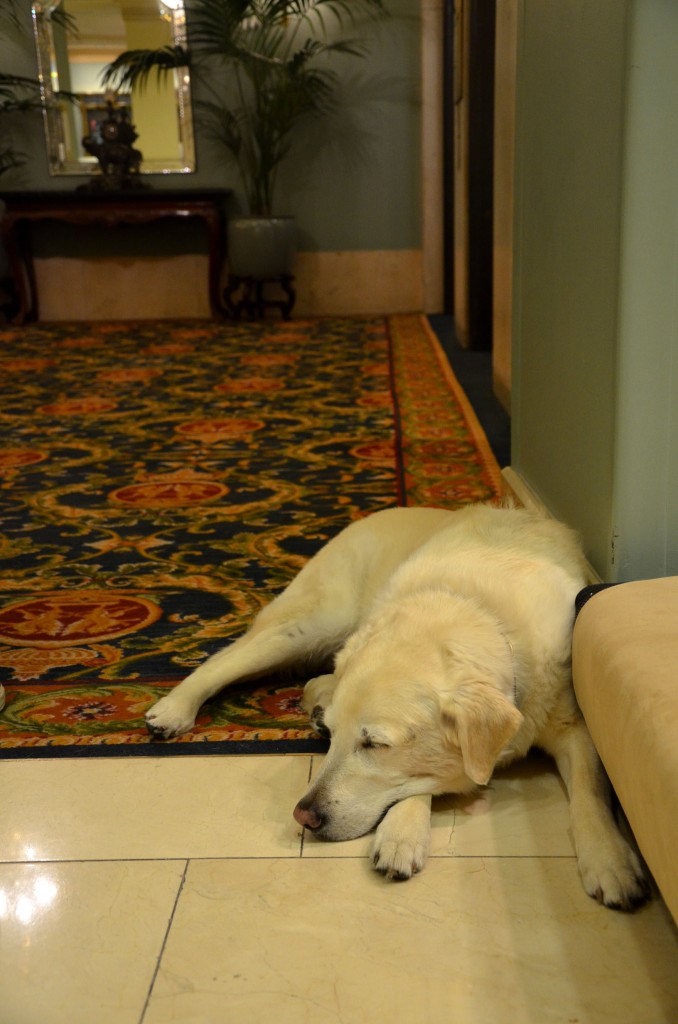 The Location
There are three Fairmont hotels in downtown Vancouver: Hotel Vancouver, Waterfront, and Pacific Rim. Each has a different personality and style. This one is located on Georgia Street and is just one block from Robson Street, a major thoroughfare with tons of shops and restaurants.
The Fairmont Hotel Vancouver was the perfect spot for exploring downtown by foot. We were able to walk to Stanley Park, Gastown, Chinatown, beaches, and Granville Island. We never even took a bus or SkyTrain—we enjoyed taking advantage of the exercise and beautiful weather. There are literally hundreds of restaurants within half a mile of the hotel; one of our favorites was Kamei Royale, a Japanese restaurant right across the street. We also loved Pacifico, an Italian restaurant a few blocks away. There is also great shopping all around in areas surrounding the hotel, from major designer shops to cute affordable boutiques.
Afternoon Tea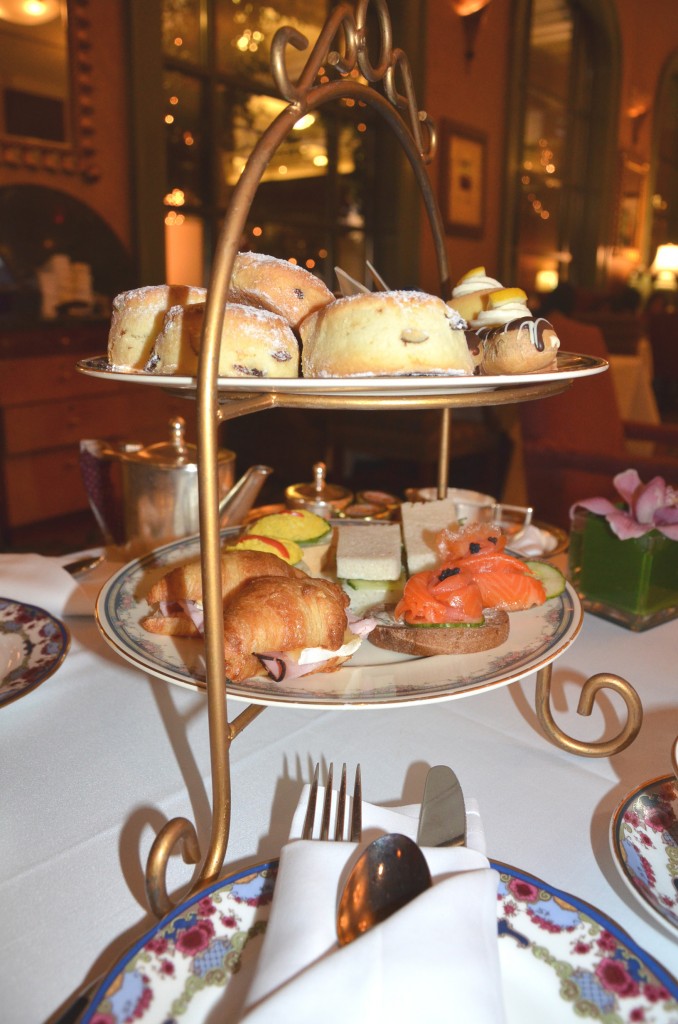 Afternoon tea doesn't happen in America. Sure, some of us drink green tea or chai tea from time to time, but there is no such thing as tea time as an event. I assumed it was only an English tradition. I was intrigued to find out that it was also popular in Vancouver. This confused me at first, until I put two and two together and realized that Vancouver is in British Columbia, which has a shared heritage with the U.K.
The Fairmont Hotel Vancouver hosts a traditional afternoon tea every afternoon at its classy 900 West Lounge, which I attended one day. The tea menu is lengthy, with dozens of worldwide teas to choose from. I went with peppermint, which I loved. Each person gets their personal kettle, which is something we rarely get when we order tea in the U.S. I was told that the Fairmont Pacific Rim has a tea menu with more Asian influence. They also have a fun tea menu for kids; flavors have included bubblegum tea and peanut butter and jelly.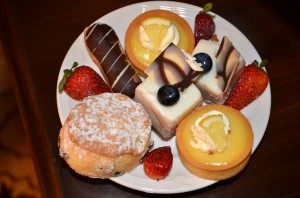 To complete the experience, you can get a tier of traditional tea snacks, including petit sandwiches, homemade scones (incredibly tasty—of course it's a secret recipe!), fresh strawberries with Devonshire cream, and delectable pastries (lemon tart, blueberry cheesecake, mini éclairs, etc.). It's served with the original royal crystal.
I had a late lunch that day so I wasn't able to eat much at actual tea time, but they kindly let me take the rest of the goodies back to my room, which I had for dessert that night! It was fun getting to experience a true afternoon tea; it provided a great break in the day to enjoy fresh tea, delicious treats, and good conversation. Why don't we do that in America?
My Room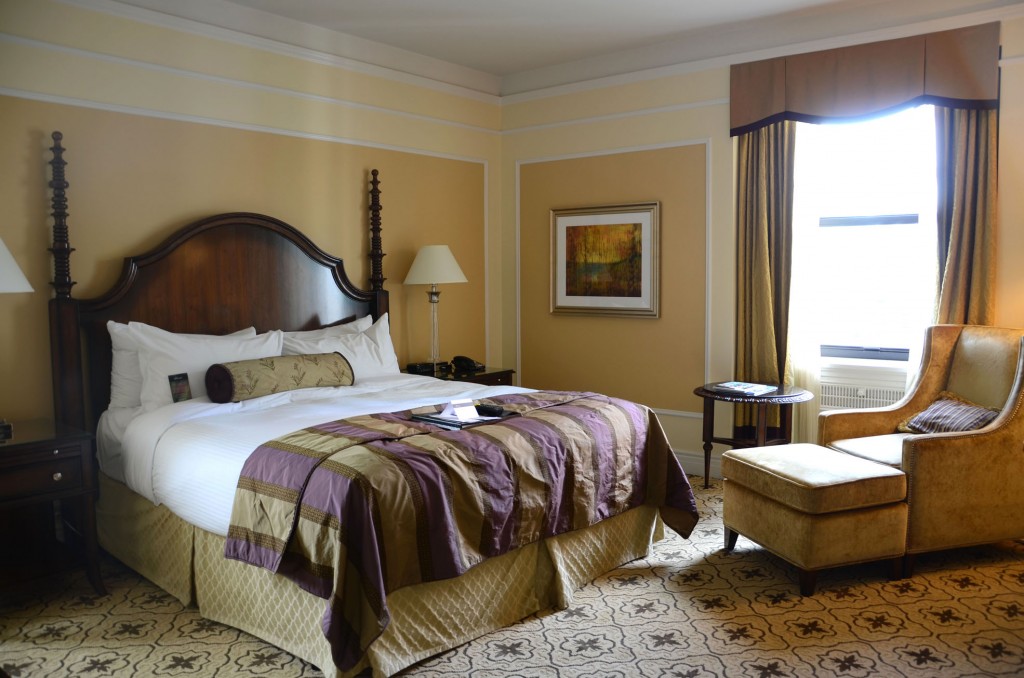 The first thing that struck me about the room was the beautiful bedding with purple accents (it's my favorite color). The second was the window that looked straight at the harbor. Sure, it was only a small part of the harbor since buildings blocked the rest of the view, but I didn't care. I loved watching the bustling city from above and seeing ships pass by.
While the room itself was spacious, with a work desk, comfy chair, and an armoir with a flat-screen TV, there was one big thing I felt was missing: a full-length mirror. I love being able to see my full outfit before I go out, and there wasn't one–just the bathroom mirror that shows about chest up (I'm short). The bathroom was also quite small, though I know it's an old building. The massive, cozy king-size bed made up for that.
Prior to arriving in Vancouver, we were in Seattle for several nights and stayed in a friend's apartment. It was downtown and had no air conditioning, and it was a warm week. We had to sleep with the windows open, which meant lots of light and noise (I had to wear earplugs and an eye mask). It was such a relief that our room at the Fairmont was quiet, had a cooling system, and had blackout curtains. The bed was soft and comfortable. After that stay in Seattle, I slept like a baby here.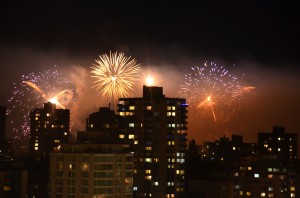 The Celebration of Light took place while we were in Vancouver. I was advised by many to go to it, but I was also warned that the crowds would be intense. We were in the room that evening well before the event, and I heard several bangs. I ran to the window and saw smoke in the air—they were test fireworks. I realized we would probably be able to see the show from our window, so we stayed in the room rather than dealing with the masses. We pulled up a chair to the window and watched a stunning firework show from our 12th-story hotel room. It was perfect. I took photos of the whole show, including that one to the left.
Exercise Room and Pool
I was too busy exploring the city to visit Absolute Spa, the hotel's in-house spa, though I wish I had squeezed in time for a massage. But I did use the exercise room once. I was extremely impressed—the equipment is very new and modern. The treadmills had screens that allowed you to watch TV while running, and the stationary bikes had screens that could simulate outdoor biking. They also had a new device with weighted cables that could be used in dozens of different ways, and there was a video playing on repeat showing how to use it. I'm a fitness junkie and have been to plenty of hotels with mediocre or bad workout equipment, so I was very happy with theirs.
We visited the pool, which is indoors but surrounded by windows, so it is flooded with natural light. There were several kids swimming at the time, so we instead soaked in the hot tub. It was a great way to unwind after a long day.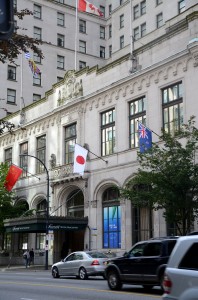 Little Things I Loved
At some big hotels, you're stuck waiting for elevators for ages. The hotel has six elevators, so I very rarely had to wait for one or miss one because it was too crowded.
On our first day, we asked the concierge for advice on a casual lunch nearby. Rather than giving us several different options to choose from, as many places usually do, he got straight down to business and just gave us one solid recommendation (Cactus Club Café). His choice proved to be perfect; I was happy not to be overwhelmed with choices during my first hour in a new city.
At evening turn-down, they refill your ice bucket, leave you two free bottles of water, and leave you a card with the weather for the next day. It's the little things that count.
Great Tip!
I learned this from the brilliant Johnny Jet. It's completely free to join the Fairmont President's Club, so you should sign up online before your visit. It gives you free access to WiFi (normally very pricey). You get other perks, such as free bicycle rental and free newspaper.
Disclosure: One of my nights at the Fairmont was complimentary for review purposes. As always, my review is fully objective.