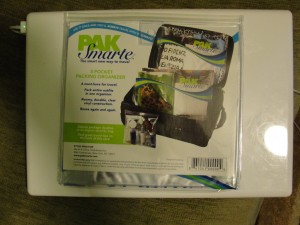 When I read a press release for the PakSmarte packing organizer, I knew I wanted to try one. I have a tendency to be unorganized.
I try to be orderly when I pack, and sometimes it works, but other times I end up with a jumbled mess of wrinkled clothes, especially if I have to remove things at airport security. I wanted to see if PakSmarte can help someone like me. The company kindly sent me a complimentary one so I could try it for myself.
When I first received the product, I was amazed by how small the packaging was. When new and folded up, it's only as thick as a magazine, and the dimensions are just 7.5″x8.5." Smaller than the surface of my laptop. Once opened up, PakSmarte is 19″ wide x 13″ high x 1.5″ deep.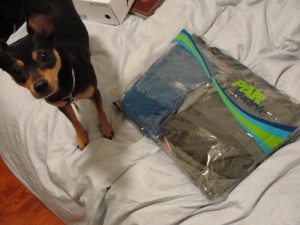 This vinyl suitcase organizer has three pockets, and it is intended to keep your clothes clean and wrinkle-free. When unfolded and used for packing, fits in any size luggage, including carry-ons. It's only $9.95, which is cheap compared to other packing organizers, like Eagle Creek's packing cubes.
At first, I thought it looked like a huge plastic Ziploc bag without a zipper, but I took some time to experiment with it.
Here is what I packed in there:
6 pairs of underwear
1 pair of jeans
1 pair of black yoga pants
1 tank top
2 long-sleeved T-shirts (one thick, one thin)
2 short-sleeved T-shirts (one thick, one thin)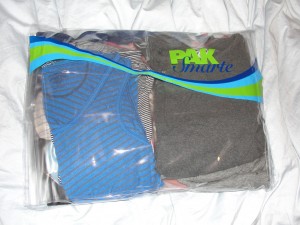 It was a little bit of a challenge keeping clothes folded perfectly while slipping in other folded clothes on top of them, but I managed to squeeze in far more than I expected. It is divided in three sections, so you can separate like clothes (I put my two pants in one, the underwear and a shirt in one, and the other shirts in one pocket).
Once everything was in, I squeezed the bag down to push any air out, and much to my surprise, it became very thin and compact. It reminded me of the commercials I've seen for those bags where you vacuum any air out. This requires no vacuuming, but it allows you to push the air out and keep it out since everything stays enclosed.
Once you have everything inside the PakSmarte, you close the flap–it was like an oversized envelope. You could easily toss several of these in one suitcase, and it would certainly make it easier find other things in your bag (my problem is that cameras, toiletries, shoes, and other items sometimes get mixed up with clothes). This definitely would make it easier to grab what you need at airport security. Another cool feature is that you can use the small plastic zipper bag that the PakSmarte came in to store your TSA-compliant toiletries.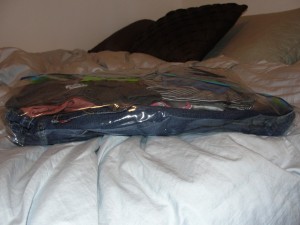 After my clothes sat in the PakSmarte for a while, I took everything out, and it had all stayed perfectly folded. The product definitely has the ability to keep clothes clean and wrinkle-free, especially when sharing a bag with shoes and other items.
I'm a petite person, and I live in Texas, so my clothes aren't very large or bulky. If I was packing warm winter gear, less would have fit in. But as a small woman packing clothes for warm to cool weather, it fit in a large amount of items and made them far more compact and organized than if they were just laid out in a suitcase.
PakSmarte doesn't work miracles, but if you have a tendency to overpack or be unorganized and have wrinkled clothes, I think this product is a great and affordable solution!
Disclaimer: I was given a PakSmarte product for free for review purposes. However, I was not paid to write this review.