The gist: Really phenomenal deals can be had, but it requires patience, strategy, and a big time commitment to participate in intense bidding wars.
You've seen private travel sale sites such as Jetsetter and SniqueAway that allow you to snag amazing deals, but now there is another form of unique travel deals: Off & Away, which holds travel auctions. Most of their auctions are for hotel stays, but some are for all-inclusive travel packages. They say you can get up to 99% off luxury hotel deals. (Though they will be launching a private sale section of their site soon, much like those mentioned above).
How it works
Unlike other auction sites such as eBay where you bid what you will pay, you have to buy bids before you can begin bidding on Off & Away. Bids come in packs and cost $1 each unless you buy a large package. Here are the bid packages: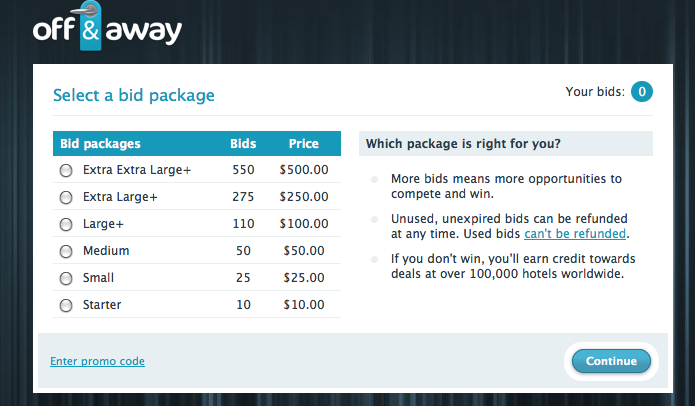 The auctions themselves start at one penny, and each bid increases the auction price by one cent. However, the amount listed as the auction price is a bit misleading since you pay to bid. Once someone has won, they paid for their bids and also pay the auction price. Say you bid 100 times and win, and the auction ends at $100. You will have paid $100 for the bids and then pay $100 for the auction, for a total of $200. On a small scale, that's not a big deal–in fact, that's a fantastic deal for something like a two-night stay at a luxury hotel. But if you place a really large amount of bids and the auction price gets pretty high (which is possible for the big packages), it might be a lot more than you might expect.
Each bid extends the clock by 15 seconds, which means the bidding wars can go on indefinitely. This is where it starts to feel like a strategic game. I asked their team if there was an average amount of bids used for auctions. Here was their response:
In terms of stats on the average amount of bids used to win an auction, it's really hard to say because it varies by the destination and property and even day. There have been instances where the same property is won by a bidder who used 200 bids and other times when it is won with only 5 bids. It also depends on the bidding strategy used by the winner. They could choose to start bidding early on in the auction and invest a certain number of bids or wait until later in the auction and jump in to win with a fewer number of bids.
Here's what an auction page looks like: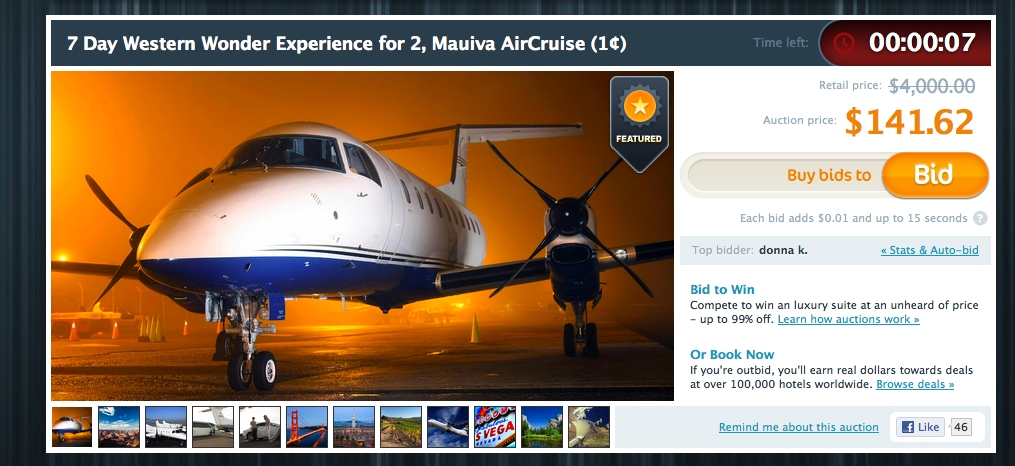 If you lose
With most auctions, if you lose, you pay nothing. With Off & Away, you don't get that $1/bid money back. Instead, you get credit of that amount to book hotels through their search engine. I tested out their search engine for Vancouver hotels, and I found some great deals at very legit places. Unfortunately, the credit is only good for one month. Though I did bid $10 on an auction (more on that below), and after losing, I unlocked a deal for a 120% booking credit special on that amount if I booked at that hotel. That sadly meant just a $12 credit in my case, but would be cool if I had bid a lot more. I did also see a 10% discount for booking early at many of the hotels in their search engine.
My test

I went to OffandAway.com and saw that there was an auction starting for a two-night stay at a Sofitel in New York City. I want to go back to the city sometime soon, so I bought a starter back of 10 bids ($10). I bid back and forth with someone a few times and then they gave up, and for an entire day, it looked like I was the winner. I had only spent four bids, so I couldn't believe it. The next day, the auction was to end at 11 a.m. I kept a close eye on it, and someone would occasionally outbid me, and I would up mine by one bid. Then the counter turned red and started going down. 3. 2. 1. I expected it to go to zero and say that I won.
Instead, it went to "Going." It stayed on that, and I couldn't figure out what was going on–hadn't I just won? I eventually refreshed the page, and all of the sudden I realized that the auction was still going and people were bidding every other second. Somehow, someone squeezed in a bid when the timer was at one second. Crap.
I decided to keep an eye on it, and I tried to increase my bids a few times, but then I ran out of bids. I didn't feel like spending another $10 on a pack of bids, so I decided to observe instead. I went back every few minutes to check on it, thinking it had to end soon, but every few seconds, someone else made a bid and more time was added. It was pretty incredible how fast things moved. I would forget about it for a while and then check back an hour later, and it was still going. It actually was still going when I last checked around 4 p.m. At that point, the bids had gone up to over 1,000, and I could see the name of the winner constantly changing. A lot of people were in the game. I like the idea that the clock can be extended by more auctions, though it can get tiring since your window of getting another bid in is so brief. You can't do anything else but sit and watch it. I was amazed that people were able to keep up with it all day.
I checked a few days later to see what ended up happening. I was able to see that the person who won had put in 39 bids total, meaning $39, and the auction amount ended up at $33.09. That means the winner paid less than $70 for a two-night stay in a terrace suite in NYC worth $2,000. The thing is, the people who started bidding earlier went through way more bids. My guess is that this person swooped in toward the end when everyone else was tiring out. That's a pretty phenomenal deal, but it also takes a lot of dedication and time to plan that out and make it happen.
Skeptical?
You can check out their winners section, which shows you real people who have won. You can look at their recently ended auctions to see how much winners ended up paying. The deals people ended up scoring are really incredible.
Have you ever used OffandAway? If not, would you consider it?