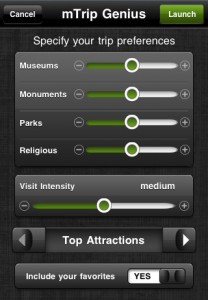 I love my iPhone, and it seems that every week I learn about a new app that makes my life easier or more entertaining. I recently learned about a new travel app called mTrip, and the company that makes it gave me a promo code so I could play with it for free. I'm not getting paid to write this–I just think it's an extremely cool and useful product that eliminates the need for a guidebook while you're out and about. I also am impressed that you don't need Internet or a cell phone signal to use it, which saves you from expensive roaming fees. Plus, the app's information is updated daily.
The mTrip app takes travelers through the three main steps of traveling: planning, exploring/navigating, and sharing. The app has five main functions to do this: automated itinerary planner, expert content/directory, navigation, augmented reality, and trip sharing.
mTrip guides are currently available for London, Paris, Amsterdam, Berlin, Rome, Barcelona, Madrid, Venice, New York, San Francisco and Chicago. More are coming soon in other cities, including Moscow and some in Asia. All of the guides come in English, Spanish, German, and French, and the European guides also come in Italian.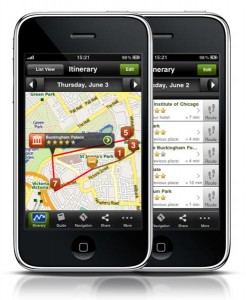 When you get started, you enter the dates of your travel and what hotel/hostel you are staying in. You can then either manually map out your itinerary, or opt to use the "mTrip Genius" feature. If you go with the latter, it will plan your itinerary for you using a special algorithm based on your interests. It asks you to indicate your interest in museums, parks, monuments, religion, and intensity/pace, and then it assembles an itinerary based on your preferences, best-rated points of interest, and geographic location. Once your itinerary is created, it lets you choose to have it displayed in list form or on a map. You can change or re-generate your itinerary at any time.
The mTrip app then helps you get to where you want to go. It automatically locates you on a map and shows the best route to any location in your itinerary by foot or subway (if subway, it tells you which station and line to take). It also can show you the points of interest in the area where you are.
mTrip also contains travel guide content in a directory-like format, with information on bars and clubs, restaurants, tourist attractions, and hotels. It has information on hundreds to thousands of points of interest depending on the destination. There is also some user-generated content provided by other travelers (you can add your own reviews, too). All of this content is updated daily for free. You can sort these points of interest by distance, popularity, or neighborhood.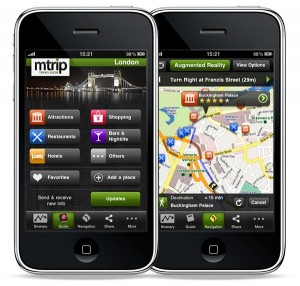 The thing I really like about this guide feature is that once you click on a certain point of interest, it gives you a description, one or more photos, traveler ratings and reviews, opening hours, prices, and contact information–the full shabang. You can also add your own comments, get directions to the point of interest, or add it to your itinerary.
The app also comes with an augmented reality feature that I've never seen elsewhere (mTrip is one of the first travel apps to offer it).  The app displays the area you are in with a real video, and as you move your iPhone, the image moves along with it (sort of like the 360-degree video tours you can do of properties online). As you scroll across the area, the app superimposes icons to let you know when you're looking at monuments, restaurants, and other attractions. When this happens, a pop-up appears at the top of the screen that tells you how close you are to the attraction in real time, in addition to ratings, prices, and if it is open or closed.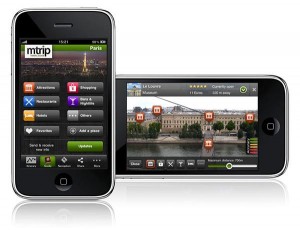 There are a few ways to share your travels through mTrip, and how much you can share is unlimited. You can send postcards with an image and message via email and Facebook to your friends and family back home. You can also save the postcard and wait to send it until you have a WiFi connection. As mentioned above, you can also share your reviews and ratings with other travelers who will be using mTrip. .
While I've had an iPhone for some time, I've never used an app like this before because I've always been petrified of incurring outrageous roaming fees. I had no idea there were apps like this that were so full of real-time data without needing to be online or using a cell phone signal. While mTrip isn't free, it's very low-cost (pricing below), and I would definitely use it for my next vacation. We've all had moments while traveling when we can't decide where to eat–it would be so nice to have an app like this that displays nearby restaurants along with reviews. It would make it a lot easier to avoid gross tourist restaurants! The navigation feature is also very impressive to me. Anyone who knows me knows that I get lost often and sometimes have trouble with paper maps. I had no idea I could use a map on my iPhone without needing a connection.
The app is normally $9.99  (or £5.99), though right now it is on sale at $5.99 (or £3.49). You can download the mTrip app for iPhone and iPod Touch here.
Have you ever used a travel app for your iPhone? Would you ever use an app like mTrip?