Accommodation and architecture-wise, when Singapore is put to mention, no doubt that Marina Bay Sands will be on top of the list of the best. After  it has been put up,  it has been the star of local passers-by in the area and tourists as well.
Who would not want to stay in Marina bay Sands? Not me.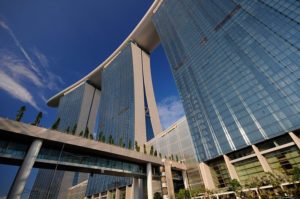 I was lucky enough that in my first few trips in Singapore, I has the pleasure of staying in this grand hotel and for free (yes, you read it right.)! Not one of my first accommodation in the country, and not the last as well, I had a fair comparison of how it was over all.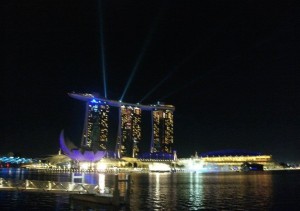 If you want to have a grandeur taste of Singapore, splurge. Be here. There's a grand lobby with a buffet area and a bar, spa, fitness club and the list goes on. You can even have a view of some lights and fireworks show at night while walking on the bay.
Surrounding the area are other bonuses: a lotus-shaped ArtScience Museum, a shopping area — Shoppes at Marina Bay, fine dining restaurants, and finally the casino all just across the street. Experience casino with no entrance fee (compared to locals).
On a room's perspective, I wouldn't say thought that there is any difference staying in MBS compared to any 5-star hotel in Singapore. It would give you the similar class and style. Plus, I find it sad that there aren't much views from my terrace.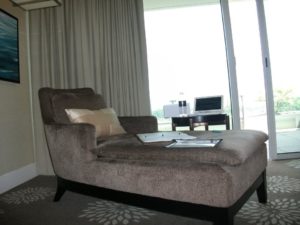 a snapshot of my favorite part of my room
The exhilarating bonus of being in this hotel? Being able to swim 57-floors above ground level at the infinity pool situated at the world's longest Sky Park. If you have friends residing in Singapore, you can actually bring 1 or 2 friends along per key card. Yes, you would have to show your key card upon entry to the sky park. It was a grand and unique experience that I think half of the time we were merely taking photographs in different angles.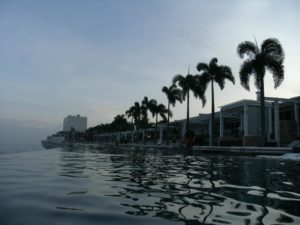 Don't fret, you surely would not fall off. 🙂
More to its frills, the hotel too is perfectly situated to connect to the different areas of Singapore. It's just nearby the Marina Bay train station that leads you to the different parts of Singapore, and a few minutes' walk away from Esplanade, Marina Square and some cheaper restaurant.
Surely, when splurging is what you want to do, being in one of the most enticing hotels isn't a bad idea.