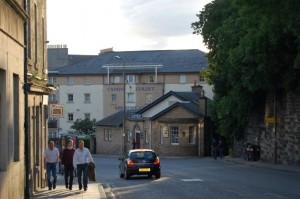 Two summers ago, my mother and I were heading to Edinburgh, Scotland for several nights. We wanted to stay somewhere close to the center of town, but also wanted something reasonably priced. We decided to stay at Canon Court Apartments, which ended up being the perfect accommodations for us.
Overview
Canon Court consists of 40 one-and-two-bedroom serviced apartments. Rather than staying in a cramped hotel room, you are staying in a full apartment that allows you to spread out. In addition to a bedroom and bathroom, we also had a small living room, dining table, and full kitchen. We stayed in a one-bedroom apartment, which was a bit small by American standards, but large for Europe and certainly roomy enough for us. The building was a little old, but not outdated.
Location
The Canon Court apartments are in the charming Canonmills neighborhood. It is a very short bus ride or 15-20 minute walk into the city center. When it was rainy we rode the bus, but most days we walked, and we really enjoyed doing so. It is still a very urban area, so we passed by all kinds of quaint shops, eateries, monuments, and even a traditional Scottish wedding. It was a fantastic home base for exploring the city's wonderful attractions, such as Edinburgh Castle and The Royal Mile.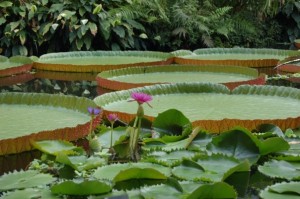 Just steps away from the apartments are Chinese, Italian, and Indian restaurants, in addition to a large grocery store. The apartments are also right down the street from the incredible Royal Botanic Garden, where we spent several hours exploring flora and fauna from around the world. There are many enclosed exhibits to demonstrate various climates and habitats, but there is also plenty of large, grassy outdoor areas with ponds, ducks, and benches.

Amenities

Canon Court is not a hotel, so it does not serve meals. Instead, we had a kitchen of our own, albeit a tiny one, so we stopped by the nearby grocery store and bought some food.  It was so convenient being able to make snacks, save and warm up leftovers from restaurants, and cook a meal here and there to save money. Another feature we enjoyed was the television and DVD player. We found a nearby store that rented DVDs, so one night we were able to curl up and watch a movie at the end of a busy day. They have free wi-fi, which was a huge perk for us — no need to be at the mercy of Internet cafes. While the housekeeping staff didn't come as often as they would in a hotel, they were still there to make up the room when needed.
Overall Experience
The staff at the Canon Court Apartments was extremely friendly, and the front desk receptionist was always happy to help us with directions and information about the city. The ability to save money by cooking our own food for some meals was fantastic. The price was comparable to a hotel with just one room, so we got a lot of bang for our buck. We probably could have stayed closer to the city center, but we would have paid more and gotten much less. Instead, we stayed in a charming neighborhood a small walk from the main attractions and had the freedom to make our own meals or snacks and spread out with the extra room. I would definitely consider staying here again when I return to Edinburgh (which I certainly will — it is one of my favorite cities in the world!).
Have you been to Edinburgh? Where did you stay?