I was just talking with a friend about how as I get older, I have learned to greatly value quality over quantity. I used to loathe the idea of spending money on clothes, bags, and accessories. But my Target purses would quickly wear holes in them, and my Forever 21 clothes would fall apart fast. I kept having to buy new things, but I thought was OK, because they were cheap.
A few years ago, my dad told me that if I finally bought myself a nice purse, it would last far longer. I sucked it up and got a nice leather purse that has lasted years. Since then, I often buy the nicer things, knowing I get more bang for my buck.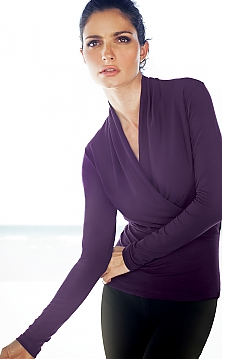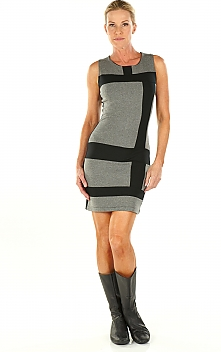 When Anatomie, a company that makes fashionable travel clothing for women, contacted me, I was fascinated as soon as I checked out their website. Their clothes were chic and looked comfortable. But I was initially surprised at the price tag; most pieces range from $100-$200. I had to remind myself that I was embracing the adult mindset of quality versus quantity.
According to the company, "All of Anatomie's fine women's designer clothes are made with an innovative system of versatile, high performance fibers used to create designer clothing that is lightweight, protective and resistant. Engineered for quick-drying and exceptional comfort."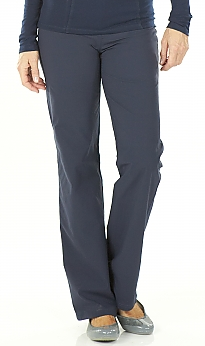 I told them I was about to go to Ireland, and we decided it would be the perfect time for me to try their clothes. They generously sent me a tank top and matching cardigan, in addition to a pair of black pants in their style Madonna.
My first reaction? I couldn't believe how light the clothes were and how compactly they were upon folding. They were form-fitting in a flattering way. Best of all, they were very comfortable and moveable.
Anatomie was started by a couple who both had backgrounds in fashion design. They started this company with the goal of creating "functional fashion" that "translates those fabrics into a sophisticated sexy silhouette that is minimalist, durable and ultra-modern." After wearing the clothes, I think that is the perfect description.
The Madonna pants have small zipper pockets on the bottom exterior of each leg, which is the perfect place to stash a hotel room key or a few bucks. Due to their light weight, they also dried extremely quickly upon washing–a huge perk for travel clothes. Me in my new outfit: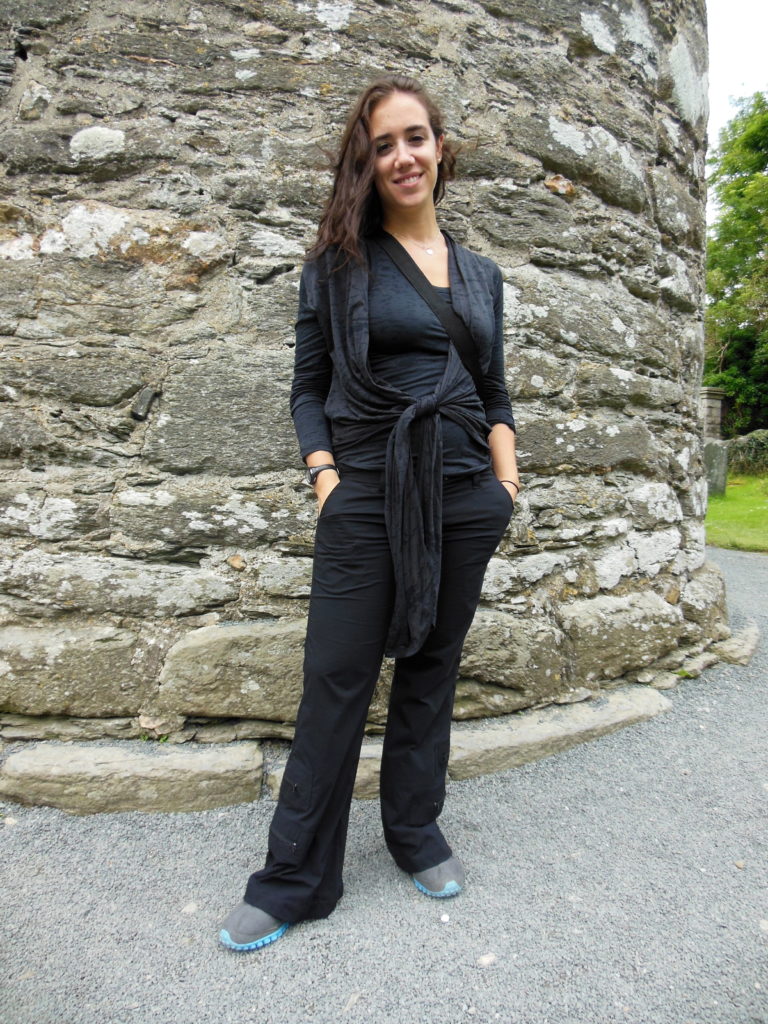 The tank top and cardigan were also very light-weight. They had a unique distressed-style look that I liked better than the regular solid colors I tend to wear. Rather than being a cardigan that buttons up, this one wraps with two long ties. Sometimes it was a little hard for me to get it in a knot that looked just right, but it made it very easy for me to take it off and on as needed.
I decided to put the clothes through the ringer on a day trip from Dublin. We stopped in Glenadough and went on a walk around lakes and through an old monastic city. While waiting for everyone to reconvene before getting back on the bus, I decided to do some challenging yoga poses and jump around in them. Thanks to my mom for photographing me monkeying around.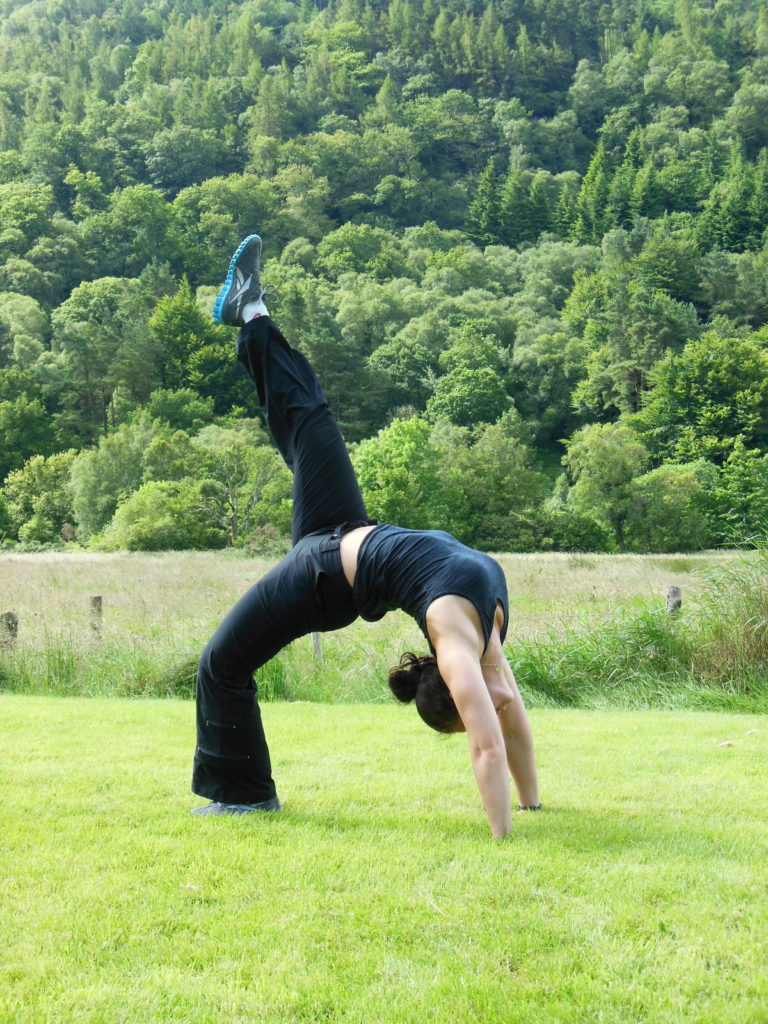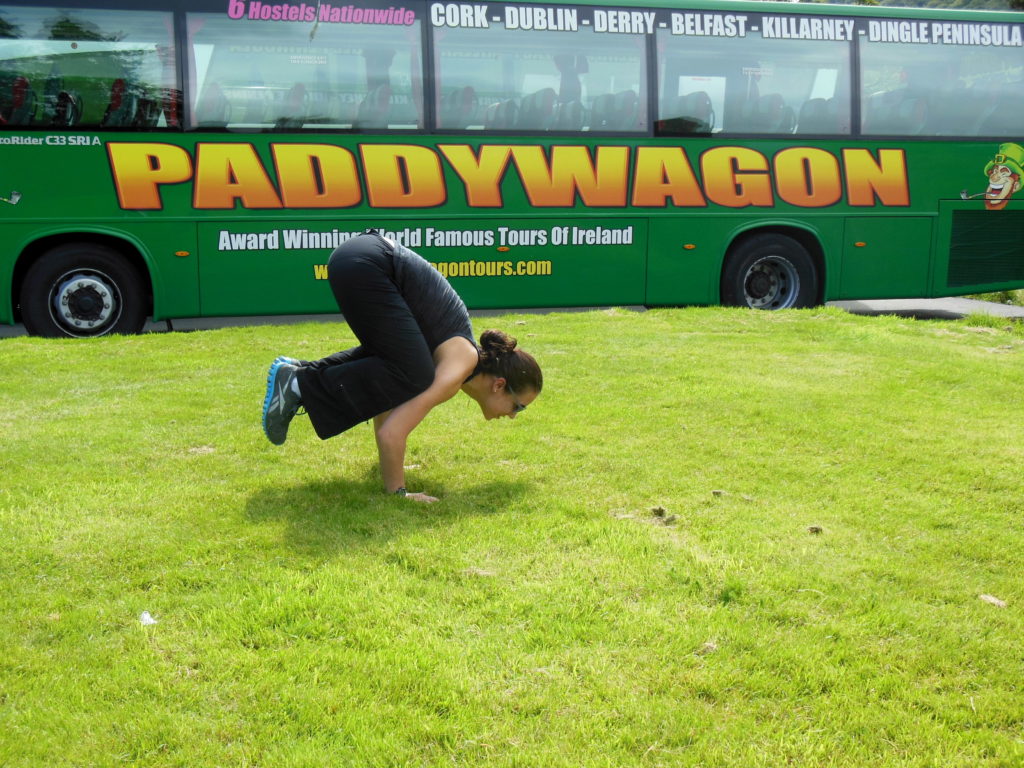 We drove through the Wicklow Gap and took a few mini-hikes, and I wore the clothes off and on throughout the trip. They were so flexible and kept up with me and my shenanigans. I was really happy to find that the clothes not only look chic, but as advertised, they are light, comfy, and flattering.  I think I've found my favorite new brand of travel clothing! These guys remove the feeling that you don't fit into nice clothes, if you've been sitting at home wondering about details of risks of getting some nip'n'tuck, fret not, these guys will remove the need! You can buy their clothes on their website or at these retailers.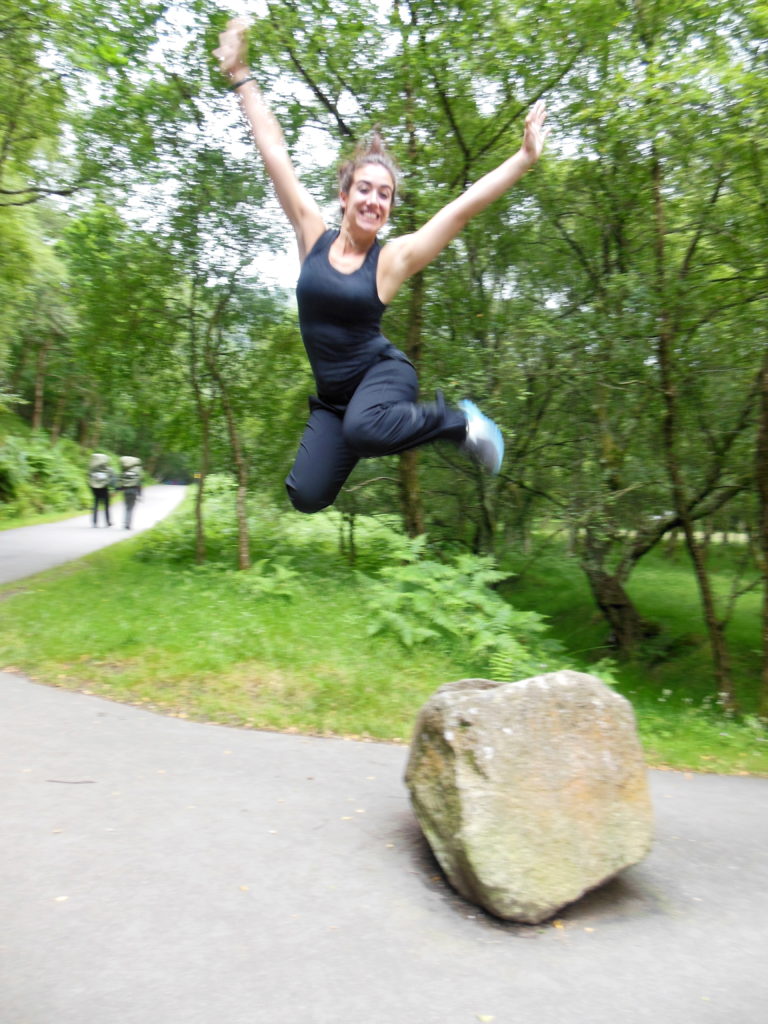 Disclosure: I was given these clothes for review purposes, but I was not paid to write this review, and these opinions are my own.