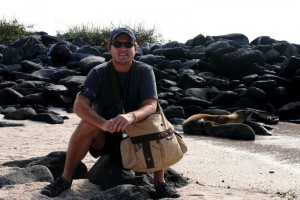 I first met Jeff Jung in Austin at Meet Plan Go, an event in September that encouraged career breaks/sabbaticals and extended travel. As an experienced career-breaker, he emceed the event, and he kindly invited me to the launch party for his new company, Career Break Secrets. I could tell he was up to something pretty amazing. I don't have any immediate plans to do a career break, but I'm interested in doing it at some point in the future. Read on to learn about Jeff's personal experience with sabbaticals, the benefits of career breaks, and tips for those interested in taking one.
Emily Gerson: Can you give me a brief bio about who you are and what you do?
Jeff Jung: I'm a former corporate consultant and marketing director. I've worked and consulted for some of the biggest healthcare companies in the US.  Post-career break, I'm a travel entrepreneur trying to inspire people to take their own break, whether it's for a month, six months or a year.  I host our new video travel guide series.  Our show goes deep into a travel experience like volunteering or sailing classes. I interview the people who are doing the activity and then give travel planning tips in our ¨Top Secrets¨ at the end of each episode.  I want people to get the most out of their travel. And, to do that, what better way than to see it and get the advice of the people that have already done it?
EG: For those who are new to this concept, what is a career break/sabbatical?
JJ: A career break is a time in which you simply take a break from your professional life to pursue a personal interest. For some people it's taking time to give back and be a volunteer. For others, it's picking up a new skill like cooking or a language. And for others, it's having the time to really see a country on foot, on a bike or by boat.  The great thing about a career break is that you have time to do all of the above if you want.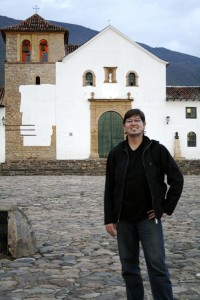 EG: What is your experience with career breaks?
JJ: I left my job in 2006 and started traveling in 2007 until 2009.  I've now been to 27 countries. And, it seems like everywhere I go, it becomes harder to choose the next trip. Should I go to a new country or go back to a place I've been to and see more of it?  I started in Argentina learning Spanish. I was determined to gain fluency. Now that I've settled in Bogota, Colombia, I can say that I am completely fluent.
EG: What are the benefits of a career break?
JJ: I think the biggest benefit is that you have time to gain perspective on your life. If you have a busy career, you can get so caught up in the latest fire drill at work and keeping up with the Joneses on the block, that it is easy to put things off that are important to you.  Granted, there are lots of people that maintain balance just fine.  But, on your break while you're traveling, you have the chance to reaffirm the direction in which your life is going.  People also talk about an increase in self-confidence from having traveled. When you have to navigate a new town every night and have to figure out where you're going to sleep, what you are going to eat, often in a foreign language, you start to feel like you can conquer just about any situation.
EG: Why long-term travel instead of many shorter trips over a lifetime?
JJ: Honestly, I think it's a matter of personal preference. I was at a point in my life where I was looking for a change, a big one. And, I figured if I was going to disrupt my life to travel, I might as well go big.
EG: What would you say to someone who is fearful that a career break will make it impossible to find a job when they return?
JJ: First, keep in mind that you already have a career. With that, you have accomplishments, achievements and skills. Those don't go away when you travel.  Also, most career breakers are looking to achieve something on their trip. They want to make it count. So, it is possible that you will return with new skills that you can market to your prospective employer. This is especially true if you volunteer or take a few classes along the way.  Finally, my conversations from recent career breakers lead me to believe that prospective employers are intrigued that they took time out to go travel. And, many are really envious of them. Plus, they know that since you just did it, you probably aren't going to want to do it again in the near future.
EG: Where are the best resources for someone who wants to volunteer abroad?
JJ: There are precious few independent sites for people. Most of what you find is information from agencies wanting to sell you a trip. I like VolunteerGlobal.com, Voluntourism.org, and NerdyNomad.com, where you can find the e-book, The Underground Guide to International Volunteering.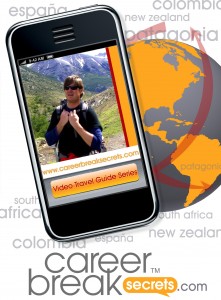 EG: You recently launched a site called Career Break Secrets—what is it, and why did you start it?
JJ: Bottom line, I want to get other people traveling and to take their dream career break.  And, through the site, I want to show them how and that real people just like them take career breaks.
My site is for those that are planning to take a break, dreaming to take a break or simply want to live vicariously through others.  We use video to show people what career break experiences are all about. Of course we make use of blog posts and pictures too. But with video, you can see the places, hear from the people and get a much richer sense of what it's like to volunteer in Africa, bike around New Zealand or explore Patagonia. We recently released the first season of our downloadable HD Video Travel Guides Series. It includes 18 episodes from South Africa, Spain, New Zealand, Patagonia and Colombia.  We cover tree types of activities: volunteering, things to learn like sailing lessons or cooking lessons, and cool ways to see countries like biking, hiking or trains.  We interview the people involved in those activities and get their advice for other travelers.  While I am the host, the focus of the videos is on the experience and giving people a real sense of what the experience we're covering is like. So, I stay behind the camera mostly.  At the end of each video, I want the viewer to know if that experience is right for them to try, how to plan for it and how to get the most out of their time.
We also have lots of other inspirational content and videos like our ¨Who's Out There Now¨ interview series, our ¨Real Stories¨ videos in which people tell their own career break story, and our ¨Rough Cuts¨ video series which are our outtakes from our filming.  Of course, I maintain a blog that includes guest posts and posts from my own career break.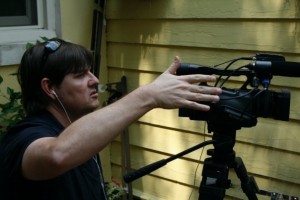 EG: What are you doing right now?
JJ: I am busy editing the episodes  so we can continue getting them out.  We also just launched our podcast, the Career Break Coffee Break, which are my behind the scenes reports from filming Season One.
EG: What are your future plans?
JJ: Right now I am 100% focused on finishing the editing of our Video Travel Guide Series.  We will start promoting heavily for the holiday season.  Once January hits, I'll start looking forward to Season 2 of our Video Travel Guide Series.  There are a lot of countries I want to cover for the second season, so we'll have to see where I land!
Jeff's links:
Career Break Secrets website
Season One Trailer
Podcast Link on iTunes
Who's Out There Now
Rough Cuts