I recently connected with Johnny Ward, an Irish 26-year-old with a raging passion for travel. He runs a travel blog, OneStep4ward, to document his journeys.  I found out that Johnny had some pretty incredible experiences, so I interviewed him. Read my Q&A with him below to learn about his adventures, how he pays for travel, tips for those who want to travel on the cheap, and advice for those considering a career break. Enjoy!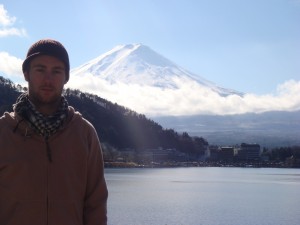 Maiden Voyage: You have lived a very adventurous life! Can you give me a summary of your background and experiences?
JW: Yeah, but it hasn't always been so adventurous! I lived in Northern Ireland up to when I was 18, in a town with 6,000 people and in a country of only 1.5 million, so I think maybe the limits imposed on me by that gave me the thirst for travel at a young age. At 18 I left and went to America for the first time to work as a counselor on a summer camp, and that was great. Then I went to University in England for four years, graduating in 2006 with a degree in International Economics. I have been on the road ever since, really! Coming from such a small town and a small country, you never really get exposed to any new cultures or experiences, so I have tried to remedy that with my life choices. I am trying to chronicle all the stories on my blog — there's a lot of them and it's taking a long time!
MV: What are you currently doing?
JW: Right now I'm in Sydney, Australia producing business conferences — it's strange the jobs you end up doing when you arrive in a country! But I only have four weeks left, then I'm off to Africa for seven or eight months, taking in the World Cup and then setting off from Cape Town to Istanbul by land.
MV: How have you funded all your travels?
I'm not from a wealthy family at all, so I guess I have always known the value of money. When I set off on my journey after graduating, I think I had about $3,000 saved, and four years on, I actually have more money now than ever! I have never had a chunk of cash in my bank, so I try to find 'work' when I can (medical research, English camps in Korea, conference producer in Australia, professor in Thailand, counselor in the USA, and so on.). I don't really see these jobs as work because they expose you to the country, get you off the tourist trail, and you get a better grasp of the country I think, and obviously give you the funds for your next adventure.
Along with that, I travel cheaper than anyone I have met on all my journeys! But I would never miss anything to save money, I just never fritter it away on imported booze and food! I have written a lot about it in my blog.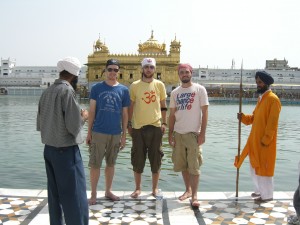 MV: What are some of your favorite places you have visited and why?
JW: This is a tough one! I guess I'll have to say being at Mount Everest base camp; that was truly amazing, seeing Everest with my own eyes. Also, the Golden Temple in Amaritsar on the India-Pakistan border–as a structure, this is more impressive than the Taj Mahal, Statue of Liberty, Eiffel Tower, etc. You see it and you get goose bumps, really. I lived in Chiang Mai, Thailand for a year or so and I have only good memories from there, too. I could go on to list one hundred more things, but I don't want to bore anyone!
MV: What are some of your tips for traveling without going broke?
JW: I'm not sure if I can tell people how not to be broke considering the first three years of my travels were done on half an old shoestring, but I have endless tips on how to travel cheap! First off, I would say don't try to go everywhere on your first trip. If you only have six months, don't feel obligated to go around the world and see every continent; you have the rest of your life for that! People flying every couple of weeks spend a fortune on a round-the-world ticket and there's really no need. Also, eat in local places–never in a backpacker joint unless you need your Western fix (we all need that sometimes!), drink local booze (no imported beers), take local transport–it's an adventure and one tenth of the price of a pre-set tourist bus.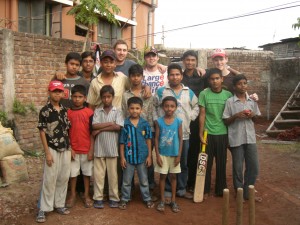 MV: What are your upcoming travel plans for the future?
JW: The next 18 months for me are hopefully going to be great. I am going from France to Zambia one way then to South Africa for the world cup then back up through the east coast of Africa all the way to Turkey, hopefully! Then I'm off to study my Masters in Kuala Lumpur for 12 months straight after that! That's the next two years taken; after that, a stint in South America, probably.
MV: Did you find it difficult to take a career break to travel? What is your advice for others who want to do the same but are scared?
JW: It's only natural for people to worry about the consequences of taking a break (am I wasting my degree, will I be outdated when I return, etc.), but we only have one life. You have to take chances and live it to the full. What will you regret more on your death bed – not seeing more of the world and experiencing things you never even imagined OR spending too much time strapped to your desk, doing a job you don't really care about? I worked out the answer for me and left – I don't have one regret about it, and I would wager never would you if you take the plunge! Good luck!