I'm very excited to announce that my  friend Walker Lukens is becoming a regular contributor on Maiden Voyage, starting today. We've been friends since high school, when we played music together, and one of our other mutual interests is travel. He's about to embark on a month-long trip to Africa in addition to some time in Europe, and he will be chronicling his journey here. Enjoy!
I did not know a lot about Tanzania before planning this trip: lots of animals, Mount Kilimanjaro, relatively peaceful history, Zanzibar (is that a real place?). As I found out, there was little information available elsewhere. Barnes and Noble had one guidebook. Anthony Bourdain has never been there. Hemingway had, but it had a different name then. Its two biggest attractions, Kilimanjaro and Zanzibar, have been immortalized in song, though neither mentions Tanzania by name. Same goes for Lion King, which is basically an introduction to Swahili, I'm learning—although it doesn't mention Tanzania either (have to ask a 6-year-old to confirm that.) When I went to the Tanzanian Embassy, I thought I'd seize the opportunity to ask a real Tanzanian what I should see or do there. When pressed for some insider tips or recommendations, she handed me a state-funded National Parks brochure and recommended them all.
Travel to Tanzania requires a visa, whether you're going for business or leisure and regardless of your length of stay. I've now gotten four visas in my life and this was by far the easiest and most relaxed one to get. I didn't need to make an appointment (I live in New York so going to embassy was especially easy), the online instructions were clear, and the turnaround was quick.  It even says on the website that if you're coming from a country without a Tanzanian embassy you can get one upon entry. My mom, who is working there and thus needed a work visa, did not apply enough weeks in advance. However, she was able to circumvent this process by having her Tanzanian friend pay off some customs official…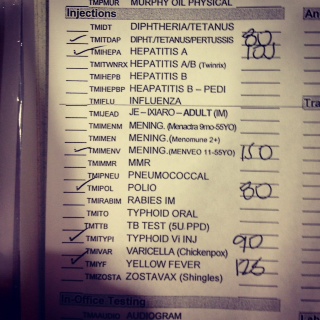 While I had been warned over and over that I'd need to get malaria medication, I had not been warned of all the other vaccinations I would need to get before leaving. Travel medicine is expensive and not covered by insurance. (For all you future doctors out there, travel medicine seems like a profitable niche market.) I definitely went overboard on the vaccinations and got more than was required by law. However, I decided I didn't want to be first American born in the eighties to get polio or spend my last moments bedridden with yellow fever, reenacting The Snows of Kilimanjaro. I got all of my shots and prescriptions through the International Medicine Center in Houston, Texas. In addition to taking all my money and sticking my arms with needles, they also prepared a packet of information regrading health risks in Tanzania and the rationale for each shot. This was super helpful and I feel very at ease about everything.
As far as I know, it's impossible to get to Tanzania directly from the US on a regular commercial flight. Most travel search engines will put you in Europe before going through the Middle East (Qatar, Dubai, Egypt). Either way, you're looking at a good 24 hours of flying. I elected to fly to Rome, stay the night and reach Dar Es Salaam, Tanzania via Doha, Qatar. My plan was working out well until the moment I realized that by sitting in the emergency exit row, my chair would not recline and that I would be spending the six hour flight from Rome to Doha sitting upright. At about the same time, I looked to my right and found that the couple sitting in the middle and aisle seat were already fast asleep, snoring and twitching in their drug-induced slumber. While Qatar airlines had good food and tons of movies, six hours of good posture and a full bladder overshadowed these aspects. Staying up all through the night helped to make the Doha airport all the more surreal. Imagine a massive snow globe with sand instead of snow. The globe encases the largest duty free store/shopping center you've ever seen and it's flanked by Western-style coffeehouses with menus in five languages and very polite servers dressed like Mormon missionaries.
Properly amped up on caffeine, my second flight was more pleasant than the first. I sat next to a high school teacher leading a group of teenagers down here to build a water treatment facility.  I finished my book. I  ate something good and unidentifiable. I slept a little. I breezed through customs at the Dar Es Salaam airport. My bag and very happy mother were waiting. Queue that shitty Toto song. Adventure begins now.

View Larger Map
About the author: Walker Lukens is a musician and ESL teacher who, most recently, was living in New York, NY. He loves traveling and has been all over the US, Canada, the Caribbean and Western Europe. He has also spent time in Brazil, Israel/Palestine and Serbia. Find him at WalkerLukens.com or on Facebook.