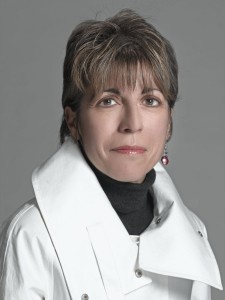 As an independent journalist, Jeanine Barone focuses on what she calls hidden treasure travel. That means either visiting destinations that are off the tourist radar or looking at tried-and-true venues in a different way. Her articles on travel, food, design and architecture appear in Dwell, National Geographic Traveler, Travel + Leisure and many other publications. In her blog, she shares her authentic discoveries with her readers.
One of Barone's areas of expertise is travel in Portugal. This is a country I know relatively little about, so I decided to ask her what makes Portugal special in addition to travel tips and must-see destinations.
Maiden Voyage: What makes Portugal a unique country worth visiting?
Jeanine Barone: I love that Portugal is an easy-to-explore small country with such a low population density that once you leave the main cities of Lisbon and Porto and drive the country roads, you'll feel like you have the rolling scenery all to yourself. I truly adore anything to do with nature and large swaths of Portugal are covered by vineyards, farmland and forests. Plus, you can find golden sand beaches with few people, even in June.
It seems that Portugal has a little bit of everything: you can find traditional cuisine as well as creative dishes that have more than a hint of molecular gastronomy. There are centuries-old rural villages that have been turned into authentic accommodations as well as cutting-edge designer hotels. You have a vibrant, stylish capital city, Lisbon, as well as regions of the country with quaint medieval hilltop villages. And, interestingly, there are still areas where you can see locals transporting milk containers or other items by a horse-drawn cart. I love these contrasts. I've visited Portugal, including its islands — Madeira and the Azores — at least six times and I always return to discover something new.
And an additional plus in these tough economic times is that it's cheaper to eat, drink, shop and take taxis in Portugal than in many other Western European countries.
MV: If you are going to Portugal for the first time, what are some of the cities you must see, and what are some of the cities worth passing on? And what is a good amount of time to set aside to explore it?
JB: I would definitely spend four days in Lisbon. My two favorite neighborhoods are Belem and Bairro Alto, and you could spend a day in each of these neighborhoods if you wanted to really explore the myriad lanes in Bairro Alto for the trendy bars and restaurants as well as new and cool shopping emporia, or the myriad museums as well as the must-see Jeronimos Monastery all in Belem.
If you had more time, I'd spend an additional four days in the Southwest Algarve especially the little-known Southwest Alentejo Coast and Vicentina Natural Park area with its impressive dune-scapes and massive sea cliffs. From Sangres, you can take a bike trail four miles through this park, paralleling the water most of the way.
And if you have a total of two weeks for your trip to Portugal, I'd add another six days to explore the many whitewashed medieval towns and villages in the Alentejo region. The walled city of Evora has something for everyone, from foodies to history buffs. A 16th century aqueduct has survived as has a Roman temple and macabre chapel entirely constructed of human bones. It's easy to spend a day in Serpa that's noted for its array of museums (the Ethnographic Museum provides exhibits of equipment used in regional occupations, from shoemakers to blacksmiths) and its cheese production. In fact, visitors can stop at several artisanal producers and have a taste of the queijao de Serpa.
MV: What areas of Portugal are most popular with the 20s/30s crowd?
JB: The best nightlife is in Lisbon, especially in my favorite neighborhood of Bairro Alto and also Santos and Baixa Chaido. You can find trendy bars, low-key wine bars and top dance music DJs or more mellow music. Maria Caxuxa, A Capela, Cinco Lounge and Barto do Chapito are all popular bars.
Lisbon is also appealing to a young crowd because of the array of hostels, such as Kitsch and Shiado, which provide inexpensive accommodations in some of the city's best neighborhoods  with a sense of style. (New ones are opening all the time.)
MV: What is your favorite city in Portugal and why?
JB: I love Lisbon for several reasons. It's a city with creative energy aplenty. I'm very interested in art and design and I get my fill in Lisbon where I can stay in a new design hotel, like the Internacional Design Hotel;  visit a new museum, MUDE,  that traces the history of fashion and industrial design, or check out the recently renovated LX Factory, where artists and designers have been setting up shop and renovating the old 19th century factory complex into workshops, galleries and even dance party space.
Lisbon is populated with unpretentious and welcoming people. There's always something interesting going on in the culinary front. Whether it's Asian fusion cuisine or deconstructed Portuguese dishes, I find Portugal's top chefs producing amazingly creative gastronomic delights. Bocca, Alma and 100 Maneiras are three of my favorite restaurants.
And it's such a scenic city. Here, I can bicycle on a path along the Tagus River, walk tiny cobbled lanes for a high city perspective or stroll through a lush park or botanical garden laced with a maze of paths.
MV: What are some of the best tips you can think of regarding travel in Portugal? Are there any quirks visitors should be aware of?
• Lisbon's airport is super close to downtown, a mere five miles, so take the Aerobus.
• When you're not walking around Lisbon, take the Metro even though it doesn't cover large sections of the city. If you're going to spend a few days and use the Metro a lot, buy the Lisboa Card for unlimited travel and discounted entry to museums and more.
• Even though I'm a chocoholic I wouldn't leave Portugal without sampling one of their many egg yolk-based confections. Every region in Portugal has different recipes for these sweets, many considered secret. But almonds, cinnamon, vanilla bean, quince, pumpkin and other flavors may be added. They come in a variety of shapes and often have an interesting tale behind their creation.
• Try a shot of Portugal's signature liquor, ginjinha, which is made from sour cherries and reminds me of a grappa-type beverage. There are tiny ginjinha bars in Lisbon that specialize in serving up this beverage.
MV: Is there any extra information about Portugal that you would like to share?
JB: Places that make for a warm winter getaway are Madeira and the Azores, especially Santa Maria Island, the warmest. Madeira is noted for its wild virgin forests and a network of levadas or level walking paths that course through them. A short drive from Funchal, the capital city, there are an array of lush public gardens. Porto Santo Island (part of the Madeira island group) not only is awash with sandy stretches but, together with the island's natural, spring and salt water, which are said to have therapeutic properties. (You can get spa treatments that make use of these elements.)
The Azores archipelago has nine islands, each with a distinct personality. On Pico Island you can climb a snow-capped volcano or sample their noted wines that are grown on black volcanic soils. On the biggest, Sao Miguel, you can eat a meat and vegetable stew that is cooked in the steaming earth on a lakefront in an area laden with thermal springs and bubbling  mud. This island is my idea of a perfect place for a honeymoon — you can bath under a warm waterfall or stroll a romantic garden with swans floating on a canal — or for adventure travel because you can bicycle, hike, hand glide, kayak, scuba dive and more.