Ireland is a country loved by many throughout the world, with millions of people across the globe claiming their own bit of Irishness through their Irish roots and ancestry.  From USA to Canada and Australia to South Africa, you won't have to go too far on your travels to find someone with a connection to Ireland and its people.  Famous throughout the world for a friendly and charming welcome, and with a bar in almost every city, town or village, Ireland is quickly turning into a favourite holiday destination for many young travellers, couples and indeed families.  Whether you are looking to trace your Irish family roots, enjoy the history and culture of the Emerald Isle or sample a pint of the black stuff at the home of Guinness, Ireland is sure to provide you with memories that will last for years to come.  For those of you keen to add Ireland to your list of places to visit, here are 7 cities you'll want to get along to.
7 places in Ireland well worth visiting
1) Dublin
There's no better place to start than Ireland's capital and largest city, Dublin.  Dublin is one of Ireland's most historic cities and was founded as a Viking settlement.  It's historic past is evident throughout the city with many impressive medieval and gothic buildings spanning Dublin's streets.  Dublin is also a popular shopping city with famous streets like O'Connell Street and Grafton Street (home to the famous Molly Malone statue).  For many young travellers, a trip to Dublin is all about embracing the great Irish culture, the rich history of traditional music and off course, 'enjoying the craic' with the locals.  With a great nightlife and more pubs than you will ever get round, Dublin will certainly provide you with an entertaining few days whether you're enjoying a short stay in Dublin or planning an extended trip around Ireland.  A visit to the lively Temple Bar area and the Guinness Storehouse should be on any young travellers to do list when visiting Dublin.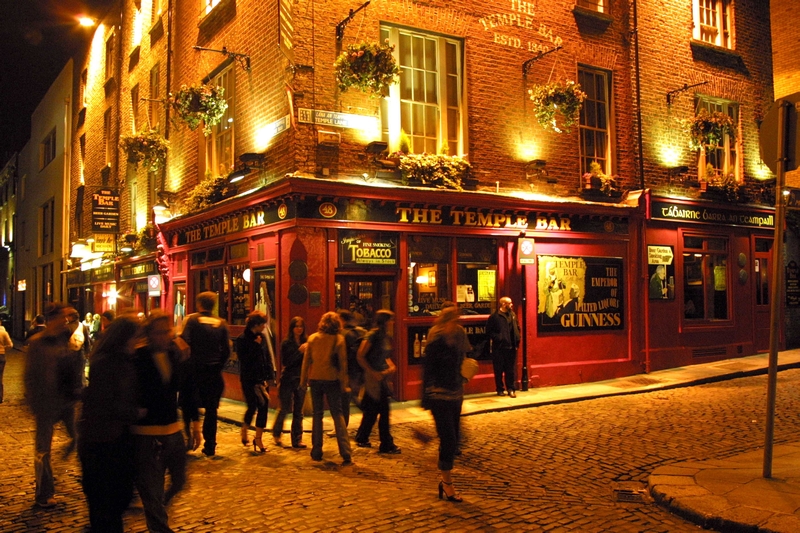 (Temple Bar, Dublin)
 2) Waterford
The city of Waterford is the oldest city in Ireland and another that first started out as a Viking settlement, and is home to the famous Waterford Crystal.  Waterford has a little something for everyone, from shopping in the city centre to heading off to Comeragh Mountains to enjoy a nice hike along Ireland's southeast.  Waterford city centre is home to many small markets, allowing you to sample the unique surroundings of an Irish market.  Like most Irish cities, Waterford has its fair share of traditional bars and cosy pubs, allowing you to relax after a long day of shopping or walking through the mountains, whatever your preference.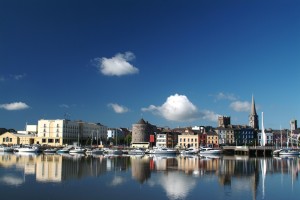 (Waterford City Centre)
 3) Kilkenny
Another one of Ireland's most popular cities is Kilkenny and again, it is home to many historic buildings dating back 100's of years, none more famous than Kilkenny Castle.  Kilkenny city has a reputation for arts and crafts with many workshops held throughout the city on a daily basis, something well worth trying out on your trip.  Kilkenny has some wonderful parks and gardens for you to enjoy walking round, while the cobbled city centre streets are home to many great shops, bars and restaurants.  While in the city of Kilkenny, you can also try your hand at the Irish sport of Hurling, the most popular sport in the county.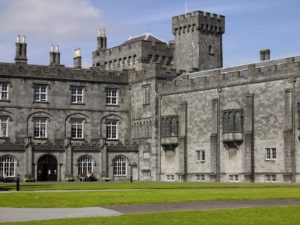 (Kilkenny Castle)
 4) Cork
The city of Cork is located in the southwest of Ireland and is the second largest city in the Republic of Ireland (third most popular on the island of Ireland behind Dublin and Belfast).  It is the most southern county in Ireland and a visit to Mazin Head will have you standing at the most southern part of Ireland.  A trip to Blarney Castle is also recommend on any trip to Cork, and if you want the 'gift of the gab' (as the locals would say), kiss the famous Blarney Stone were legend has it that those who kiss the stone, will be blessed with the skill of flattery, something that will come in handy along your trip.  A visit to Baltimore Pier is also recommended as you can spend the day looking out for whales and dolphins.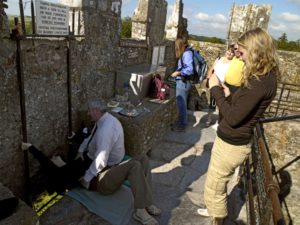 (Kissing of Blarney Stone, Cork)
 5) Galway
Next on our list of cities to visit in Ireland is Galway City, located along Irelands west coast.  A beach holiday to Ireland is not something you would often hear tourists using as a reason to visit the country, but Galway is blessed with some wonderful coastline and beaches, with Connemara and Clifdon, particularly impressive.  Galway City centre is a vibrant city with Eyre Square the main meeting point for both tourists and locals, with many great bars and restaurants located here.  Galway's maritime heritage is also worth finding out more about, with the harbour area of the city enjoying some much needed investment in recent years.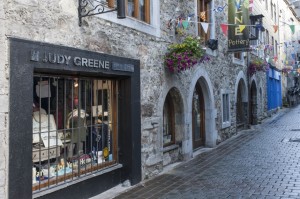 (Galway City Centre)
 6) Limerick:
If you're planning a trip to Ireland in 2014, then be sure to add Limerick to your list of places to visit.  The city recently made history by becoming the first Irish City of Culture, and while this wasn't a popular choice among many in Limerick, the masses of events planned in celebration throughout the year are sure to make it a city that enjoys one big party throughout the year.  For those of you with a deep interest in the world of arts, a visit to the Limerick City Gallery of Art is highly recommended, as here you can enjoy are from famous Irish artists like Jack B Yeats, to works from world famous artists like Picasso and Renoir.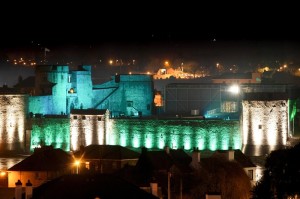 (Limerick Castle, Limerick City)
 6) Belfast:
Last on our list is Belfast, the capital of Northern Ireland and the second largest city on the island of Ireland.  Belfast is a city that has enjoyed a bit of a resurgence in recent years as it recovers from years of troubles that put off visitors to the city.  A trip to Belfast will allow you take in and learn everything you need to know about the world's most famous ship, the Titanic with the Titanic Visitor Centre now one of the most popular tourist attractions in Ireland, despite only being opened in 2012.  Belfast also has a vibrant food and shopping scene with St Georges Market well worth getting along to.  You can also venture outside the city to enjoy the magnificent north coast of Ireland, and the world famous Giant's Causeway.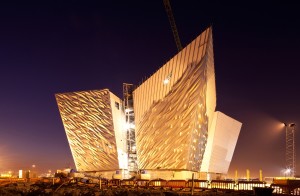 (Titanic Visitor Experience, Belfast)
These are just some of the great places that are ready to greet you with a warm welcome as you visit Ireland, and whether it's a city break or a trip to see old family and friends in a small town or village, you're sure to have a great time on your trip to Ireland.