Saying that Indigo Pearl Resort is distinctively appealing is an understatement. This fairly-new reconstruction of the previously tsunami-struck Pearl Village Hotel is a total shift from the hotels I have visited anywhere else. And I am almost sure that my thoughts on this place will be shared by many.
Apart from the fact that it is a beach resort, there is something exotically amusing about the total overhaul of this edifice. Inspired from the tin mining heritage of Phuket, it is the so-called 'industrial chic' hotel of Thailand. The entirety of the hotel is donned with rare-to-find decors, wooden furnishings, art pieces, polished cement floors, and a whole lot of distinct pieces.
Upon stepping into the lobby (photo above), I could declare that I am truly at Indigo Pearl Resort – yes, with indigo as your indicator – striking indigo sofas, peacock-inspired tall lanterns and an amusing chandelier with sprawling gold metal curls. The interior design gives me a sense of confusion, am I in the old ages of industrial-living or am I in the modernized age? But well in fact, it gives me the best of these two worlds.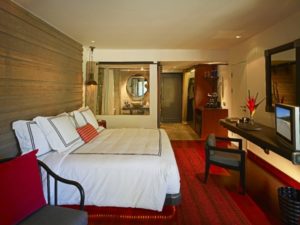 It has over 200 rooms that have varying touches of inspiration; some of which are the posh and totally spacious private pool villas. But generally, each of the rooms are accented with wood, cement and glass all combined to pull off a truly odd but jaw-dropping beauty – king-size bed, abstract paintings, bronze metal hanging lamps, you name it. The room I got is truly spacious, plus, the end of the room even leads to a glass door to the balcony. Also with cushioned-seats it is just but refreshing to sit there and admire the surrounding gardens. But the area where I fell in-love the most is, the huge space allotted for the bath area (I think I could do cartwheels in here!)
The resort is spacious, there is ample space for the natural beauty of the lush greeneries, 3 pools and access to the shores of the Andaman sea, and over 5 restaurants all over the resort premises. It's too big it's so easy to get lost, (thank you for all the markers!) I did get lost roaming around one night.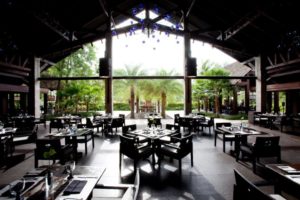 But of the number of restaurants, I would suggest you to have your breakfast at Tin Mine. It would give you the best morning ambience — surrounding the area are small ponds, matching that with the fresh breeze of a wonderful morning in Phuket. But I did not only sit in this restaurant to feel that, I came here to eat, and sinful eating it gives me. It offers tons and tons of food choices  from vegetables, bread, cereals, dumplings – it's too much I can't name  it all. But by simply staring at my eating utensils, I couldn't deny how the artists of Indigo Pearl have been very dedicated to keep their industrial theme (see the interesting picture below).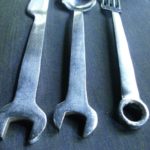 A few other restaurants give a good feel of some fine dining with a loved-one, or a party night with friends. Corporate celebrations, family gatherings and even weddings are also celebrated at specific function areas or by the seashore of the Adamas sea.
Other must-trys in the resort are:
Of course, the  2011 World Luxury Spa runner -up, the Coqoon spa
Kite surfing in the Nai Yang Beach
Indigo gym for health-conscious guests
Kitesurfing is a great way to spend a day, but be careful with those adventure sports. When going abroad it is important to take out travel insurance from a company like Endsleigh Insurance. Levels of cover vary, so you can easily choose a policy which meets your individual requirements. Read up before you go too crazy!
More to its stunning beauty, what's more priceless are the Thais' hospitality. Everywhere Indigo Pearl's staffs are just so pleasing, they would help you in any way possible. I felt that their gesture is more than just a responsibility they had to take, but more as a pleasure in helping another tourist in need.