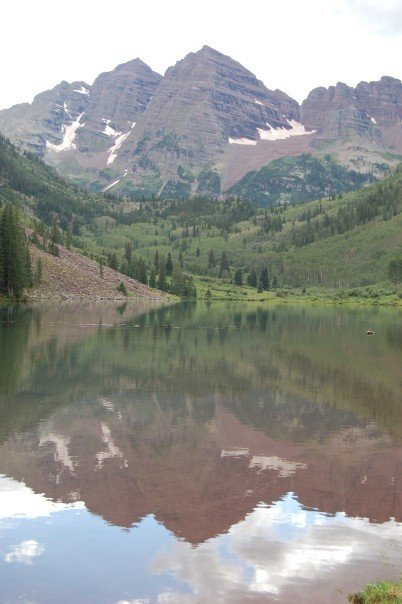 Maroon Bells is the name for the beautiful mountains that tower over a gorgeous glacial valley in Aspen, Colorado. I took this photo during a beautiful summer day.
Maroon Bells are often called the most photographed mountains in all of Colorado (sometimes North America), and it's no surprise why. The 14,000-foot picturesque twin peaks are reflected back in Maroon Lake, giving a beautiful mirrored appearance. The mountains are a part of the White River National Forest, and hiking them is a popular activity.
During the summer, you can ride a bus or drive here and explore the area on foot; there is a scenic loop that is just over two miles. The beautiful area is teeming with wildflowers, aspen trees, butterflies, and wildlife; if you go at the right time, you can even catch beavers building dams. Regardless of how many times we go to Aspen, we always make sure to stop by the Maroon Bells. It is one of the best places for a photo opp in the world!